10 Best 5th Wheel Campers (2023 Edition)
When we searched for the best 5th wheel camper, we were surprised at how many models came across that should be considered when evaluating. In order to choose the best, we took into account the opinions of consumers that we found on the forums and websites about camping. The job was not easy, but in the end, we bring you an overview of the top ten 5th wheel campers with which campers do not have big problems, that comes with a good quality layout in the interior, and have the best performance of standard functions. So, let's begin.
| 5th Wheel Campers | Sleeping Capacity: | Floorplans: |
| --- | --- | --- |
| 1. Heartland RV Landmark | 3 to 6 people | 7 |
| 2. Grand Design Reflection | 4 to 6 people | 8 |
| 3. KZ Durango Half-Ton | 6 to 8 people | 9 |
| 4. Jayco North Point | 4 to 7 people | 8 |
| 5. Coachmen Chaparral | 4 to 7 people | 9 |
| 6. Keystone Cougar | 3 to 5 people | 12 |
| 7. Forest River Wildcat | 5 to 6 people | 8 |
| 8. Dutchmen Voltage Series | 8 to 10 people | 21 |
| 9. DRV Luxury Suites Mobile | Up to 6 people | 20 |
| 10. Keystone Montana | Up to 10 people | 10 |
top 10 best 5th wheel RVs on the market
Best 5th Wheel RV
1) Heartland RV Landmark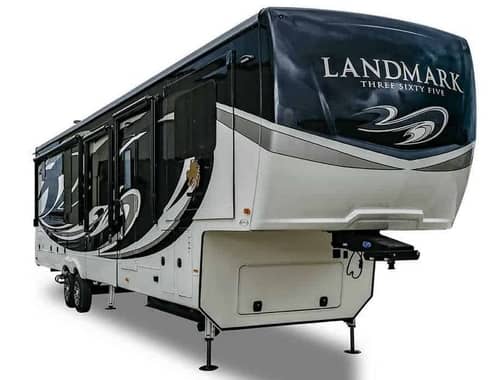 Number of floorplans: 7
Sleeping Capacity: 3-6
Dry weight: 14,527 lbs – 15,416 lbs
Length: 39′ 2″ – 42′ 6″
The 5th-wheel Heartland RV Landmark is the most luxurious recreational vehicle on the market today. This model has great features and benefits that can only be found in a vehicle of exceptional quality. As expected, that's why this RV is in the highest price range. But given everything that this model provides to the user, only a few can afford it. This RV comes with the benefits that you'll hardly find on any other 5-th wheel vehicle, like wooden-framed windows, an electric bed lift mechanism, and even three standard AC units.
Heartland RV Landmark is extremely spacious and provides great comfort along with many other options. It allows you to live in it completely as if you were in a classic house. Its greatest feature is the large number of quality standard functions that can even be raised to a higher level if you are willing to pay more for it. When purchasing an RV Heartland, the customer receives a 3-year structural warranty and a 1-year warranty on all other vehicle parts.
Key Features:
Full body-paint
45,000 BTU cooling: 3 A/C units
Motorized bed-lift
Multi-Plex lighting system
King mattress
2) Grand Design Reflection
Number of floorplans: 8
Sleeping Capacity: 4-6
Dry weight: 8,816 lbs – 12,474 lbs
Length: 34′ 8″ – 41′ 0″
Due to its exceptional design, Grand Design is one of the best manufacturers of RVs. Their 5th wheel models are superbly designed, which is why we couldn't ignore them from our list. Reflection is an RV that is so well designed that you immediately feel a sophistication that is not typical of 5th wheels by entering it. All the benefits and functions of the vehicle are very well designed, and the interior of the vehicle is enriched with extremely high-quality work surfaces, cabinets, and devices.
Like all RVs from our list, Reflection by Grand Design allows you to live in it just as if you were in your home. There is a large queen bed in all floorplans, while some plans come with the option to choose bunk beds, which makes this vehicle perfect for traveling with a larger family. The kitchen in this camper is spacious, and in most floorplans, contains an island with a built-in sink. Our conclusion is that it is a 5th wheel that contains many benefits and top functions and is generally very well equipped. We absolutely must include this model in our list of the 9 best!
Key Features:
Gourmet Kitchen
Pass-through storage
Deep Seated Stainless Steel Farmers Sink
One-Touch Auto Leveling System
Universal Docking Station
Ductless Flooring
Split Baggage doors
LED Lighting
3) KZ Durango Half-Ton
Number of floorplans: 9
Sleeping Capacity: 6-8
Dry weight: 7,300 lbs – 10,160 lbs
Length: 29′ 1″ – 38′ 2″
When searching for a 5th wheel RV, the KZ Durango might be the right choice for you. Its weight in the lightest floorplan version (D250RES) is only 7,300 lbs. But this does not mean that the equipment lags behind others. All floorplans offer a wide range of benefits and technologically advanced features, including those related to user entertainment and modern connectivity.
Whichever floorplan you choose, this 5th wheel comes equipped with pass-through storage and a queen bed, while some floorplans even offer a fireplace! Potential buyers can choose from three color-related options as Sea Salt, Hava, and Maple/Burnished Wood when it comes to interiors. The kitchen features solid work surfaces, stainless steel sink, and cabinets with maple-glazed finishes.
This RV model offers bedroom options that are not common for campers – soft headboard and LED exterior wall lighting. There is also storage space that is placed under the bed. When everything is taken into account, KZ Durango is certainly one of the best 5th wheels, which receives only the best marks from its owners and which you should take into account when buying.
Key Features:
Centralized command center
Fully-heated and insulated underbelly
Residential-grade furnishing
8 cubic feet refrigerator
100 lbs ball-bearing drawer guides
Seats with heat and massage (with modes included)
Optional 4-point leveling
2-year Warranty
4) Jayco North Point
Number of floorplans: 8
Sleeping Capacity: 4-7
Dry weight: 12,430 lbs – 15,350 lbs
Length: 34′ 5″ – 42′ 3″
The Jayco North Point is the 5th wheel RV that comes with great features. It leaves the potential buyer the opportunity to choose between 8 different floorplans and all options on this model offer superior comfort and plenty of space. When making each floorplan, great attention was paid to the details, especially for the living room and kitchen.
It should be noted that the frame of Jayco North Point is made of aluminum (Stronghold VBL), and that the exterior walls, rear wall, and movable walls separating the rooms were made of laminated gel-coated fiberglass vacuum-bonded. According to the manufacturer, this model has the strongest and safest roof compared to all other campers because it contains the Roof System Magnum Truss XL6. It consists of only one piece and seamless Di Flexx material.
For RV, the usual options in all Jayco models, including this one, are carefully chosen. Also, Jayco provides an opportunity to take all of these functions to the next level if you are willing to pay more for them. Here are some options that make Jayco a good choice:
Key Features
Tested weather protection Climate Shield™ zero-degree
Underbelly fully enclosed and heated
Comes with 40,000 BTU furnace
PEX plumbing
Handcrafted and glazed doors
Flooring from Shaw® vinyl
Bathroom stone and glass tile backsplash
5) Coachmen Chaparral
Number of floorplans: 9
Sleeping Capacity: 4-7
Dry weight: 9,803 lbs – 12,277 lbs
Length: 33′ 6″ – 41′ 9″
Due to the fact that Azdel Composite panels are used for the sliding walls when making this 5th wheel, Coachman Chaparral immediately joined our list of the best RV vehicles. If you are not familiar with Azdel you can read our article on the subject that explains which RV brands use it and what exactly it represents. 
This 5th wheel is mid-profile which means it is designed with the ¾ diesel or gas towing truck in mind. Coachmen Chaparral is a combination of great spaciousness and superior comfort that is not normally found in the 5th wheel and excellent towing of the vehicle provided by less weight for a lower price than is the case with other similar vehicles. The starter pack comes with great standard options for campers, but there are several higher-end packages that can take everything in the vehicle to the next level.
Key Features
Aluminum Framed Sidewall and Vacuum-Bonded with Azdel
TPO Roof with 12 Year Warranty
Insulated Pass-Thru Storage (Built-In Tool Storage)
Cabinet Faces & Solid Hardwood Drawer
Stainless Steel 8 Cubic Foot Refrigerator
Glass Cover, Residential Cooktop, & Piezo Ignition
6) Keystone Cougar – From $43,000
Number of floorplans: 12
Sleeping Capacity: 3-5
Dry weight: 8,000 lbs
Length: 30′
The Keystone Cougar is proof that this brand has an ace up its sleeve when it comes to 5th wheels. This RV has designed sleeping space for as many as six people, and the customer can choose between as many as 12 floorplans. These are great options for a vehicle only 30 feet long and weighing 8,000 bids.
Also, the construction of the vehicle's outer shell exudes quality, and two tanks of propane leave the possibility for literally anything that comes to mind. The insulation of the vehicle is excellent, the windows are made of double glazing, which not only makes the interior always pleasant but also prevents you from hearing just about any sound from the outside. Keystone Cougar has diamond plating with rock guard, which means excellent protection that will ensure great durability of the vehicle.
The living room of the vehicle is located in the rear, where two comfortable chairs are located next to the huge rear window. Inside there is a sofa and a dining room with a booth that can be easily transformed into a bed. The bathroom includes a shower that can be closed, a porcelain toilet bowl, and a glass skylight for more light. If you are looking for a 5th wheel that is easy to drive, the Keystone Cougar is your right choice. It is very compact and still has all the amenities.
7) Forest River Wildcat – From $25,000
Number of floorplans: 8
Sleeping Capacity: 5-6
Dry weight: 41,000 lbs
Length: 30′
Forest River Wildcat is another quality model of this manufacturer, and it is full of benefits for the user, and at the same time, it comes at an affordable price. This RV has designed sleeping space for as many as six people, and the customer can choose between 8 floorplans. It has a dry weight of fewer than 10,000 Ibs and is 33 feet long.
It can boast that on its outer shell, it has preparation for solar inlet and LED lights of 12V. A good addition to the vehicle is the rear camera which makes parking easier. Also, this model has a built-in outdoor cooking option.
The interior of the vehicle is filled with light thanks to large windows. There is also a queen sofa with double recliners that provide the user with a comfortable space for daily activities. Also, we must not forget the 39-inch HDTV. Corian worktops and wooden cabinets certainly support this model. Forest River Wildcat is a great choice already in the basic version and with additional options. Traveling in it will be a class-up experience when it comes to camping.
8) Dutchmen Voltage Series – From $40,000
Number of floorplans: 21
Sleeping Capacity: 8-10
Dry weight: 13,000 lbs
Length: 44′
The Dutchmen Voltage Series is a great choice for those who like to take all their toys camping. This RV has designed sleeping space for as many as 10 people, and the customer can choose from 21 floorplans. It weighs 13,000 Ibs and is 44 feet long in its maximum version.
He is known for his great ability to toy-haul. It contains axels of 7,000 offers, so when you travel with this beauty, you can easily take an ATV or dirtbike with you. There are revolving doors that allow quick access to keep what you bring safe. Tinted frameless windows are responsible for the good appearance of the camper from the outside.
This vehicle is powerful and allows you to take a lot with you on the road, but that does not mean that the interior was neglected during its construction. There is a queen bed, quartz worktops, a spacious wardrobe, and wooden cabinets. 
We also must mention the refrigerator, which has four doors and a TV that can rotate in several directions. As we said, the Dutchman Voltage Series is a model designed for people looking for adventure and excitement on the go. This allows them the vehicle's spaciousness both for accessories and for the daily stay of passengers inside.
9) DRV Luxury Suites Mobile – From $60,000
Number of floorplans: 20
Sleeping Capacity: 6
Dry weight: 14,000 lbs
Length: 34′ – 44′
DRV Luxury Suites Mobile Suites is a vehicle that gives camping a whole new meaning. This RV comes with sleeping space for six people, and the customer can choose between 20 floorplans. The vehicle can be between 34 and 44 feet long and weigh about 14,000 Ibs without putting anything in it.
The biggest advantage of this vehicle is its great power. This powerhouse has three slide-outs which makes it's interior very spacious. On the other hand, this RV is also a modern beauty thanks to highly efficient LED lighting and tinted glass windows without frames. Its advantage is a quality aluminum canopy that provides excellent protection from the weather.
The interior of this RV is, in one word – beautiful. The kitchen is equipped with a dishwasher and a stove with a three-burner. In the living room, an electric fireplace rises from a combination of a sofa bed and two comfortable armchairs. We must mention the top queen bed and one-and-a-half bathroom. It is pure luxury and if that is what you want in your 5th wheel vehicle, then choose DRV Luxury Suites Mobile Suites.
10) Keystone Montana
Number of floorplans: 9
Sleeping Capacity: 4
Dry weight: 14,200 lbs
Length: 40′
Keystone Montana is another great 5-th wheel that deserves to be on this list. Montana is a unique model that comes with great power. Keystone Montana RV is 32 feet long. This RV is excellent for entertaining at the campground. It comes with many new features and a beautiful rear living room, with dual hide-a-bed sofas. But without too much of a story, check out the video below to see the quality of this vehicle for yourself.
Final Thoughts
It is not an easy task to choose a 5th wheel camper for your needs. The ones we have selected in this article stand out from the others with a wide range of quality floorplans and respectable design. Whichever camper you choose from among the top ten you will certainly not go wrong if you are looking for a high-quality vehicle. Of course, before buying, we recommend that you discuss the models that attract you the most with other camper owners and vehicle distributors. This way you will make the best decision which camper is the right choice for you.