3 Best RV Battery for Boondocking & Dry Camping
If you want to be far away from civilization while still enjoying the comforts of your bed and warmth, then you should try dry camping, which is also called boondocking. While this sounds good, you will still need something additional to support everything that you have in your RV, and electricity is one of those things.
A quality boondocking battery for camping and several things will determine which battery is the best for this job. Keep in mind, that what's working for you, might not work for someone else. Therefore, let's review those criteria and help you get a battery system that best suits your RV.
Best RV Batteries For Boondocking
To help you out, we have already picked the three best boondocking RV batteries from which you could choose. Depending on the amount of time you spend boondocking, the money you are willing to spend on the battery will determine its features. Each model has its advantages and disadvantages. Here are the best dry camping battery models and their specifications. We'll also get into the battery tipes so you can determine which type is perfect for you!
| RV Battery Specifications: | Amp Hours | Voltage | Weight |
| --- | --- | --- | --- |
| 1. Battle Born LiFePO4 Battery | 100 Ah | 12 V | 31 pounds |
| 2. VMAX XTR6-235 Group GC2  Battery | 235 Ah | 6 V | 78 pounds |
| 3. Optima OPT8016-103 BlueTop Battery | 55 Ah | 12 V | 43.5 pounds |
Best RV Batteries for Boondocking – Table Summary
1. Battle Born LiFePO4 (Li-Ion Battery)
Note! Best Lithium Battery for RV
Without a doubt, the best battery that you can find for your RV is the lithium-ion battery! Battle Born LiFePO4 Deep Cycle Lithium-Ion Battery is the best choice you can currently find on the market. While lithium-ion batteries are a bit more expensive, they are a far better choice than Lead-Acid batteries, as they have more capacity and more life cycles.
Battle Born batteries come with Battery Management System (also known as BMS technology), which makes the battery safer from failure such as low/high temperatures, short circuits, etc. Not only that, but the batteries are more resistant, and non-toxic, and they are a source of renewable energy, which enables more life cycles, quick charge, and quick discharge of the energy than any other battery currently. When it comes to weight, each model has 31 pounds.
Specifications:
Brand: Battle Born Batteries
Battery Dimensions: 12.75 x 6.88 x 9 inches (LxWxH)
Amp Hours: 100 Ah
Voltage: 12 volts
Type Of Battery: Lithium-Ion
Weight: 31 pounds
Warranty: 10-years
2. VMAX XTR6-235 Group GC2
Note! Best AGM Battery for RV
Another great choice to power your RV while dry camping is the XTR6-235 deep-cycle battery model. These 6-volt batteries usually have a longer life span than any average 12-volt battery that you can find in any RV. Not only that, but their price is lower compared to Li-ion batteries. Wiring them in series will get you 12 volts while connecting them parallel will get you double amp-hours!
78 pounds eachThe average service life of these absorbent glass matt batteries (also known as AGM) is between 10 to 12 years. Another great thing about them is they do not require maintenance, so you do not have to worry about checking the electrolyte gravity or adding water. The only disadvantage of these batteries is that they are pretty heavy (they are around 78 pounds).
Specifications:
Brand: VMAX USA
Battery Dimensions: 10.2 x 7.2 x 10.5 inches (LxWxH)
Amp Hours: 235 Ah
Voltage: 6 volts
Type Of Battery: AGM
Weight: 78 pounds
Warranty: Up to 1-year free replacement
3. Optima OPT8016-103 BlueTop
Note! Best Lead-Acid Battery for RV
This lead-acid battery from Optima OPT8016-103 is a 12-volt battery specially manufactured for RV use. They come with a unique and reliable SpiralCell design and provide clean and reliable energy. They are also vibration-resistant, which is a great thing, especially for RVs. While we did not test this, Optima claims that their batteries last 3 times longer than any other marine battery. Also, up to 3 times batteries from Optima have a 2-year warranty!
Specifications:
Brand: Optima
Battery Dimensions: 10 x 6.75 x 7.7 inches (LxWxH)
Amp Hours: 55 Ah
Voltage: 12 volts
Type Of Battery: Lead-acid
Weight: 43.5 pounds
Warranty: Up to 2 year
Important: All three batteries above have great reviews from RV customers, and no matter which one you pick, you will not make a mistake. Although they are not the only options, when you find out what camping style you prefer, you can pick a battery that suits you the best. Just make sure you fully understand all of the battery specifications and that you are ready for the purchase.
Some of you want to know more, so be sure to read How to Charge an RV Battery From Vehicle While Driving.
Different Types of RV Batteries
There are three types of RV batteries that dominate the market currently. Therefore, we will describe each of them and present their advantages and disadvantages so that you know what to expect from them.
Lithium-Ion Batteries
Currently, the most popular batteries for RVs are lithium-ion batteries. They are also the top pick above any other battery from the list because of the following reasons:
Lightweight – These batteries are much lighter than any other battery type, which is very important, especially when RVing.
Connect to Solar Panels – They can be paired by using solar panels. This is great when you're going higher upfront cost to boondock for a longer period of time.
Safe – Lithium-ion batteries don't require maintenance and are extremely safe. This is because they operate on LiFePO4 technology.
Capacity – The most powerful battery on this list. They tend to store energy for a longer period of time and have a discharge power of up to 80%
While we are usually talking only about the advantages of lithium-ion batteries, they also have some downsides, such as high prices! Although in the end, they are worth the money because they last much longer, give more power, don't require maintenance, and are safer while you are boondocking.
Lead-Acid Batteries
Other most-used batteries besides lithium are lead-acid batteries. These battery types are most commonly used for RVs. Lead-acid batteries have plates that are placed in an electrolyte. This type of battery come in two versions; a 6-volt and a 12-volt version. They are the cheapest of all three battery types. Lead-acid batteries are the best pick if you are a weekend camper and if you don't plan to stay camping for prolonged periods.
The downsides of lead-acid batteries are the following:
For plates to be submerged, they need consistent watering.
Be careful not to discharge them below 50%, otherwise, they will lose their capacity.
They weigh more than other batteries.
AGM Batteries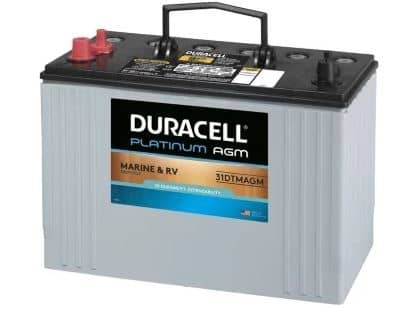 AGM (absorbent glass mat) batteries unlike lead-acid batteries that use lead plates use a glass fiber in a mat. However, there are some advantages of these batteries compared to lea-acid.
Here are a few of the advantages of AGM batteries:
A higher percentage of the battery can be discharged without the risk of permanent damage.
Less maintenance is required with these models.
The downside of these batteries over lead-acid batteries is that they are a bit more expensive and some customers do not find the price difference worth it.
Important Characteristics Of RV Batteries
To better understand how RV batteries work, you need to understand which features are important and what you need to pay attention to when choosing a battery. These are the most important terms related to batteries:
Voltage is a very important term when we talk about batteries. When it comes to motorhomes, trailers, 5-wheelers, and any other type of RV, they all usually use a 6-volt or a 12-volt type of battery.
6-Volt RV Battery vs. 12-Volt RV Battery
If you are planning on upgrading your RV battery system, the best choice we recommend is to buy a 12-volt battery. Even though the 6-volts are cheaper, you will have to buy more than one battery to get enough electrical power. And remember the more batteries, the less space you have. Also, the additional weight could be an issue too. If you are planning on buying a 24-volt battery, which is a great space saver, a step-down converter is required.
Amp-hours (also known as Ah) are used in every electrical device in the RV while they operate. Usually, RV batteries have anywhere between 55 to 235 Ah and it is very important to know how much electrical power your appliances inside the RV use, so you know how big a battery bank you need to buy.
What Battery Size Is Required for Boondocking?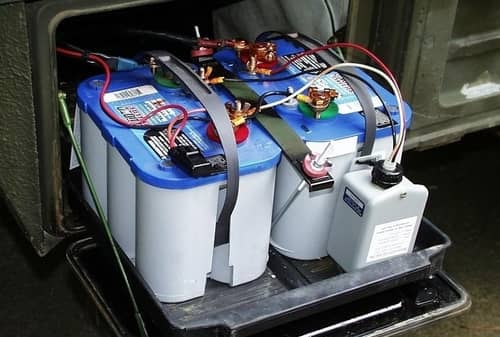 If you use only the basic electrical appliances in your RV, then a 100 amp-hours (ah) battery will be more than enough to power your vehicle during the boondocking. If you want more, you can always go and buy additional batteries. When you need to recharge your batteries, solar power is a good solution for a generator.
The best way to find out how big of a battery you need for your RV is to use simple math. The first step is, to sum up, all your appliance's power that you will use (and for how long) for boondocking. After that, find out how many amps are consumed. If the number of watts consumed is on the device, here is a quick way to convert the watts to amps.
Amps = watts/volts [A]
Converting a 120-volt AC to 12-volt DC power is done by multiplying amps by 10. If the appliances you are using are 12V, then you don't need to follow this step.
To make it easier, here is an example:
A coffee machine uses 200W per hour on a 120-volt AC. With this data, 200 is divided by 120, and you'll get 1.67 amps per hour (200/120=1.67). This means if the coffee machine is turned on for an hour, it will consume 1.67 Ah. Since your RV batteries are in this example, we'll use a 12-volt DC battery, and convert the amps to 12-volt by multiplying by 10.
Next, use 1.67, and multiply by 10. So, 1.67*10=16,7 Ah. This means if you are using your coffee machine for only 1 hour a day, it will consume 16.7Ah.
Now calculate this for every RV appliance you will be using while boondocking, and you will get the amount of Ah you will roughly use per day. And pay attention to the batteries you are using, especially if you have lead-acid batteries. These batteries should be recharged when they reach about 50% of their capacity.
Quick Tip: It is recommended that RV generator is used when powerfull appliances are used. One more battery-saving tip is to switch the refrigerator with propane gas when possible. LED lights consume drasticly less electricity than regular lights. Computers, laptops, phone chargers can run on solar panels to save energy.
Final Thoughts
Now that you know what you can do with your RV, it's time to do it. If you are not a fan of crowded places, boondocking is definitely a thing for you. Do not limit yourself to hookups every night. Although keep in mind, that whichever battery you buy, wherever you go, you will NEED electrical power. Therefore, good preparation can make your stay in the wilderness for a longer period of time.
Remember that your time there is limited, but the more you prepare, the longer you can last. The batteries that we reviewed in this article will keep your RV functional for some period of time! We do hope that we helped in your pick, and we believe that you will enjoy your time boondocking! Be sure to write feedback and reviews below!