6 Best RV Tankless Water Heaters for Instant Hot Water
Even when you live in RV (recreational vehicle), a warm and long shower does not have to be an impossible luxury. Tankless water heaters are a great and practical way to get an unlimited amount of water in your RV when you want it. They are also easy to install even on existing structures. 
With their help, you can get all the water you need, when you need it, without delay and without having to use propane to heat the water. In this article, we'll talk about the best models of tankless water heaters if you plan to replace your old water heater with the new one, and what are the advantages and disadvantages of such. So, let's start!
What Is an RV Tankless Water Heater?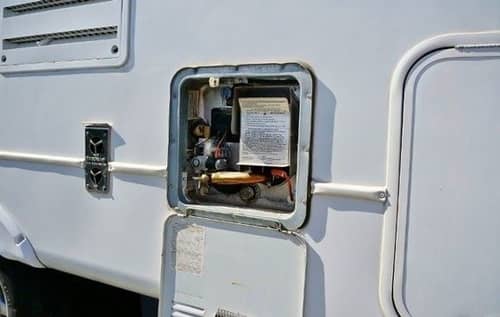 An RV tankless water heater is a water heating system that works instantly at the user's request. Traditional water heaters that are used in RVs usually take up space and add extra weight to the vehicle.
Unlike those models, the tankless water heater heats the water by using a heat exchanger, at the time of use, without storing it in the tank. Therefore, having a tankless heater means having more space available in the vehicle and always having enough hot shower water available.
If you want to know more about your RV, be sure to read How Much Propane Does an RV Fridge Use.
The Advantage of Using a Tankless Water Heater
When talking about tankless water heaters, the biggest advantage that they have is the instant and unlimited amount of hot water as long as you want it. Even if you are used to showering for 20 minutes, you can do the same in your RV with a tankless heater because the water will not run out!
This is a special benefit when it comes to families that travel together. With a tankless heater, you will no longer need to wait between showers while the water, after showering one family member, heats up for another. There are no more of those moments when you want to take a shower and realize you haven't turned on the heater! With a tankless heater, you can take a shower whenever you want without having to think about it in advance.
Energy efficiency is another advantage. Since the tankless water heater heats the water when you want it, you don't have to heat the water unnecessarily and use propane to do so. Also, a tankless water heating system is very efficient as it does not lose heat through the tank walls.
Without a water heater tank, your RV is lighter, so you don't have to drive to your camping destination with a full tank. There is more space in the vehicle when there is no water tank. Tankless Water heaters are also extremely easy to use, and it is no problem to maintain them.
The Disadvantages of an RV Tankless Water Heater
Switching from the RV's traditional water heater to the tankless system is not a cheap move. The cost of buying the best tankless water heater ranges between $250 and $1000. However, the cost of installing the system should be added to this amount.
Another downside of a tankless water heater is that it needs propane to work. Traditional heaters usually offer a choice between propane and electricity, which is great if you are connected to the electricity grid and have it free while camping. The only positive thing about this story is that tankless water heaters use propane much more efficiently.
The disadvantage of a tankless system is that it may take some time before hot water flows out of the tap. This way, the water supply is wasted unnecessarily, which is especially important for those campers who like to travel to the wilderness, where they have to be very careful with the water supply.
Things To Look For In An RV Water Heater
Brand
If you are looking for the best tankless water heater models we recommend brands: Girard, Suburban, and Atwood. Keep in mind that you don't have to buy the same brand you had before for your RV system to be compatible. Just pay attention to the size of the tank. All models from these manufacturers can be upgraded to existing structures in most RVs.
Size
Although some RV water tanks can have a capacity of up to 12- gallons, it is common to have a 6 or 10-gallon tank in a recreational vehicle. These water heaters can easily replace the existing units because they are designed that way. Keep in mind that the doors are sold separately when you are buying on-demand water heaters. Therefore, measure the length and width of your camper door and order the same dimensions.
Flow Rate (GPM)
Flow rate is measured through gallons per minute (GPM). A tankless water heater accounts for the flow input rate and activates the burner when a minimum level is reached. Water heaters are most often criticized for having too low flow rates to ignite the burner.
BTU
BTU stands for British Thermal Unit. It is used to express the energy consumption of a certain device that runs on gas. To better understand what this is all about, remember what the term 'horsepower' means when we talk about vehicles. Heaters that have a high BTU usually either heat the water to a higher temperature or simply heat the water faster.
Water Pressure (PSI)
Water pressure is measured by using PSI (pounds per square inch). Usually, hot water heaters need a minimum pressure to start the ignition. When we talk about tankless water heaters, the flow rate is more significant than the PSI.
The 6 Best Tankless Water Heaters for RV
The six models of tankless water heaters, which we will discuss below, will save space in your RV and free your vehicle from extra weight. They vary in dimensions, while their safety mechanisms are more or less the same. Let's take a look at each of the six models so you can decide which one best suits your needs.
| Best Tankless Water Heaters For RVs | Power consumption (BTU) |
| --- | --- |
| 1. Truma AquaGo On-Demand Heater | 45,000 BTU |
| 2. PrecisionTemp RV-550 | 55,000 BTU |
| 3. GIRARD 2GWHAM | 42,000 BTU |
| 4. FOGATTI RV Tankless Water Heater | 55,000 BTU |
| 5. Furrion 2.4GPM Tankless RV Heater | 60,000 BTU |
| 6. Camplux 2.64 GPM | 68,000 BTU |
Table of best tankless water heaters for RV
1. Truma AquaGo On-Demand Water Heater
This model of water heater provides hot water on-demand, and it works on 12V DC power and propane. This model comes with two modes: "comfort" and "eco".
Installed Features: Unlike traditional heaters, Truma AquaGo heats water only when you need it, and doesn't preheat gallons of water in advance. It comes with a small tank that pre-heats the amount of water for a faster user experience on demand.
Those who want to save water or propane will appreciate the two modes of this model. Comfort mode is great when the user is camping in the wild, and is forced to save water. It works by heating the water in a small tank. This model can deliver hot water the moment you use it without always keeping the large tank full of hot water your vehicle will be lighter. 
The disadvantage is that this tankless water heater can only be installed by experts for Truma company, so the only way to install them in your vehicle is to call Truma technicians or take your RV to an authorized service center.
2. PrecisionTemp RV-550
The Precision Temp's RV-550  model is very easy to install inside your RV and vents through the sidewalls of your vehicle. During its operation, this model uses the well-known VariFlame Control technology. 
Installed Features: With its 55,000 BUT, this model can easily supply your RV with hot water without any problems. The mentioned VariFlame technology always provides equally hot water regardless of the flow. The advantage is that it leaves you with more propane for other devices since it doesn't have to heat a large tank of water constantly. The less propane you consume, the less often you will have to refill your propane tanks, and that way you'll save money.
3. GIRARD 2GWHAM
The 2GWHAM model from Girard is made to work great even in winter conditions. It supplies 42,000 BTUs and runs on a 12V battery. Since it is a tankless water heater, its weight is only approximately 22 pounds. 
Installed Features: This is a model that allows a constant supply of hot water to the user for as long as he needs it. It contains anti-freeze technology that is activated at low temperatures, which is why it is a great choice if you like camping in winter.
4. FOGATTI RV Tankless Water Heater
Fogatti's RV tankless water heater comes with a 55,000 BTU heating power and is able to heat 2.2 gallons of water per minute by using propane. The DC motor has a quiet mode of operation, and an additional advantage is a remote control with which this model can be easily controlled from the inside of the RV.
Installed Features: The possibility of using the remote control is especially appreciated among the users because it means that you do not have to get out of the vehicle in cold weather. Safety options such as anti-freeze, flameout, overpressure, and overheating protection are also a big plus. The model comes with a 1-year warranty.
5. Furrion 2.4GPM Tankless RV Gas Water Heater
When it comes to RVs, the Furrion brand is well known in this industry. This 2.4GPM Furrion tankless water heater has a heating power of 60.00 BTU and is the strongest on this list. It can heat up to 2.4 water gallons per minute. The device comes with a 2-year warranty, so you don't need to worry about potential breakdowns. 
Installed Features: Furrion has a Vortex technology that is able to provide consistent hot water during its use. It also has a dual-sensor function that automatically turns off the system if the water temperature is too hot. VibrationSmart technology is also built into the device, which makes it safe from damage during travel.
6. Camplux 2.64 GPM
Camplux is one of the cheaper options when it comes to tankless water heaters. It is a lightweight and portable heater that runs on gas and is loved by RV users, as well as those who camp in tents. The device cannot be permanently attached to the vehicle like other models on our list. With this model, you get a showerhead and a gas regulator in the package.
Installed Features: If you want to use this heater while camping in a tent, simply hang it on a tree branch and that's it. Therefore, it is a portable and very light model, weighing only 19 pounds. Even though it is small, it is also strong. Hot water of 2.64 gallons is available to the user in just a few minutes. The following functions are responsible for safety: freezing, dry combustion, low water flow, flame failure, high water pressure, and overheating.
Installation Process of a Water Heater In Your RV
It is not difficult to install a tankless water heater in the RV. It is only important to buy a device that matches the dimensions of your old device. Also, keep in mind that doors are purchased separately and that you must purchase them as well. Be sure to measure the width and length of the water heater doors before you buy.
Step-by-step on how to install a water heater in RV:
Turn off electricity, water pressure pump, and propane in your RV.
Open the drain and relief valve and make sure to drain the hot water tank.
Disconnect the cold and hot water lines, together with a gas line. Also, be sure to disconnect the electric connections from your old water heater. Make sure to picture your existing connections so you know how to reconnect them later.
Remove the old unit by using a screwdriver.
Remove and scrape off the old caulking. Also, be sure to clean the residue that is left behind.
Around the opening of the exterior, the locker put new butyl tape.
Carefully put in a new tankless water heater.
Attach the new door.
Around the unit put lap sealant or bead.
Reconnect the water lines and gas lines. If existing water lines don't line up, be sure to use flexible PEX tubing to make the connection. You don't need bypass valves on tankless water heaters.
In the interior of the RV (within your reach), install the new heater control panel.
Now you need to reconnect the existing electrical connections.
To check for leaks, turn on the LP Gas lines and water pump.
Test your new water heater by turning on the power.
Possible Troubleshooting Tips
If you have a problem with turning on your new tankless water heater, the most common problem is that there is air in the gas line. You can solve this problem by turning on the stovetop burner for a few seconds. Another possible problem may be that your showerhead or faucet has a too low flow rate. The solution to this problem could be to open the faucets all the way so that the pressure draws all the air out of the pipe and possible blockages. You can try to use only one facet in the RV at a time.
If you own an RV, you might also want to know what are the 3 most Common Forest River RV Furnace Problems.
Final Thoughts
If you are one of those people who likes to take a long shower, then we definitely recommend that you install a tankless water heater in your RV. When traveling with family in RV, showering may be the only activity where you can relax all by yourself. Therefore, you should consider buying a tankless RV water heater that meets your needs. When choosing, be sure to first study the space you have available. I hope that this article has helped you, and if you have any questions about water heaters be sure to comment below.