Can Log Cabins Have Basements?
Some owners want to add a basement on their log cabin foundation to increase value and to add additional storage areas. On the other hand, when you build a log cabin, you want to save as much money as possible, but that's not always possible. Basements on log cabins are not always easy to add. In this article, we will explain when a log cabin can have a basement and whether it's cost-effective. So, let's start!
Can Log Cabins Have Basements?
So Can Log Cabins Have Basements? Depending on the type of foundation, log cabins can have basements. Adding a basement to your log cabin will increase the square footage and add additional value to your cabin. The basement can provide extra space that can be used as an additional kid's room, bathroom, guest room, or storage space.
Having a log cabin with a basement is a great way to add additional space and value to your cabin. On the other hand, when building a basement, it is necessary to consider what floor will work best for your cabin and will you use concrete or some other material.
Basements are not as common in log cabins as they are in traditional houses, and sometimes they are hard to do. As with everything, the basement has some advantages and disadvantages, which we will also go through later in this article.
Importance Of Basement Foundation
Before starting with a basement, you'll need to decide what type of log cabin foundation you want. Placing a log cabin on a weak foundation can be dangerous, and it's not safe in the long term. That's why the foundation must be strong and durable over a long period of time. Most American log cabins use concrete (poured, block, or precast) for the basement foundation.
In this YouTube video you can see how this is done:
Basement Comes First
The first step is to have a solid plan before you start the construction process. Building a log cabin together with a basement requires a lot of work and skill, and you must also follow the building codes. Unless you make a solid plan of what your basement will look like, you will hardly be able to realize it.
A basement is a great way how you can add extra value and at the same time increase the log cabin's size. The downside is that building a basement will increase the investment cost by at least 50%. Therefore, you need to think carefully about whether it pays to build a basement before you decide on it.
This article might also interest you, Can A Log Cabin Be Moved? Expert Explain.
Importance of Contractors and Subcontractors
When building some projects such as log cabins, multiple contractors and subcontractors are used and they must work together. If your subcontractor doesn't do his part of the job, then the contractor can't continue.
Contractors and subcontractors must be well-chosen professionals with enough experience in these and similar projects. Therefore, planning is very important and needs to be done well from start to finish to make everything go smoothly.
Note! First, start with the basement plan and then continue with constructing a log cabin on top of it.
Log Cabin Is Already Built
If your log cabin is already built, but you want to add a basement, what then? You'll have two options in this scenario; transport the original cabin or build a new one. The basement needs to be built first because solid foundations are required in order to keep the log cabin on it. To avoid a bad scenario, the basement should be planned from the start. Also, make sure that blueprints are marked correctly.
The Pros And Cons Of Log Cabin Basements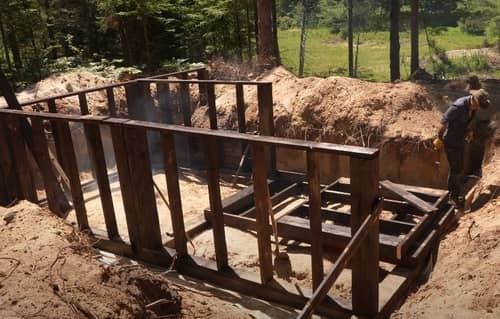 Although building a basement significantly increases the overall cost of a log cabin, on the other hand, they offer a great value in terms of extra storage space. The basement even makes more sense if it's built on a slope. Here we'll list all the pros and cons before you decide up with any plans to build a basement:
The Pros:
Extra space for friends and family
Additional storage space
They can be a great storm shelter in bad weather conditions
Increase the value of your log cabin
Can be rearranged into an entertainment area
The Cons:
Increases the initial cost of the investment
They are not suitable and safe for earthquakes
Water can leak into basements and create damage and cause mildew
Elderly families will have problems going up and downstairs
Can You Live In The Log Cabin Basement?
To redecorate the basement so that you can live in it, you'll need to put a lot of effort and remodeling. If the basement is not well made, spending time in it can be like spending time in a dungeon or a prison. To avoid this, try adding natural light to it.
First, you need to have high ceilings that are between 8 to 10 feet high. On the ceiling, you will probably have wiring, plumbing, pipes that will need to be covered to improve the room's aesthetics. That's why having a high ceiling will provide you with plenty of space to cover things like that.
A window is another option that must be considered if you want to have natural light in the room. Keep in mind that not all basements will have this opportunity. The light that is coming from the sun can have a significant impact and can do wonders.
Cold is also a problem that can be present in the basement, especially during the winter. Quality insulation is, therefore very important. If you manage to raise the basement temperature, the people who live there will also forget that they are in the basement.
Floor Solutions For A Log Cabin Basement
Concrete is the best option for flooring your basement. That's why this form of construction is recommended because you can later modify your floor with any other material.
One of the options is to ask your contractor to do a troweled finish. That way, you'll add a visual appearance to your floor. Ensure good insulation if you use concrete to avoid extreme temperatures that the basement can reach during the summer.
Another solution that you can do is to add the carpet or tile and stone, but this will cost you more. Adding wood to your floor is also a good option. It is important to choose appropriate wood so that in contact with concrete, it would not create moisture in the basement.
Here is a great YouTube video that shows what are the best basement floor options that you can add:
For those who want to learn more, be sure to read Log Cabin Roof Ideas? (How To Roof Your Log Cabin).
FAQ: People Also Ask
1. How To Control The Basement Temperature?
With the proper insulation and heating, you can easily control the basement temperature. You can also add insulation from the inside and outside of the basement. Cold temperatures in the basement will create humidity, so it is important to keep the basement warm. Make sure to keep the basement temperature the same as the rest of your cabin (house).
2. What Is the Cost To Build a Log Cabin?
The price of a log cabin depends on the construction, materials, size, and location and it varies between $15.000 and $25.000. There are a lot of log cabin calculators online where you can calculate the real cost of the cabin. Before starting, be sure to set your budget and hire a professional who knows what to do.
Be sure to do good research before you start with the building process. The unwritten rule is that you should have at least 10% more money than you calculate it would cost you to build a cabin.
Final Thoughts
Building a basement is a great option to add value and extra space to your cabin. The foundation of the basement must be strong and solid. If you decide to build a basement, be sure to hire professionals and calculate the total cost of it. I hope that this article has helped you and if you have any additional questions feel free to comment below.