Does Log Cabin Add Value To Your Property? Expert Explain
Did you know that there are many ways to use a log cabin in your garden – from a home office, bedroom, storage area to the playroom. And while any of these reasons are logical and welcome, it is good to know that a log cabin can also add extra value to your property. But is this always the case, and do you need a building permit for this? In this article, we'll talk about that and much more. So, let's start!
Does A Log Cabin Add Value To Your Property?
So Does a Log Cabin Add Value To Your Property? A log cabin can add on average, between 5% to 15% to the value of your property. This is considered a very large return. To build a small log cabin you'll need to invest between $10,000 to $25,000, while the return of investment can be more than $30,000.
Having a log cabin is a great investment that not only adds value to the property but also creates additional content that can be put to good use. More and more people lately are interested in this option. Before you decide to build a log cabin in your garden, you'll need to check if you will need planning permission. If you don't have building permission, this could create additional problems when it comes to selling the property.       
For those who want to learn more, be sure to read Can A Log Cabin Be Moved? Expert Explain.
A 2018 survey was conducted where Country Living highlighted the research by the Federation of Master Builders and HomeOwners Alliance where it was stated that having a garden room or a small log cabin can add $35,600 on average to a home price.
Advantages Of Having A Log Cabin On Your Property
Having a log cabin in your garden is a great way to add additional value to your property. That way you'll get:
Additional space at a fraction of the cost
Without too much paperwork getting planning permission
Low investment and maintenance costs
Also, be sure to take into account that the value of your property can be affected by the following things:
The quality and size of a log cabin
The type and value of the property
Its location
How Much Price Does Log Cabin Add To Your Property?
The value that a log cabin can add to your property depends on your current property value, size, and the quality of the log cabin. In general, the value of your property will increase between 5% and 15% by having a log cabin in your garden. For a property that is worth $150.000, this will add an additional $7.500 to its value. The increase in value will be paid off easily. The maximum potential of 15% you could get would be $22,500. Pretty much, right?
What Determines The Value Of The Log Cabin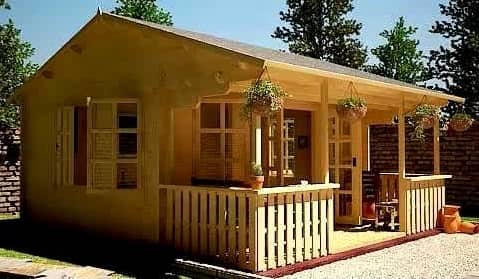 To get the most out of having a log cabin in your garden, be sure to consider the following:
1. Quality of Log Cabin
If your log cabin is not in great shape, you'll hardly be able to find potential buyers for it. You will not add value to your home and property, and this will be more of an obstacle than an investment. Potential buyers may not be interested in such an investment because they themselves will have to invest even more money to rebuild or remove it.
Note! Things on what you need to pay attention to your log cabin: sturdy, insulated, waterproof, good quality.
Therefore, be sure to check these selling points on your log cabin, as they will depend on whether you will get added value to your property. People often spend time in their gardens, and having a good, existing living space in the garden for rest, playing, or work is a fantastic thing.
2. Running Electricity to the Cabin
Having electricity in your cabin will undoubtedly be the feature that will increase the price of the cabin because you will thus have the additional option of heating and using it throughout the year. One of the options is to use solar panels that are a great way to get electricity to the cabin.
3. Add a WiFi Connection
Potential buyers will surely want to know does your cabin comes with an internet connection. This is for those who want to spend time inside the cabin to watch some good movie on Netflix that requires a WiFi connection. So having a convenient outdoor space that can be turned into an office without too much expense is a massive plus. Some people will certainly pay a lot of money to have this.
4. Planning Permission
Usually, log cabins located in the garden that have roof height less than 2.5 m and are not located 2 meters to an existing boundary do not require planning permission. But you definitely have to check it out, because every state has its own laws. Therefore, be sure to have all the permissions needed for your log cabin so that you avoid all the problems with potential buyers.
Having A Log Cabin Is A Popular Trend
Many people are looking for a garden that is easy to maintain. If you find a large garden that requires a lot of maintenance, many potential buyers will not be interested in buying it. But that is not the case if you have a log cabin. The cabin can also serve as an additional workspace where you can spend time without disturbing other housemates.
Another benefit is that having a log cabin in your garden can give it an extra touch of luxury. An extra room in the garden can make a big difference in people's eyes, giving them many additional features. Log cabins come in a big range of sizes and designs, so it is also essential to find one that keeps the style of your house. Also, if you're hosting a garden party and it starts raining, you can easily hide in your log cabin.
Also, be sure to read Can Log Cabins Have Basements?
FAQ: People Also Ask
Do Log Homes Keep Their Value?
The value of log homes increases their value over time, which makes them a perfect investment. However, this depends on the log home quality and space. It also requires additional maintenance.
Are Log Homes a Good Investment?
Log homes are, in most cases a great investment. They are popular, and you do not need to invest a lot of time in them. Quality materials must be used during construction to make the cabin last as long as possible.
Final Thoughts
Anything that increases the value of your property is a good investment. Therefore, building a log cabin in your garden can add additional value and increase the property value from 5% to 15%. Also, another important thing is that by owning a cabin, you will find potential buyers who will be interested in your property much faster. I hope that you have learned something new from this article and if you have any additional questions feel free to contact us.