How Long Can You Finance an RV Loan?
Whether you are looking for an expensive, multi-million-dollar bus conversion or a small pop-up folding trailer, there is certainly an RV for you out there, and one of the best ways to get one is by using an RV loan. That is the reason why we will discuss RV loans in this article and hopefully help you become the owner of one of ten million RVs that are already traveling true American highways.
Similar to mortgages and car loans, RV loans can have tax advantages, and you can decide on your repayment year plan depending on how long you want to be paying off your loan. RV loans also depend on your credit, and the RV itself is used as collateral.
How Long Can You Finance an RV Loan?
So How Long Can You Finance an RV Loan? Typically, RV loans are used in the range between 10 to 15 years, while many banks, credit unions, and other finance companies will try to extend that period up to 20 years for the loans that are $50,000 or more.
For those who already own an RV, be sure to read How To Sell A Camper Fast (Step-By-Step).
What is an RV loan?
Depending on what type of RV you are buying, an RV could cost you as little as 10,000 USD or as high as 1 million USD. This is why most people who are interested in buying an RV turn to financing in the form of an RV loan. This loan can be used to purchase any type of motorhome, and it is considered to be a type of long-term financing.
There are many ways to acquire an RV loan, but some of the more popular ones are through a bank, an online lender, or even the dealership at which you buy your RV. The RV doesn't even have to be new because lenders usually offer deals for used vehicles too. Whether you decide to buy a new or used RV, in both cases, it will serve you as the only collateral if you fail to repay your loan.
The average payment term for an RV loan usually is in the range between 1 to 15 years, with the option to stretch it up to 20 years depending on the lender you choose, unlike auto loans for which payment terms are usually shorter. Also, when it comes to an RV loan transaction, it is generally more complex.
How Does an RV Loan Work?
Once you have decided that an RV loan is a way to go, you have to choose a lender, submit an application and finally sign an agreement if your application is approved. Essentially, an RV loan is just like any other consumer loan, even though its primary purpose is the acquisition of an RV. You choose a lender who provides you with the necessary funds which you repay over time with interest, and the RV itself serves as collateral if you fail on returning the loan, making an RV loan a secured loan.
RV Loan Options
Most lenders will ask you to pay 10-20% of the vehicle worth in advance, and depending on who you turn to for your RV loan, the interest rates can go up to 35.99%, but you can also get a good deal as low as 3.99%. Anything in-between is also possible. The loan periods can stretch anywhere from 5 to 20 years since RVs are seen as primary or secondary homes. The majority of the loans you could encounter are financed by banks, RV dealerships, and credit unions.
An easy method to check what your monthly payments might be is to use an online loan calculator or a loan chart and in order for you to even be eligible for an RV loan, the lender will check your income, credit score, personal assets, and ability to pay.
Current Interest Rates For RV Loans
| Bank | Rate | Terms | Loan Minimum |
| --- | --- | --- | --- |
| LightStream | 4.29% – 11.98% | 24 to 84 months | $5,000 |
| Navy Federal Credit Union | 7.99% – 8.8% | Up to 180 months | Not specified |
| U.S. Bank | Starting at 5.24% | Not specified | Not specified |
| USA | Starting at 5.25% | 12 to 180 months | $5,000 |
RV Depreciation
As with cars, the longer you have and use your RV, the more the price of it will go down if you decide on selling it. In fact, as soon as you've bought your RV and turned the engine on for the first time, the price of your RV might go down by up to 30%. This is something to keep in mind when deciding on whether you should buy an RV since the value of your RV is likely to be less than the full amount of your loan. In this Youtube video, you can see how to get RV financing and more.
Tips When Buying RV For The First Time
1) Don't Pay Sticker
When buying an RV, it is important to bargain with the seller, since RV dealerships often inflate the price of the vehicle by up to 30%. This is why it is also important to have a sales representative who can help you get a reasonable price. One of the best ways to check current market prices for RVs is using online websites such as RV Trader, RV.com, or RVT.com. These websites can give you an overview of the current prices in dealerships, but also those of private sellers.
2) Credit Score
One of the most important factors when applying for a loan is your credit score. Keep in mind that you could still be able to secure a loan even if your credit score is not as good.
3) Look for an RV Loan
When searching for an RV loan, the best thing to do is to first talk to a lending expert. You could also search independently, but this may vary in dealership loans since dealers receive a percentage of the money from the lender per approved application. Also, be thorough since the first loan you stumble upon might not be the best one out there.
4) Save Money
Take into account that life circumstances can change, so the best method is to apply for payment methods that span over a longer period of time. This means that your monthly rates will be lower, and by paying off the loan earlier, you save money on interest. Furthermore, if you are prepared to settle for a smaller RV at first, you can easily swap it, once you've paid it off, by using it as a down payment for another RV loan.
Average Price Range For RV Models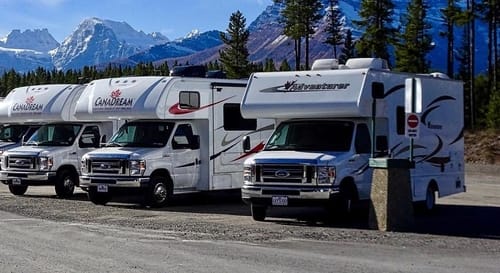 RVs are divided into classes which means that the price of an RV depends on which class it belongs to. Look at the list below before you decide on what kind of an RV type is best for you.
Class A: The priciest and most luxurious RVs are classified as class A. their size can vary from 27 to 45 feet. The most luxurious ones can cost up to 3,000,000 USD, but the average price range is between 80,000 USD and 1,000,000 USD.
Class B: RVs in this class offer all of the basic features in a full-size van with the models that are usually built on one of three chassis: Mercedes-Benz, Dodge Sprinter or Ford Econoline. These RVs, also known as campervans, are a bit more affordable with prices ranging from 80,000 to 125,000 USD and the more luxurious models going up to 175,000 USD.
Class C: Vehicles in this class usually range from 20 to 40 feet in length, with the prices going as low as 50,000 USD and as high as 80,000 USD. Their most noticeable feature is a bunk over the driver's cab. If you're interested in luxury, you could pay up to 115,000 USD.
Fifth Wheels: If you are interested in spacious vehicles with home-like features and appliances then the fifth wheel is the way to go. With the length spanning from 25 to 45 feet and the prices going as high as 125,000 USD and as low as 40,000 USD, the fifth wheel, also known as "goose neck", is a great option. The more luxurious models could cost you up to 175,000 USD.
Travel Trailers: Due to their similarities to class A and C interior-wise, but also their versatility and lightness, travel trailers are one of the most popular options. Their length can vary from 10 to 40 feet and the most expensive one you can get is the park model which costs roughly 100,000 USD. The prices for the more standard models are between 10,000 USD and 80,000 USD.
Pop-up Folding Trailers and Hybrids: The advantage of these trailers is that they can be towed by practically any vehicle, and they offer the most basic trailer amenities, making them a great option for young families. These trailers are also quite affordable with prices spanning from 5,000 USD to 35,000 USD.
Truck Camper: If you are interested in a camper which can hold no more than two people and can fit inside a pickup truck bed then a truck camper is the best option. If you are truly interested in owning a truck camper you should be prepared to pay somewhere between 8,000 USD and 12,000 USD with the prices of the more luxurious ones that are going as high as 50,000 USD.
Tax Considerations of RVs
Since an RV is considered to be a primary or secondary residence since it has the features of a residence according to the IRS: a cooking area, toilet facilities, and a sleeping area, your monthly payments could be deducted on your federal taxes. This is why it is important to consult a professional to see how owning an RV can affect your federal tax.
Extra RV Costs
Similar to when you are buying a house, you have to take into consideration not only the price of your RV but also additional costs. Below are listed the additional RV costs that you will have:  
Fuel: When talking about fuel consumption, the most fuel-efficient classes are B and C. Most motorhomes come with 40 to 100-gallon gas tanks and are powered by either diesel or unleaded gasoline engines which tend to spend a gallon every four to eight miles.
Propane: A gas used to power certain systems inside an RV, such as stoves, ovens, centralized heaters or refrigerators.  The price of propane is around 3 dollars per gallon. It is also important to take into consideration that the average class A motorhome comes with a tank of roughly 80 gallons which means that it would cost you 240 USD to fill the whole tank.
RV Insurance: You would think that insurance for an RV is fairly costly, but that is not the case. Especially when taking into consideration the fact that insurance covers liability on campsites, collision issues, and similar problems that you might encounter on your trip. The best way to check insurance rates and secure yourself a great insurance deal is by checking online websites such as RVerInsurance.com.
Hitches: An important part that enables you to connect your vehicle to your RV in order to tow it. It is important to check if your flatbed or pickup truck is suitable to have a hitch connected to it. Even the fifth wheel receivers need to be mobile enough to allow turning. This important piece can cost you from 100 USD to 600 USD but be vary when using a short bed pickup since they can be easily damaged if the length and width of the bed don't match the hitch.
Towing Vehicle: The Gross Vehicle Weight Rating or the GVWR for short can help you decide on what kind of a vehicle you need in order to tow your RV. You can find the GVWR inside your owner's manual or at the car dealer where you bought your vehicle.

If your trailer isn't going to be longer than 24 feet, a simple mid-size SUV will be enough but if you are considering a larger trailer, you should consider also owning a larger truck or full-size SUV. Most fifth wheels require at least ¾ ton trucks but there are some smaller ones out there for which you need a ½ ton truck.
Storage Fees: Definitely consider storing your RV in storage if your own property comes with limited space or if you simply don't want it on your own property. Be sure to check more options if you want to be sure that you are getting the best deal money- and rate-wise.
Maintenance: Creating a savings account might not be such a bad idea when it comes to RV maintenance, especially when you take into consideration that the cost of one class A tire is as high as 500 USD. Multiply that by six since most RVs require at least that many. Some other issues you might come across are rubber drying out, seal degradation, or simply parts becoming worn down. Maintain My RV is a great website to use if you want to maintain your RV properly.
Tax, Tag, Title, and Fees: You should always consult your salesperson to find out about all the fees you have to pay for, some of which are license plate registration, sales tax and even changing the title over.
Enhancements: If you want to make your RV more home-like you will have to be able to afford a TV, radio, or any other electronics that you might require since most RVs don't include those. Rather they only come with some pre-wiring to make it easier to install the electronics. Take this into consideration before buying an RV, especially if you are interested in getting yourself a nice leather seat with multiple massage modes. And heating, too.
Get Discount By Joining RV Club
One of the best ways to get discounts, special RV stores, or even gas stations is to join a membership club. This can greatly improve the quality of your RV life and even minimize the costs of living such a life. A thousand Trails and Passport America are some of the best examples of membership clubs.
As with every other item you buy, it is important to first educate yourself before buying. When it comes to RVs make sure to check the manufacturing quality of your RV, what kind of maintenance it requires, and also the type and quality of customer service it offers.
For those who want to know Where Can I Weigh My Trailer Near Me? (Cost and How To), be sure to read this article.
FAQ: People Also Ask
Can you finance an RV for 20 years?
A 20-year loan will probably cost you more in the long run due to interest, but it offers more affordable monthly payments' than, for example, a ten-year loan. Obviously, you will pay off the 10-year loan much faster. Be sure to pick an option that best suits you since RV loan terms can span anywhere from 1 to 20 years.
Final Thoughts
Today, only a few people have the money to pay for their RV in cash, so more and more people are opting for a loan option when buying an RV. In this article, we can see how the loan is used for a period of up to 20 years. So before you buy, be sure to take your time, check what the offer is, how prices are moving, and which model you would like to purchase. I hope this article has helped you and that you will have a much easier choice in your RV. Good luck!