How To Get A Title For A Camper Without Title?
While doing some research, you might get your hands on buying a camper that comes with perfect features, that is in great shape and have a reasonable price. But what if you discover that your camper is missing its title? For some, this might be a big problem.
However, there is no reason to worry about it, because you can get the camper title by following only a few steps from this article. First, we are going to determine what a title really is, then we will talk about why sometimes campers don't have a title, and finally, we will teach you how you can get your camper titled. So, let's start!
How To Get A Title For A Camper Without Title?
So How To Get A Title For A Camper Without a Title? To get a title for a camper that doesn't have a title you'll need to apply for it. The first step is to obtain (download) the title application form on your state's DMV website. Next, you'll need to fill the bill of sale for your vehicle. The last thing is to obtain a certificate of inspection.
Typically, if you just built your RV, you probably won't have a title, and you will need to get a "scrap" title. This type of certificate is given to camper owners that vehicles didn't previously exist. That way, you'll get the proper title certification and the option to get a VIN for your new vehicle.
In the following chapters, we will talk about other important things related to getting a title, so be sure to continue reading.
If you want to learn a few things about cleaning an RV toilet, be sure to read How To Clean An RV Toilet? Expert Explains.
What's a Certificate of Title?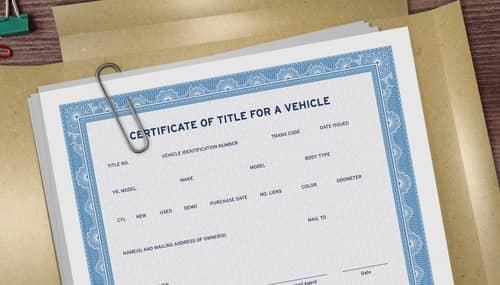 In the United States, a certificate of title is a document or a legal form, generally termed as a 'title' or a 'pink slip'. The Secretary of State issues these certifications. In most states, The Department of Motor Vehicles (DMV) is in charge of getting you a certificate of title.
Note! Keep in mind that coming to the possession of another recreational vehicle won't get you out of trouble of gaining a certificate of title. It is required for all recreational vehicles.
To avoid legal issues, it's critical to have all of your title documents in order. Each and every info of your camper is contained in the title. This certificate serves as a confirmation of vehicle ownership and it is also used in plenty of other circumstances. Taking that into consideration, we can all agree on why this is important to have and why we need one.
How Can a Camper Have No Title?
As we said before, a camper's title is a type of legal document that contains vital information about the camper. It is really important to have one although some campers may be missing their title. How can that happen? Well, there are numerous reasons, and some of them are not quite logical, still, we have a quick fix for that too. In the next few paragraphs, we'll be listing all the reasons why a camper can be without a title.
1) Paperwork of the Camper Is Lost
If a camper is too old, it may lack a title. In several states, old campers (over 30 years old) are categorized as vintage or collector items. Just to resolve this, the campers were registered a long time ago and had a title back in the time. It seems to be a reasonable classification because of the fact that the vehicle has been on the road long enough. Correspondingly, the paperwork might be destroyed or lost and the owner never bothered to seek a replacement.
2) Private Seller Bought The Camper
If you are investing a significant amount of money in a camper, you should be getting all the necessary documents. To accomplish that, our advice to you is to buy a camper from a dealership. That way you'll get all the needed paperwork for your camper. On the other hand, purchasing from a private seller will make you responsible for the legalizations required for the camper. You would definitely like to avoid that mess.
3) The Owner Didn't Know That a Title is Necessary
Almost everyone who owns a car knows that a title is an important thing to have. However, many RV owners are not familiar that their campers also need to have a title. This is understandable, given each state has its own set of rules for titling a recreational vehicle. If your trailer weighs less than 3,000 pounds you may be lucky and don't have to get a title, but that depends on the state where you live.
The reason why it is important to have a title on your camper is that if it gets stolen or abandoned it will be easier to track it down. Therefore, this should also be kept in mind.
Do You Need a Title For a Camper?
Before we answer that simple question, let's consider all the consequences if you don't have a title for a camper.
You know that the camper is your property but you can't prove it and authorities can take it away from you in fear that it's stolen. That would be the worst possible scenario for you, wouldn't it? Somehow you avoid all that drama but then there is another problem. You will be unable to apply for a license plate and furthermore, you can't have insurance without that little piece of paper called 'The Title'. 
Imagine getting arrested on suspicion of theft and losing the money you paid for a camper without a title. Do you see now, why is purchasing a camper without a title highly dangerous.
On top of that, if you want the camper to be your legal property you need to update the seller's title. If you don't update the seller's title he can file a report for his camper. Report of theft or damage. In that instance, you will not be considered the owner and you will be left with empty pockets. That sounds pretty bad. In light of all these factors, future purchasers will be hesitant of buying your camper. The outcome will be selling a camper for a fraction of its true value if you can sell it at all.
Now, to check how carefully did you read this chapter:
Do you need a Title for a camper? YES or YES
Is it dangerous to not have a camper's title? YES or YES
Here is a great YouTube video that shows 2 ways how you can get a new title without having te title on your vehicle.
How to Get a Title For a Camper Without Title?
Having the necessary paperwork and legal documents is halfway to getting a title for your camper. The next step is to bring all those papers to the DMV and there they will examine many components of the camper to ensure that it meets the following criteria such as:
The camper's legal situation (needs to be clear)
The camper isn't stolen
There are no indicators that the camper is on a lien
Last but not least, the camper fits the state's safety requirements
You'll be given the new title once they approve your application but only if you meet the conditions we listed above. If the state requires additional registration, you'll have 30 days to register the camper.
The process looks familiar to you? It is because is similar to that of obtaining a car's title.
1. Apply for the Camper's Title
In almost all states you can go to your local DMV office and personally provide all of the required legal documents and title fees. The following are the legal documents you'll need to complete the process:
Driver's license
Title Application
Certificate of Inspection (Usually from RV dealership or DOT)
Bill of sale or credential of origin from the producer
Lien status document
*Be sure to check that you have all of the required documentation by visiting your state's DMV website.
Some states allow you to register online and then e-mail them all the necessary papers and title fees. However, the majority of them require that you personally go to your local DMV office and provide all of the legal documents.
2. Title Application
You should be able to obtain (download) the title application form from your state's DMV website. Another option is to stop at the local office and pick one up by yourself. The application may ask you the following information, depending on your state:
The brand and model of the vehicle, including the year of manufacture
The VIN (Vehicle Identification Number)
The vehicle's particulars (size or weight)
The owner's private information, such as date of birth, address, and social security number
The employer identification number
The driver's license number
The camper's license plate
Notary certification
TOD (Transfer on death beneficiary)
Lien status
Mileage
The camper's tax status
If you are unsure about some information, it is best to leave it blank. This will not affect obtaining your camper's title. If you want it notarized, you should also leave the signatures and miles fields also blank. It is important to do so because if the notary did not witness this information beforehand, the notary is legally compelled to refuse to sign the application.
Don't leave behind the factual calculations of your camper's weight. The simplest method is to go to a highway weigh station if you don't know the total weight of your camper. You can also go to a recycling facility or a nearby factory that usually has huge scales with which a camper can be properly measured. Some states need this information while you are applying for a title.
After you've finished preparing everything, you'll need to complete the following:
Go to your nearest branch and pick up an application form or download it from the state's DMV website.
Fill in all the necessary information that is in the form.
Include the bill of sale, inspection authorization, the lien status, and the title application form.
Submit the application to the DMV by e-mail (or return the documents to the physical office) and wait for the approval.
Did you know…?
An interesting fact for those who built their own RV is that you'll need to get a "scrap" title, but you will also be able to create a VIN for your new vehicle.
3. Get Bill of Sale
A Bill of sale for a recreational vehicle is a legal document that contains all the facts about the transfer of ownership of the vehicle to another party in exchange for money. The paperwork requests similar information to that required by the title application. Furthermore, it may request information such as:
The agreed-upon financials and the sale date
Personal and contact information that are related to the seller and the buyer
Previous tax status
When the inspection is needed from the camper buyer
If the camper has a security deposit
Some campers come with their own identification number
The state's DMV may require some other information, therefore, we provided you with the most common ones. Just to be sure, check their website for more details.
Some of you may have trouble finding out why it is important to have a bill of sale. Without it, you can't change the camper's title. The value of having a bill of sale is also important for the seller in terms of taxation. There are also many templates for bills of sale that you can easily find on the internet.
Note! The very first thing you should do is to sign the bill of sale in front of a notary or witnesses to avoid legal complications.
4. Certificate of Inspection
The last thing that you need to complete this process is the certificate of inspection. Unlike the bill of sale and the title application, this document isn't issued by the DMV. The Department of Transportation provides this certification (DOT) and its role is to inspect the camper to ensure that it meets the state's safety regulations.
There are requirements that you must satisfy to get this document. Here are the requirements that you need to have:
The complete condition of the wheels and tires
The visibility of the registration plate
The condition of the camper's brakes
The tail and headlights
The side and rear reflectors
The Certificate of Inspection should be issued by a legitimate RV dealership. While doing an examination of your vehicle they can give you accurate judgment on whether you need to repair or replace any parts of the camper.
Final Thoughts
Getting a title for your camper is a really important thing and you must have it. In this article, we have gone through all the steps that are required to get a title and what you must do. Complete the needed steps and obtain license plates for your RV. This is important to protect your investment. With all that in mind, it would be so easy for you to sell it, obviously if you need to. I hope that this article has helped you, and for any additional questions feel free to contact us.