RV Parks Under $500 a Month In Florida: Cheap Options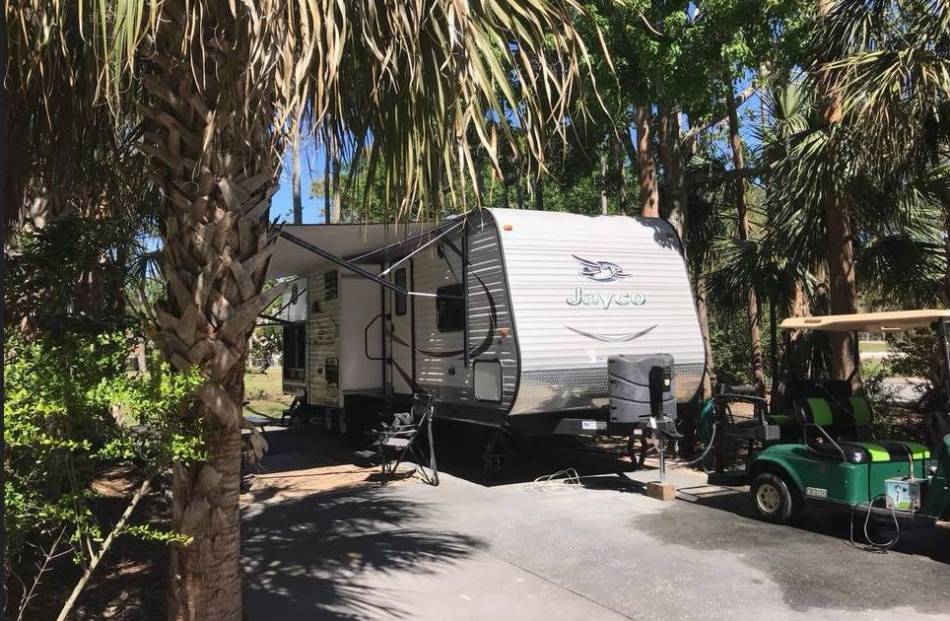 The most popular destination for RV camping in America without competition is Florida. It has beautiful surroundings, plenty of sun, warmth year-round, and a variety of opportunities for recreation and entertainment, thousands of camper are visiting Florida's RV parks.
If you are planning such a trip, you must know that RV parks there are quite expensive and that it is not easy to find a good spot at an affordable price, especially if you do not plan to spend more than $500 per month.
In this text, we will talk about RV parks in Florida, how to find the ones with the best rates, and guide you on what you need to pay attention to avoid additional fees that will make your Florida adventure more expensive than you planned.
How To Find Cheap RV Parks in Florida?
If you are an experienced camper who has already visited many RV parks, you probably think planning your Florida trip for under $500 per month will be a piece of cake. But you are far from the truth. Most popular Florida RV parks do not post their prices on their websites!
It is hard to say the real reason for this, but given that camp prices in Florida are much higher than in other states, it can be assumed that the camps do not want to lose potential customers by listing the price. Keep in mind that the time of the year also plays a big role.
Therefore, it is very hard to find a good RV park that doesn't cost more than $500. We searched the websites of many RV parks in Florida, but in most cases, we didn't find the prices. Then we made a reservation in several of them, hoping to receive information about the full price after paying the deposit.
In the next lines, we bring you an overview of RV parks in Florida, where you can stay for less than $500 per month. With a note that you have to be very careful since some of them charge extra for some services, like the use of electricity, for which the usual price is between $30 and $50 per month. In addition, the practice is that when reserving a place, you have to leave a deposit.
RV Parks Under $500 a Month in Florida
Here is a review of the 5 best RV parks in Florida that won't cost you more than $500 per month.
1. Snowbird South RV Park
Address: 7784 CR 702, Center Hill, Florida 33514,
Contact: (352) 568-3300
This camp park is an excellent choice for a long-term stay, considering that the price of the stay is lower the longer you plan to stay in the park. Thus, if you want to spend a whole year in Florida, the monthly fee is only $270, if you stay in the park between 5 and 11 months, you will pay $310 per month. But this camp park is favorable even for short visits. The price of an RV plot for one month is $350.
2. Casey Jones' Family Campground
Address: 185 SW Arrowhead Terrace, Lake City, FL 32024,
Contact: 386-755-0471
In this camp park, there is no discount for a longer stay, so for one month, regardless of how long you plan to stay, you have to pay $300 just for the RV plot. If you want to use the electricity connection, it will cost you an additional $50.
3. Casey Jones' Family Campground
Address: 185 SW Arrowhead Terrace, Lake City, FL 32024,
Contact: 386-755-0471
To be able to stay in this camp park at rates below $500, you must commit to being a guest for a minimum of 7 months. In that case, the monthly fee is $325. Note that you will receive a separate bill for electricity consumption every month.
4. Old Town Campground 'N' Retreat
Address: 2241 SE Highway 349
There is not much information for this RV park, but the price is around $500.
5. Old Town
Address: FL 32680,
Contact: (352)542-9500
Old Town charges a monthly rate of $300. There are no additional opportunities for savings. However, you must know that this camp park is simple and provides only 30-amp service.
If you plan your stay in Florida at the height of the season, hurry up and make a reservation. Once the most attractive dates of the year approach, getting an RV plot at these locations is impossible.
What Are The Cheapest RV Parks in Florida?
You must be very careful when planning a trip to Florida. Many RV parks advertise favorable prices, but they often do not include a mandatory deposit or fees for certain services that are not normally price included in most camps. So it's no surprise that campers consider any spot they can get for $2,000 a bargain when it comes to the most popular RV parks.
But don't worry, if you put in a little effort, you can get a plot for your RV much cheaper. Don't be discouraged by what you read online at camping forums or in camping chat rooms.
You must also know that numerous top lists of the best RV parks in Florida do not consider everything offered but what the majority considers acceptable.
We know you can stay in an RV park in Florida for less than $500 per month, and now you know it too. In addition to the top 5 RV camps that we highlighted above, it should be noted that there are plenty of RV parks that are not much more expensive than $500 and represent great value for money.
Good examples are Sunburst RV Resort and Lake Louisa State Park. Sunburst RV Resort charges a monthly fee of $465, with a note that a surcharge is required for all amenities. Lake Louisa State Park offers an all-in-month service for $600.
If you plan to stay in Florida for less than a month, then it is a good opportunity to stay in RV parks that offer the option of paying for your stay by the day. Beck's Lake Fish Camp is a good choice in this category, which charges only $10 per day. However, with such RV parks, you have to be careful about the available infrastructure, without which they are not suitable for RVs. Be sure to check the conditions before you arrive in Florida.
It is important to emphasize once again that if you want a good time, you must plan your stay in the RV parks in Florida in advance because all attractive locations are often completely full.
If you are a person who plans everything at the last minute, you can always show up at the RV park gate, and you might get lucky if you find a free spot.
What Is The Monthly Price For RV Parks in Florida?
The monthly price in Florida RV parks is affected by several factors. In Florida, all RV parks are privately owned. Their owners set the price as they like. However, you can certainly expect the price to be higher if the RV park is more attractive. Also, the price of staying in an RV park will be higher in locations with more comfort and functional accessories for campers and their RVs.
The size of your RV also affects the price. Today, the category of RVs includes everything from small caravans to 70 feet long luxury motorhomes. Not every RV occupies the same space or needs the same amenities.
Please note that RV park in Florida cancellations is also charged. This is because there is always a big fight for a camp plot here, RV parks also charge a cancellation fee!
Related article: What Food Should I Bring for 3 Days Camping?
Most Popular Florida RV Parks
There are a lot of RV parks in the state of Florida, so much so that it is impossible to make a list of them all. But in addition to the five that are priced under $500 that we have listed, we bring you an additional list of those that we consider relevant.
With a note that the prices shown in the table may not be the same, and that they can be changed. Also, the final price, in your case, will largely depend on the type of RV and the time of the year you chose for traveling.
| RV Park Name | Per day | Per week | Per month |
| --- | --- | --- | --- |
| 1. Sunbrust RV Resort | $53 | $251 | $465 |
| 2. Outback Springs RV Resort | $42 | $227 | $515 |
| 3. Twin Lakes Camp Resort | $57 | $301 | $750 |
| 4. Emerald Beach RV Park | $85 | $562 | $774 |
| 5. Destin RV Beach Resort | $114 | $693 | n/a |
| 6. Orlando RV Park | $48 | $305 | $950 |
| 7. Fort De Soto Park | $46 | $305 | $1290 |
| 8. Camp Venice | $77 | $512 | $1290 |
| 9. Southern Palms RV Resort | $62 | $368 | $1530 |
| 10. Aztec RV Resort | $64 | $408 | $1770 |
| 11. Terra Ceia Village RV Resort | $72 | $416 | $1770 |
| 12. Lake Magic RV Resort | $96 | $553 | $2370 |
| 13. Royal Coachman RV Resort | $108 | $625 | $2670 |
Most Popular RV Parks In Florida For Christians
When researching the prices of RV parks in Florida, we included those for Christians. They are very popular in Florida, so here is a list of few:
1. Lakewood Retreat Christian Camp
Address: 25458 Dan Brown Hill Road Brooksville, Florida
Contact: 34602, 352-796-4097,
Website: lakewoodretreat.org
This camp park offers the option of staying in an RV and has dormitories that you can rent. There is a church in the area of the camp campsite you can even get married with prior notice. Shared bathrooms are available to all guests of this camp park.
2. Sonrise Palms Christian RV Park
This camp park is great because it offers the option of paying a fee per day, week, or month. It is located only 5 miles from the popular Cocoa Beach. It is recommended to make a reservation as soon as possible. When it comes to amenities, at this location, you have access to the Internet and a laundry room, and the park has all the necessary connections for up to 100 RVs.
3. Christian Retreat Family Church and Conference Center
Address: 1200 Glory Way Blvd. Bradenton, Florida 34212,
Contact: 941-749-2980,
Website: christianretreat.org
This park is located on the Manatee River and is full of amenities everybody loves. One part of the park has a lawn where children can pitch small tents, there is a cafe where you can drink a hot drink and eat a simple meal. The camp has top-of-the-line hookups for RVs and decent shared bathrooms.
If you are camping with your RV, you might be interested in the 11 Best RV Outdoor Rugs For Camping.
RV Parks In Florida With a Water Park
Florida is a favorite destination for many because of its very pleasant temperatures throughout the year. For those who love summer, here is a recommendation for two RV parks with a water park as an additional feature.
1. Larry and Penny Thompson Park
Address: 12451 SW 184 Street Miami, FL,
Contact: 305-232-1049,
Website: miamidade.gov
This RV park is located between Fairchild Tropical Botanic Gardens and Metro Zoo. It has 270 acres with 240 campsites, all with electric and water hookups. 
2. Kathryn Abbey Hanna Park
Address: 500 Wonderwood Drive Jacksonville, FL 32233,
Contact: 904-249-4700
This RV park has 300 RV lots, and each lot has full hookups. Fun is guaranteed in this park. In addition to the water park, activities such as fishing, surfing, and boating are available.
Final Thoughts
It is possible to find RV parks in Florida with a monthly fee of under $500. We have mentioned some of them in this text. When you go camping with your RV in Florida, research carefully about the conditions that await you in the camp parks and whether there are additional fees. Also, Florida campgrounds are full most of the year, so you need to reserve your RV spot well in advance.