6 Best RV Brands for Winter Winter Living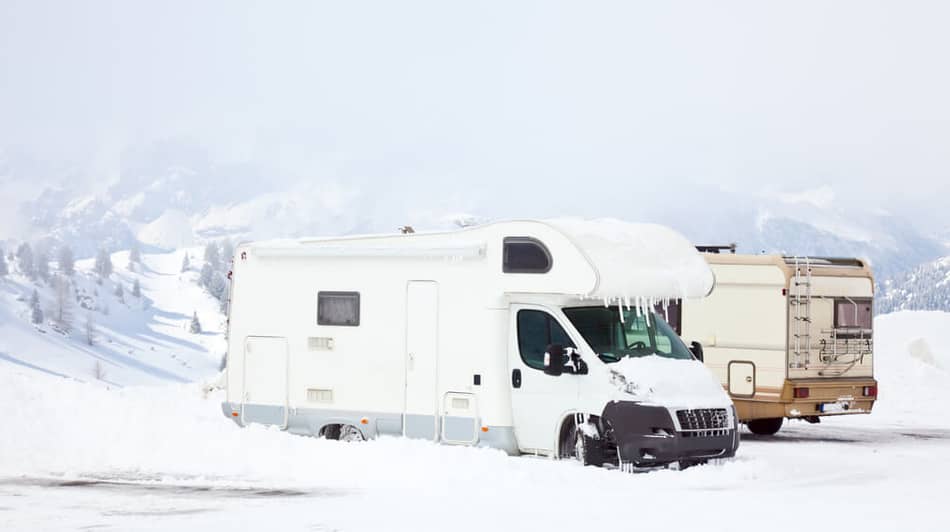 The cold weather and low temperatures should not stop you from enjoying your RV and all the things it has to offer. It is a great experience to do hitching during winter with your favorite RV, but you need to be aware that your vehicle should fit these conditions.
When choosing a new RV model, it can be helpful to choose the one that can work in winter, just to be sure that you will enjoy it throughout the whole year. Here we'll name some more popular brands like Keystone Montana, which have excellent quality extreme cold weather RVs. So, let's start!
Best RV Brands and Models For Winter Living
There is no doubt that the Keystone Montana RV has an excellent rating in all areas. It handles the road and operates well but also has everything you could think of that is needed for the extreme cold. The thing is, that many other RV brands are a great fit for this type of weather.
Here is an article for those who want to know How To Get A Title For A Camper Without a Title?
When you want to choose an RV brand that will be perfect for you, you need to examine it thoroughly and think about the things you actually want and need in an RV. Some of the winter RVs that are well insulated and are worth buying are the following:
1) Keystone Montana
As mentioned above, the Keystone Montana RV is one of the best you can get for the cold weather. This model has a living package that keeps you warm during these extremely cold conditions. This package includes the RV having an insulated underbelly and electric tank heating devices with 12V. These prevent damage that can be made to your RV by freezing.
There is R-21 insulation on the main floor and R-5 on the slide-out floors. R-11 insulation is used for the walls and R-38 for the roof. Thanks to all of them, your RV is easily heated, and its temperature remains the same. There can also be heated external water which can work as a water heater bypass, outside shower, and low-point drains. This makes the optimum functionality of the RV.
Some models even offer more luxurious things like fireplaces or walk-in closets that are ideal for heavy and big winter clothes. There is also a dual thermostat, a second A/C, and a remote sensor.
An auto-ignition in this model is a 35,000 BTU furnace. Some other features of this RV model are dump valves, in-floor water lines, and holding tanks. These tanks are insulated and enclosed.
Pros
It gives you a nice comfortable place for traveling throughout the whole year. You can make little trips and excursions, but also longer road trips. Its insulation is responsible for the enjoyment of winter trips. It keeps you cozy and warm and makes you feel comfortable even during extremely cold weather.
Cons
The price can be a factor that is not fit for every person. These RVs have a higher price that is from $45,000 to $50000 mostly. It is a price that not everyone is willing to pay for a new winter RV.
2) Forest River Arctic Wolf
Forest River Arctic Wolf: This RV brand includes an extreme weather package which makes it a good choice for your winter travels. What keeps this RV warm and cozy during the cold winter is its 35K BTU furnace which is really effective. It also includes a powerful ceiling fan that can circulate the warm air around the interior.
The insulation it has is made for cold weather, so it will keep your RV warm and prevent cold air from entering it. Whichever trip you choose to have, you do not need to worry about outside weather. Your RV will worry for you and will make you feel safe inside, regardless of the weather conditions.
Because of the very reliable heating system, the RV will not be damaged by extremely low temperatures or ice which should be common in every extreme cold weather. You can expect a smooth operation of the RV through the cold winter since the underside is enclosed.
Related Article: Difference Between a Log Cabin And RV
A bunkhouse design also allows you and your friends/family to enjoy your RV together. Some options that can be included are a fireplace of 5,200 BTU, which can make the interior of your RV even more welcoming. The biggest model weighs around 11,000 pounds (together with a hitch that has 1,452 pounds).
This model is 35 feet wide and 11 feet high. Some other things that this RV also includes are a full home entertainment system, upper bunk windows, and entry doors with friction hinges. This model is very elegant and a great choice for winter days if you ask us.
Pros
This extreme weather package allows you to have an RV that is warm and enjoyable for both your friends and your family. It makes the cold days easier to pass and winter travels more fun.
Cons
It may be difficult for new drivers to park this RV since it is a bit harder to handle the parking along winding or narrow roadways.
3) Heartland Bighorn
Heartland Bighorn RV is a great model and can easily protect you from cold winter days. This all is possible thanks to its methods of construction and fine-caliber design. Because it is made out of block foam insulation, it can store the heat easily inside the trailer and therefore keep it warm and cozy during the day and night.
The flooring is protected by flex foil R-14 insulation and a thermo-board luan, while the roof is protected with the aid of R-34 insulation. RV Is underbelly enclosed and also heated to make the trailer warmer during extreme temperatures. The large slam-baggage doors are insulated for protection against the damage done by ice. Because of its 42K-BTU furnace that is highly effective, your RV indoors will never be cold and not comfortable for enjoying.
There are some models with an electric fireplace that is located beneath the center for entertainment. This helps to warm up the space quicker for you to enjoy your leisure activities. Since the Heartland Company has an RV for every season and is one of the greatest manufacturers, it has approximately one dozen various floor plans in different sizes designed for the Bighorn design.
The largest RV model has 14,000 pounds in dry weight, while the hitch weight is around 3,000 pounds. It is around 45 feet long. These models have R-14 flooring insulation on the upper deck and R-38 for the main flooring areas. This RV has 42,000 BTUs, fiberglass walls, PLEX water piping, and laminated flooring. It also offers a great level of detailing and craftsmanship.
Pros
The one-piece heating duct that is positioned beneath the floor will keep your updated RV always warm and enjoyable through the cold days.
Cons
This heating capacity may be good, but for some campers who do not have that extremely cold winters, it may be useless and overdone.
4) Windjammer 3008W
Some travel trailers (including the Windjammer) are designed to make campers' lives easier, and their transition to comfort and luxury on the road is not that hard. This model with 3008W has much interior space that can even fit five beds for all the travelers you want to bring with you on your camping journey.
It has really good insulation, so it can make your camping warm and cozy. This model weighs 7,482 pounds, and the hitch weight is 897 pounds. Its black water tank can store up to 45 gallons, while the gray one fits 75 gallons. The freshwater tank is made for storage and can hold 45 gallons of water.
The updated design of this model has insulation all around the RV and holds heated and electronically controlled tanks. Some upgrades feature such as the thermo-pane window and a heated mattress in the large master bedroom for maximum comfort and relaxation during winter.
There is also a power furnace with ductwork positioned under the floor and a fireplace upgrade. It also includes a Maxxaire ventilating fan and the vent cover. The wardrobe can also be found in this RV, and it is in the master bedroom. Also, the dinette area is 44 inches big, a microwave and gas grill connectors.
Pros
This camper is a perfect choice for campers who are getting used to comfortable and luxurious camping journeys even though it is not the best-looking one.
Cons
It is long and heavy. This causes problems for new campers since it can be a bit difficult to drive and manage on the road.
5) Jayco Eagle
This winter-weather RV that is made by Jayco comes with a lot of space, including a full-size bathroom. This bathroom comes with a shower, toilet, sink, and also linen closet, and a kitchen hutch. There are also other things that make it both luxurious and comfortable, and one of them is the L-shaped sofa and reclining chairs.
The refrigerator in the kitchen has 21 cubic feet. The master bedroom contains a large queen-sized bed (60×80 inches big), a TV console, a dryer and a washer, and a walk-in closet. Its exterior sports a 19-foot awning. Keep in mind that this is something special.
Some things are optional in this RV's interior, such as a Girard Gen3 tankless water heater that includes a digital thermostat. Also, the Turbo waste management system is optional too. Something that can also be included in the tinted double pane, frameless safety glass windows that can ensure your privacy and keep the sun from disturbing your comfort.
Pros
This RV model made by Jayco has many different options and upgrades that ensure your comfort and relaxation during the camping life.
Cons
If you like the upgrades and new features that this RV has to offer, you will need to pay a big price for it since they are not very cheap addition.
6) Keystone Raptor
The Raptor model has really good insulation that keeps the cold weather from entering your RV and disturbing your comfort. The roofing has R-38 insulation, while the walls have R-9 one. The flooring is protected with R-31 insulation. Since it has insulation this good, it is well protected against cold temperatures during winter.
The warmth of your camper is generated by the 35K-BTU furnace. Your water will be safe from freezing in the water tanks and piping since the underbelly is well-heated and enclosed. This is a very important feature to have in your RV.
Something that is popular with this model is that the buyers can choose from the eight various floor plans. Every plan has the same rooms and storage space, but they are put differently. Something that is also interesting is the MaxFlo zone-controlled AC unit. It can heat your RV really well and evenly, which is the most important part.
Pros
Because of its arctic package and various choice of floor plans, this RV may interest you more and tempt you to choose it for the winter camping trips that you have had in mind for so long.
Cons
The only thing that may be bad about this RV is that it can charm you too much and you may spend almost every weekend with your RV during winter time. Your chores in your home may be left alone when you decide to buy this camper!
For those who already own a camper and want to sell it, be sure to read How To Sell A Camper Fast (Step-By-Step).
Final Thoughts
The choice to buy an ideal winter RV is really various, with a wide selection of the very best campers. Not only they are effective, attractive, and efficient when it comes to fighting the cold winter weather, but they also offer a large number of optional updates and features to make your camping life a lot easier. This can make your trips cozier and more comfortable, and relaxing.
Some of them you will probably find more desirable than others, but each one of them is useful, that is for sure. People often find the Keystone Montana RV or the Heartland Bighorn one the most appealing. Montana has a four-seasons living package that can make your life easier not only during the winter but also during other seasons. The Bighorn RV offers superior craftsmanship and detailing of the camper.
There will always be advantages and disadvantages in every RV brand, but you should not just focus on those things. Other people's opinions should not bother you too much either. You should explore the RV world for yourself and find the one that attracts you the most because this should be yours and your choice only. If you have any questions about RVs, feel free to contact us.