10 Best Travel Trailers With King Beds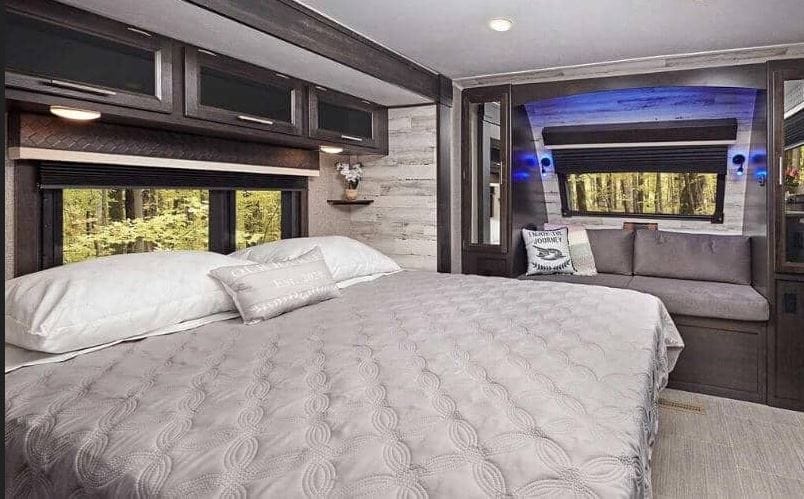 One of the most important things, when you go Rving, is that you have comfort on your trip. Going travel in a small RV might be great, but nothing beats a big, luxurious RV (Recreational vehicle). And where better to start than with a luxurious bedroom. In this article, we'll be talking about the best travel trailers that come with king-sized beds! However, if you have a big bedroom, the rest of your travel trailer has to be spacious as well! So, let's start analyzing these trailers.
What Is A Travel Trailer?
A travel trailer is very similar to an RV, except you have to tow it with another vehicle, such as a car, an SUV, or a pickup truck. However, this word is often used, and it regularly gets misunderstood. So here we will explain what a travel trailer is NOT!
Toy Hauler –This type of trailer comes with a garage at the back end of it, for hauling your bigger "toys" such as bicycles, motorbikes, etc. The downside is that the living space is usually a bit smaller, to make up for the space for the garage.
Fifth Wheel – These are the largest kinds of trailers that you can buy but they are also the most luxurious. Because of their large size, they will not go anywhere without a pickup truck. They come with a front piece that is extended and that just does not fit on cars or SUVs.
Lightweight Trailer – These trailers are towable by car as they are lightweight, although they don't come with much-added utilities, and the living space is a bit smaller. They are a good choice for an average person.
Although travel trailers vary in size, weight, and luxury, they are the most common type of RV trailers available. However, trailers that come with king beds are the top class when it comes to travel trailers.
If you are using a travel trailer you might want to know the 10 Best Generators for Travel Trailers in 2022.
Top 10 Travel Trailers With King Beds
Here are our top ten picks when it comes to travel trailers that come with king-size beds.
1. Keystone Cougar 22MLS
Vehicle Dimensions: 26′ 10″ L, 11′ 5″ H
Black/Gray/Fresh Water: 30/30/60 gal
Vehicle Features: Pass-through storage, Slide-out w/ theater seating, Two-inch accessory hitch, power tongue jack.
We will start our list with the Keystone Cougar 22MLS. This travel trailer is only 26 feet long, making it one of the smallest trailers on our list. Being this small makes it ideal for small families or couples, and it can host up to four people.
However, this trailer comes with standard features and utilities where you have a small kitchen, a dining area, and pair of seats in the living area. For those sunny (or rainy) days, you can use an extended 18-foot-long tent that is installed on the vehicle. The trailer also has a two-inch rear hitch, which is Cougar's unique feature, allowing you to tow a smaller trailer behind the Cougar.
Remember that towing more than one trailer is not allowed in some states, so be careful when you get on the road! The front hitch has an electric jack that moves upwards and downwards automatically, which in return saves you a lot of time and nerves.
2. Cruiser RV Embrace EL250
Vehicle Dimensions: 30′ 8″ L, 11′ 3″ H
Black/Gray/Fresh Water: 30/60/44 gal
Vehicle Features: Sliding king-size bed, Slide-out dinette and seating area, full belly storage system, enclosed bedroom. 
The downside of almost any travel trailer with a king bed is the cramped spacing, and there is hardly any room for walking around the bed. This is why the Cruiser RV is in our top ten picks. It comes with a sliding bed system, which enables you to move your mattress 12 inches left or right. The cabinets under the bed can be used for sitting as well, which makes the moving of the bed even easier.
The walk-in pantry is another unique feature of the Embrace RV model. This feature lets you store more food for your trips, which in the end saves you time on those stops where you have to make to restock! The Embrace is a great vehicle with not many extra features. This travel trailer has a little kitchen, a dining area, an entertainment area, and a loveseat – everything you need to have a small but cozy travel trailer.
Related Article: What Is a Toterhome? Complete Guide
3. Prime Time Manufacturing Lacrosse
Vehicle Dimensions: 37′ 10″ L, 11′ 1″ H
Black/Gray/Fresh Water: 30/62/43 gal
Being 36 feet long, the Prime Time Lacrosse travel trailer has more than enough space for a king bed. The king bed is placed towards the front of the trailer, just like with our other models. There are storage spaces above the bed and on both sides of the bed. Due to the length, the Lacrosse has enough room to accommodate the king bed without wasting the space in other trailer areas.
Here is a youtube video that shows this trailer inside out.
4. Palomino Puma 31FKRK
Vehicle Dimensions: 36′ 10″ L, 11′ 1″ H
Black/Gray/Fresh Water: 30/64.5/43 gal
Vehicle Features: Slide-out bedroom, Slide-out dinette, 21-foot awning, optional two recliners, 21-foot awning outdoor kitchen.
When it comes to travel trailers that have king beds, there is no model that stands out with something travel trailers onoptional outdoor kitchen new and revolutionary.
Therefore, your pick should be made based on the preference of the trailer's interior design, technical details, and the exterior of the trailer. For example, if you use more water on your road trips and camping, you will buy a trailer that has a bigger water tank. A nice addition to the Palomino Puma trailer is that it has a bedroom that is separated from the rest of the rooms, making it a bit more private. Also, an outdoor kitchen that is optional makes Puma great for summer camping!
The kitchen includes a microwave, a mini-fridge, and a griddle which is perfect if you love cooking, camping, and spending time outside your trailer. Those kitchen amenities, paired up with the 21-foot long tent, allow you to fully enjoy the outdoors throughout the whole day. Also, Puma comes with a pair of recliner seats as an alternative to the sofa.
5. Grand Design RV Reflection 315RLTS
Vehicle Dimensions: 37′ 11″ L, 11′ 8″ H
Black/Gray/Fresh Water: 30/66/45 gal
One of the best models on this list that we recommend is the Grand Design RV. This model does not have a king bed as a basic feature but comes as an optional upgrade. The king bed is placed near the hitch end and, as a result, minimizes the space lost in the bedroom area. This trailer's design allows you to place some additional overhead storage, more space for wardrobe closets, and even space for a dresser.
6. K-Z RV 362BH
Vehicle Dimensions:  40′ 9″ L, 11′ 4″ H
Black/Gray/Fresh Water: 31/65/43 gal
The K-Z RV362BH travel trailer has a great floor plan and is one of our personal favorites. It does not only offer a king bed, but it also comes with two-bunk beds! This model is a great pick for families with kids. K-Z RV is designed with plenty of space in the bedroom. The king bed is located in the rear of the travel trailer allows just that; a lot of space.
7. Venture RV SportTrek Touring STT272VRK
Vehicle Dimensions:  31′ 6″ L, 11′ 4″ H
Black/Gray/Fresh Water: 32/64/45 gal
Vehicle Features: Pass-through storage, bench seat in the master bedroom, slide-out dinette and seating area, rear two-inch accessory hitch, walk-in pantry.
Even though it is not massive and roomy, this travel trailer comes with loads of additional features. Its size is perfectly packed, and the relatively small space is well used. It is because of these features that many campers love this travel trailer.
Let's talk about Venture RV SportTrek featuers:
Dual Entertainment Centers – This model comes with an enclosed bedroom. SportTrek has an additional entertainment center in the trailer's main area, which has an additional fireplace. So you will have two fireplaces in your RV which maximizes your indoor comfort and makes your travel trailer extra cozy!
Bench Seat – The added bench on one side of your master bedroom increases the space outside your bed. There is a window that is placed above the bench as well, helping you get that natural light, instead of making you turn on the light inside constantly!
Pass-Through Storage – Although a lot of travel trailers have this feature, it is a nice addition to this one as well, allowing you to get to your belongings fast! Allows you to store longer items, such as fishing poles!
8. Jayco White Hawk 30FLS
Vehicle Dimensions:  37′ 10″ L, 11′ 4″ H
Black/Gray/Fresh Water: 30.5/61/48 gal
Vehicle Features: Slide-out dinette area, slide-out bedroom, separate bedroom entrance.
If you are into RV traveling, then the name Jayco should be familiar to you! Jayco White Hawk comes with an enclosed bedroom, which is a great pick if you want a travel trailer with a king bed and an enclosed bedroom that has its own entrance. Great for couples that want a bit more privacy!
The best part of travel trailers is that you can use every inch of interior space for additional utilities and don't need to worry about the driver's cabin, which is the case if you have a motorhome. The front wall of this travel trailer is excellent for placing a tri-fold mattress.
You also have a perfect place for peace and relaxation, which includes a sofa in the entertainment center with a fireplace, making it extra cozy. Also, if you are not traveling alone, a bed can convert into a couch and vice-versa.
This Jayco model's king bed is pretty big, so it comes with built-in slide-out sections. One side of the travel trailer is for the dining area, and the other is for the bedroom area. The bed, being as big as it is, almost touches the other side of the room, so you will have to extend the slide-out if you want to move inside your travel trailer. Without extending the slides, you must go on all fours over your bed just to reach your wardrobe and the storage!
9. Dutchmen Kodiak Ultimate 3021RBDS
Vehicle Dimensions:  34′ 6″ L, 11′ 2″ H
Black/Gray/Fresh Water: 28/78/52 gal
Vehicle Features: Hinged entertainment center, outside kitchen, slide-out dinette, and seating area, pass-through storage.
If you know Jayco, you also must know Dutchmen as well! Dutchmen's Kodiak Ultimate model is one of the most luxurious models from that company. Not only that, but it is really spacious as well! On top of that, it comes with a lot of exceptional, top-end utilities! For starters, this travel trailer comes with two full sets of ready-to-use entertainment centers, each with built-in fireplaces!
One entertainment center works as a bedroom door as well, so when that door is closed, you have one big master bedroom. There is an extra bench inside, which increases the space for moving around and sitting down.
We really love the design and the styling of this travel trailer. The seats of this trailer are covered in faux leather, and the countertops are all made of faux marble. The whole interior design looks excellent and high quality! If it wasn't for the lack of space in this travel trailer, you would feel as if you were staying in a hotel room!
The Kodiak Ultimate model has a nice outdoor kitchen, although its downside is that it doesn't come with a tent, so if you are planning on spending time outside, you will need to find some natural shade or bring a sunshade cover along with you.
10. Highland Ridge RV Open Range
Vehicle Dimensions: 34′ 9″ L, 12′ 6″ H
Black/Gray/Fresh Water: 31/60/42 gal
The Highland Ridge RV Open Range comes with a king bed as an option for their layouts and depending on the layout, it is really roomy around the bed, as well as tons of additional overhead storage spacing. With this trailer, you can literally go anywhere you want.
Final Thoughts
All in all, whichever travel trailer you pick from this list, you won't make a mistake. Your budget and personal preferences will have the final word in which model you will buy. We always remind you that you do your homework before going out and buying something, and we do hope that we have helped you again with this article! If you have any additional questions about travel trailers, feel free to comment below.