What Is a Toterhome? Complete Guide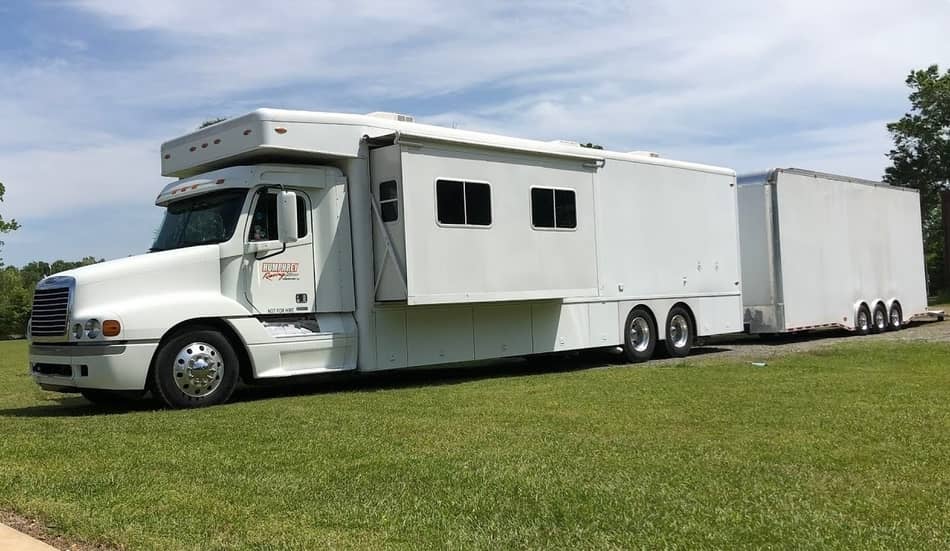 There is a good chance that you saw a toterhome but you did not know that that was its name. Toterhome is a kind of RV that is a part of a large truck. It has various application purposes. In this article, we will try to explain toterhomes, who use them the most, and their benefits. So, let's start!
What Is a Toterhome?
Firstly, it is important to explain what is a toterhome. Toterhome is a motorhome that is a part of a heavy-duty truck (also known as HDT) or on a semi-truck frame. Toterhomes look like big RVs and have a lot of power, so people use them for towing trailers if they need an additional one.
They usually consist of a full RV living portion and can also have an additional trailer for a garage or hauling toys. Some of them also have dual-tag axles in the rear or even a kingpin hitch used for pulling semi-trailers. Racecar teams often use toterhomes because they provide a well-living space and they can also be used to hang their cars.
What Are The Advantages Of a Toterhome?
There are a lot of benefits when it comes to toterhomes. It is built well, very capable, and has a lot of towing power. If you want a motorhome with which you can travel anywhere without any difficulties, you should buy yourself a toterhome. Here you can find its advantages:
1. Engine Power
Toterhomes have very powerful engines that can be used in various ways. It can be used to tow another trailer or easily go over the steep mountains. You can also use it to carry hard things like race cars, motorcycles, side-by-sides, and much more.
2. Towing Capacity
Its towing capacity is very good, but it is different in some toterhomes because it depends on the truck. Renegade toterhomes are popular for their towing capacity of 20,000 lbs (9,071 kg). Having a toterhome will make your life easier because you will not need to weigh your equipment before to make sure that it does not exceed the towing capacity. They can carry heavy items like your favorite TV, stereo system, or toys, and you don't need to worry if your motorhome will be able to carry it.
3. Large Storage Space
Toterhomes are very large RVs, and with a larger RV comes the larger storage space. It has ample exterior and interior storage, and you can have even more if you have a hauler trailer. There are models that also have "stacker trailers" that can be used as a garage or sleeping space. It is also possible to turn your trailer into a living space. This way, your toterhome, and its trailer become an extra living space that you can use, for your family, or guests.
4. Customization Options
A lot of toterhomes are customized. If it is a pre-built model, you mostly have available different floor plans. One of these is the Renegade, which has 14-floor plans that can be customized. People often like to customize their RV because with that you can make it in your own way, and it can be one of a kind. You can also design a toy hauler trailer. You can either make it a split garage (one half is an additional living space) or a decked-out garage.
Does Toterhome Require a Different License?
It depends on the state you live in and the vehicle weight if you need a special license for driving a toterhome.
Most states consider toterhomes that are on heavy-duty trucks as RVs, so you do not need a special license for driving it, but some states do not think the same way. You must become familiar with your state's regulations and laws before buying a toterhome.
Sometimes, you will need to really dig to find an answer because it is not always clearly stated for toterhomes. The best option may be to contact the local DMV. Heavy Hauler's RV Resource Guide list can change quite frequently, so you should call the licensing office for the latest accurate information regarding this issue.
Related Article: What Is A Campervan? Explained
What Is the Cost of a Toterhome?
Its price can differ greatly, but it is in the range between $270,000 to $500,000 or even more for newer models. It is worth the price because it is very large and can serve you in different ways. The price is similar to the one for luxury RVs.
If you do not want a brand new toterhome, you may find a used one for around $65,000. Sometimes you may pay more just because of a name if it is a luxury brand and because of some additional features and amenities. A specific manufacturer does not make them, so that is why prices can vary so much.
They hold their value because their diesel engine and their towing capacity are enormously high. They are also a special type of RV and people are very crazy about having them.
Where Toterhome Can Be Bought?
If you want to buy a used toterhome, be sure to search them on the websites like RV Trader or RVT. They list items that are for sale from private owners or dealers all around the state. Companies like Wild Side Trailers, Cowboy Cadillac, Victory Custom Trailers, or ShowHauler are perfect for those who want to buy a new toterhome or a customized one. Some people confuse RVs with toterhomes, but usually, the traditional ones with hauling space are the ones from the companies mentioned above.
What Are the Benefits of a Toterhome?
People who own a toterhome love that it can bring along more than the standard RV. The average GVWR is somewhere between 26,000 and 40,000 lbs which will make your life easier by not having to worry about the weight of the items that you want to put on your toterhome. You will have much spare room and weight.
The other advantage of toterhomes that wins people over is how much space they provide. They mostly have separate cargo and living rooms and measure at least 40 ft which is useful for the transportation of professional sports teams. A lot of things can be larger in a toterhome because it is bigger in size and has more power than classic RVs. It can have bigger generators (even a few of them if you want to live outside for more days), fuel, and water tanks (it can be 150 gallons). Blackwater tanks can be 75 gallons large.
A toterhome may seem bulky and not that appealing on the outside but they can be rather luxurious on the inside. It is a standard that toterhomes have high-end appliances, finishes, and amenities.
What Are the Downsides of a Toterhome?
The most difficult thing that is also a downside of having a toterhome is the difficulty of finding a large enough campsite that will be able to accommodate your toterhome. If you want to boondock on public land, you will probably be able to find a larger enough spot, but campgrounds rarely have such big spots to fit large toterhomes.
When it comes to diesel semi engines, the fuel cost may also be a problem to some people. Toterhomes on average get 7 to 13 mpg, but it depends on the speed, driving style, and terrain. But if you think about it more, some V8 Class C gas engines can get around the same numbers on average and have less space and less power than toterhomes, so maybe the fuel price is not that important after all.
A commercial driver's license is also a thing that may concern people about toterhomes. If your vehicle weighs more than 26,000 lbs, you will need one as well as if you drive more than 16 people, which is the case with professional sports teams. This is a problem you should deal with before even buying a toterhome, and you should always educate yourself with accurate information.
Who Makes Toterhomes?
One of the popular manufacturers of toterhomes is the Rev Group which produces Renegade RVs. The 2022 lineup has four different models. The Explorer is from 38 to 40 ft big, and the Classic includes 16-floor plans. The Verona has four options from 34 to 40 ft. The Verona LE is a model which has a highly luxurious interior that includes leather furniture and meticulous finishes.
If you were considering getting a custom toterhome, ShowHauler or Victory Custom Trailers might be the best choice for you. They both can build you a toterhome designed from your wishes. Be aware that the price will be higher, but you will get everything you want to have in your toterhome for sure.
How Long Are Toterhomes?
Usually, most toterhomes are from 36 to 45 ft long. If your toterhome has a hitch or an additional flatbed space, it will probably be up to 65 fr long. When choosing a toterhome, it is best to choose it according to your campsite space.
It may be a problem to camp in private or public campgrounds because toterhomes are often too big for them. If you plan to boondock on public land, you do not need to worry about your toterhome's size because you will mostly be able to find the right spot without many difficulties.
Can a Toterhome Pull a Semi-Trailer?
A toterhome sits on a semi-truck chassis, so most toterhomes can pull a semi-trailer because many have a 20,000 lbs towing capacity or even more. Usually, pulling a semi-trailer will cause no difficulties. Some people build an additional living space on the semi chassis and decide to place a kingpin hitch behind which they can use for towing trailers or the fifth wheel.
Who Should Buy a Toterhome?
Campers who have a lot of toys and/or gear to haul and also who can full or part-time will be very happy if they owned a toterhome. They are also popular when it comes to pro sports teams or racing teams that need to haul cars and other heavy gear. They also enjoy toterhomes because of their luxurious and spacious living space.
Toterhomes may be ideal for other people, like the ones that just want a creative living space. It is also an awesome choice for families which are full-time campers because this way both kids and parents can have their private separate space for living.
For those who want to know more, be sure to read 10 Spacious Travel Trailer Models with Opposing Slides.
Final Thoughts
You may call toterhomes massive RVs. They have a really large towing capability and they are not owned by many people which makes them special. If you want an RV with which you can travel anywhere and which will be able to haul your gear, have enough room for your friends, family, or sports team, owning a toterhome is ideal for you! I hope that this article has helped you gain more insight into toterhomes.