How Much Is A Pop Up Camper? (New, Used & Rentals)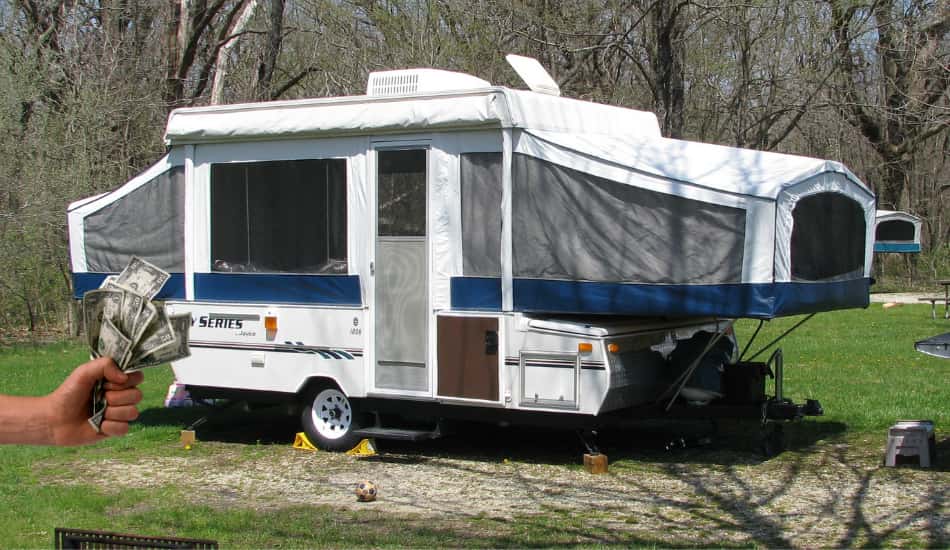 A pop-up camper provides a great experience that doesn't have a price. Besides that, pop-up campers have a price advantage over RVs. Overall, the cost of the pop-up camper is significantly lower compared to a smaller RV, whether it is new, used, or rented. So, how much does a pop-up camper cost? In this article, we'll talk about that and much more. So, let's start!
How Much Is A Pop-Up Camper?
So How Much Is A Pop-Up Camper? Typically, a new pop-up camper can cost between $9,000 to $20,000. The used pop-up trailers cost as little as $3,000 for an earlier model up to $15,000 for advanced models, that come with a shower and bathroom. The price varies according to size, model, equipment, and brand.
The prices that we listed here are pretty general and they can vary a lot. You may definitely find a low-cost or even more overpriced model if you search more actively, but you must consider why the campers are so pricey. The cost relies upon a variety of factors such as the trademark, model and floorplan, year of manufacture, whether the camper is new or old, and what different facilities it offers.
Besides the pop-up brands, it appears that the camper prices appear according to whether they are old or new. So, in this article, we'll talk about a few distinct tried and reliable brands, as well as their rates for new and used campers.
| Camper Model | Price Range |
| --- | --- |
| Coachman RV Clipper | $8.000.00 |
| Forest River Rockwood Premier | $10.000.00 |
| Forest River Rockwood Hardsides | $10.000.00 |
| Forest River Flagstaff High Wall | $11.000.00 |
| Coachman Clipper Classic | $15.000.00 |
| Jayco Jay Series | $12.000.00 |
| Forest River Flagstaff HS | $14.000.00 |
What Exactly Is a Pop-Up Camper?
Before we start the price comparison, let's explain what a pop-up camper actually is. Pop-Up campers known as fold-out campers are basically trailers with tow-behind that have a sleeping and living area. The roof can be removed for simpler storage, which sets them apart from typical travel trailers. There are people who opt more for pop-up campers than for traditional RVs. Below we will look at their prices and the features they have.
Average Pop-Up Camper Cost
Now, that we have a better image of a pop-up camper, let's start talking about prices. The cost for a pop-up camper usually depends on the model, year of manufacture, and lastly, are you purchasing or renting it. Used pop-up campers have a price range that is between $2,000 to $10,000. However, when we talk about pop-up campers that are new, you may commonly need to pay $10,000 to $20,000. Lastly, when it comes to renting, the price for a pop-up camper varies depending on where you live, but it's usually approximately $30 per night, without counting other fees.
How Much Does A Pop-Up Camper Cost?
1. Buying New Pop-Up Camper
The price of a Pop-Up camper is between $12,000 to $25,000, as previously stated. But, estimating the price isn't the only thing you need to have in your mind. The brand, trademark, age, and, most crucially, the characteristics of a fold-out camper are things that will define where it falls on that price scale. Standard characteristics are frequently included, such as:
Working surface (often a small camp-like stove)
A very small kitchen
Mini freezer (used as cold storage)
Mattress
Smaller than their overpriced counterparts, more luxurious pop-up campers have much more to offer! You can aim for more space as well as additional features as you increase the price. Features we are talking about are:
More household appliances
TV
Toilet
Climate control
Shower or bath
Heated mattress
2. Additional Costs Of New Pop-up Camper
Now, when we explained how much you will pay for a camper, let's take a closer look at fees that aren't included in the price tag, like maintenance, upkeep and financing, and more.
Financing a Pop-up Camper
The majority of people don't have money and should consider a pop-up camper credit which often has a duration of up to 20 years and a rate of interest of 5.5% or higher. If you buy a regular model for $10,000, you will pay in interest almost $7,000 during the credit assuming you receive a low-interest rate and carry the credit for the full 20 years. Why we are even talking about credit? Well, it's really a very simple assumption that most of us don't have the cash to pay it front.
If you go for a $10,000 loan with a 5.5% rate, and you do that in a 5-year session, it would cost you around $1,800. So, considering that, we can all agree that the shorter loan, also means a lower interest to pay. To summarize, when it comes to basic economics, keep your focus on the lowest fixed rate you can get and make sure there isn't a penalty for paying in advance.
Insurance of Pop-up Camper
The insurance for a Pop-up camper is between $200 and $400 each year, or $16-$32 per month, depending on location, the company you choose, and numerous other circumstances. Despite the fact that insurance for pop-up campers is typically less expensive than insurance for RV, it's still a factor that needs to be considered during purchase. Our advice is to search on Google to find out the best insurance company in your location.
Most fold-out campers require only a small amount of maintenance. Relating to how often you use your camper, maintenance is something that must be done. It is recommended to do this once per year. The following are some of the recommended tips during maintenance that you'll need to do:
Wheel bearings also need to be oiled
Checking to see if the brake or tail lights are working properly
Checking the tire pressure and making sure they are roadworthy
Having an air conditioner in a pop-up camper means you'll need to replace the filter, and having a toilet or plumbing, means emptying the container and cleaning the lines. Besides that, don't forget to winterize your camper if it's exposed to cold weather. These charges, as well as any mandatory repairs detected during the procedure, are typically around $180 per year.
For those who want to know more about how to winterize your camper during winter, feel free to read How to Keep RV Warm in Winter?
3. Buying A Used Pop-Up Camper
The costs of a pop-up camper that is used are very similar to those of buying a new one. Aside from the lower purchasing price which is between $2,000 and $10,000, to refresh your mind – you'll still have to insure it and keep it up to date with regular maintenance. However, you might be able to save some money by purchasing an older model in cash.
When purchasing a used camper, there are a number of factors to consider. Because of that, we produced a comprehensive guide that explains everything about pop-up campers and what to look for.
First of all, before buying a used pop-up camper keep in mind to check the National Automobile Dealers Association (NADA) value.
Fold-out campers degrade at a slower rate than new cars or RVs. However, their value is lower over time. Expect a 20% increase in the first year and a 10% increase each year for the next seven years. When we have an older pop-up camper (more than 8 years), depreciation normally stops and the value of the camper remains constant.
4. Renting Cost of A Pop-Up Camper
The price for renting a pop-up camper in most cases depends on the size and/or style of camper you select and from your location. The standard rent rate is about $30 to $120 per night. There is also an additional cost when we talk about rental companies such as insurance, deposit (regularly refundable), and sanitation.
Rental insurance is usually around 6-7% of the rental rate, and the deposit is often between $250 and $500. Cleaning fees are not always included in rental agreements, but if they are, expect to pay between $50 and $100.
You can save money on your rent by:
Durable rent
Online booking on time
Choosing a less feature model
Choosing a peer-to-peer rental
Renting Vs. Buying A Pop-up Camper
Now that we've gone through all the basic parts regarding a pop-up camper, you must be wondering is it better to buy or rent a pop-up camper? Unfortunately, there is no simple answer to this question, and it mostly depends on the camper itself. On the other hand, rental fees might quickly pile up, but they're frequently less expensive than owning a pop-up camper, especially when renting a vehicle is an option for storage.
We are always here to help you if you have any doubts, so take our information about pop-up campers provided above and make a price comparison.
If you ever decide to add a shower to your pop-up camper, be sure to read: Installing a Shower In a Pop-Up Camper.
Storage of Pop-Up Campers
You'll need a vehicle that can handle a weight of a pop-up camper. The average weight of a pop-up camper is anywhere from 1,000 to 3,500 pounds. The cost of installing a tow hitch is usually somewhere between $700-$1,400. You may check your vehicle's VIN to see how much weight it can tow.
You'll have to ensure you have a small SUV or even bigger. You can always rent a car though towing is prohibited by rental companies (most of them). You can expect to pay $60-$170 per day from those who do. There may also be a per-mile charge.
If you want an outdoor or indoor unit, or if you want a heated container, storage rental fees range from $100 to $400 per month. Pop-up trailers are usually acceptable while stored outside, but you need to keep an eye on weather elements and cover your pop-up trailer to properly protect it.
Saving Tips When Purchasing A Pop-Up Camper
While we've already discussed how you can save money when renting a pop-up camper, you can also save money on a pop-up camper purchase. The first option is to pay in cash, however, you can also:
Buy at the end of the year: For dealers that sell pop-up campers, it is best to meet with them in November when they are likely seeking to offload this year's models to make room for new inventory.
Purchasing an old new model: Purchasing a new older pop-up camper from last year is a great way to reduce the cost. That way you can save a lot of money in the end.
Buy from a private seller rather than a dealership: Even if the camper isn't an older, heavily-used model, you'll save money.
Rent your camper: After you've paid for your pop-up camper, you can recoup your investment by renting it.
For those who want to learn more, be sure to read How To Clean An RV Toilet? Expert Explains.
Final Thoughts
The market fluctuates daily, and there are numerous websites that you can visit to get the best deal. Finding the ideal camper entails a lot of trusting your instincts. In this article, you are provided with the essential information, but it will be up to you to pick the ideal camper for your needs.
Don't forget that you'll have to tow these campers. You'll never know unless you give it a shot. One last piece of advice to you is that you can always rent every single one of them to conclude which one best suits your needs. I hope that you have now learned about pop-up camper costs and other important things. If you have any additional questions, feel free to ask.