Installing a Shower In a Pop-Up Camper (Full Guide)
Pop-up campers are very popular because they are easily towable and are not expensive as RVs, yet they offer outdoor enthusiasts much more possibilities. However, pop-up campers do not have bathrooms. But that doesn't mean they can't be installed. In this article, we'll talk about whether installing a shower in a pop-up camper is possible and how much it will cost. So let's start!
How to Install a Shower in a Pop-Up Camper? The first step is to find a suitable place inside a pop-up camper with enough space to install a shower. Next, make a drainage system that can handle about 6 gallons of wastewater from a shower. Ensure that the drainage system is properly installed and that there is no water leakage inside the camper.
Installing a shower in a pop-up camper is a complicated task, especially if you want to do it yourself. Doing this will require a lot of time and money. However, by adding a shower in your camper, you'll increase the price of your vehicle and, at the same time, gain comfort. In the next lines, find out everything you need to know about installing a shower in a pop-up camper and how you can do it.
Can a Bathroom Be Added In a Pop-up Camper?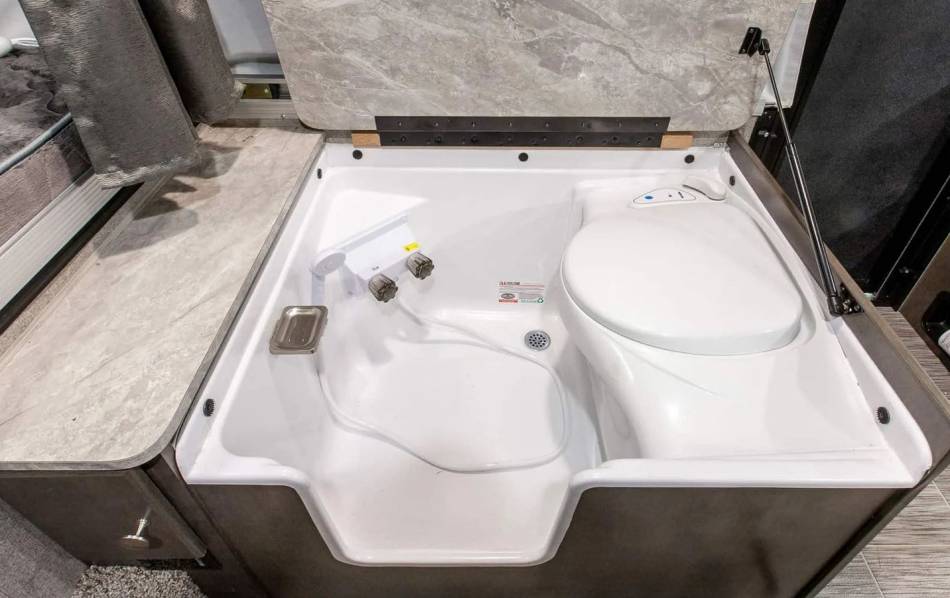 Installing a bathroom in a pop-up camper can be done, but it requires a lot of work, especially if you have a smaller model. The first step is to determine the location of the shower/toilet combo and the dimensions of the fixtures. After that, choose a suitable shower/toilet fixture whose dimensions correspond to your Pop-up camper dimensions.
It is desirable if a built-in shower/toilet combo fits your needs because it comes with already-installed water lines and drains. In that case, you only need to determine precisely where you will cut the openings and perform the installation.
With this option, it is important to know the height at which you want to place the shower and how you will place the curtains.
If your pop-up camper is small, then check this article and see How To Increase Space In A Pop-Up Camper.
However, the built-in shower/toilet combo does not fit in every pop-up camper model. Consider the porta-potty option if you can't put a bathroom in your camper.
It includes setting up a shower/toilet outside the pop-up camper once you find a place to camp. This can be great if you want to avoid drilling holes in their camper.
Can a Shower Be Added To a Pop-up Camper?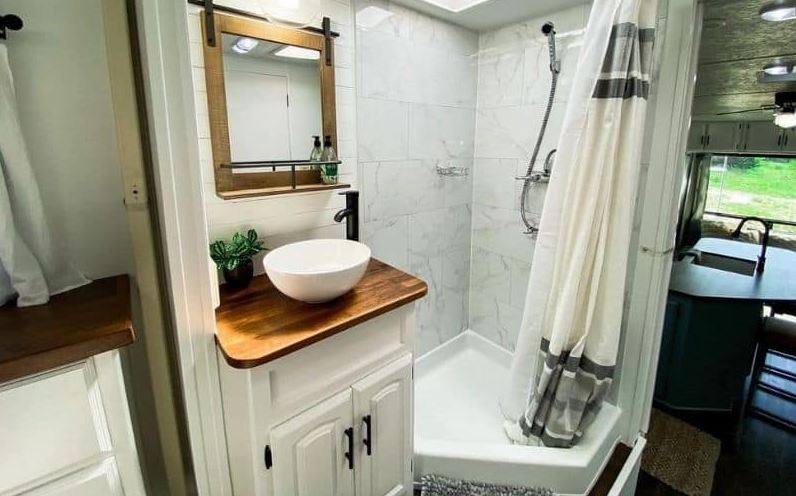 Adding a shower in a pop-up camper can also be done. However, installing a shower inside a small pop-up camper can take up a lot of space. The ideal solution for this option is to install a shower outside the pop-up camper.
In this way, no space is lost inside the camper, and no extra openings need to be made. A portable shower curtain can always be attached to the shower, while the water needed for showering is brought to the shower with the help of an ordinary garden hose.
When you already have a toilet in a pop-up camper, you can simply connect the water hose to that system. If this is not the case, you should connect the hose directly to the water source in the camp park.
Related Article: How to Waterproof RV Shower Walls? (14 Easy Steps)
How To Install a Shower In a Pop-up Camper?
The drainage system is very important in this process. This system must be able to accept about 6 gallons of wastewater. In addition, you should choose a suitable shower pan model with a high edge. Also, you have to solve the issue of hot water.
When you want to install a shower in a pop-up camper and have no bathroom infrastructure inside, you'll have a difficult task. You must find a location inside the camper suitable for installing the drainage system.
Installing a water heater is recommended, which is a much better solution than connecting the shower system to the standard water heater found in pop-up campers.
When you determine where the shower will be located in your pop-up camper, you must be sure that installing it will not damage the existing installations and wiring.
3 Pop-up Camper Toilet and Shower Options
Several models are available if you have decided to install a toilet/shower combo in your Pop-up camper. You can try to find them in large home improvement and DIY stores, but if you can't find what you need there, turn to the camping equipment manufacturers. Manufacturers such as Thetford and Dometic certainly have what you need.
1. Portable Toilet and Sink by YITAHOME
This model is a great choice if you can fit it into your pop-up camper. The sink is flexible, so this bathroom fixture will not interfere with the assembly of your camper. Also, this model is great if you're worried about the system flooding the camper.
It has a rotating pour spout that does its job well. The pump can successfully draw 4 gallons of water, and the wastewater comes in a water tank of suitable size.
2. Portable Camping Shower by Texsport Instant
This shower/toilet combo model is an ideal option that is easy to install and offers everything you expect from such a fixture. It is only necessary to set up a small tent next to the camper, inside which you use a porta-potty or shower. 
A water tank of 5 gallons is used for showering. It is a high-quality and simple product that is an excellent choice for those who do not want to drill holes in their camper.
3. DIY Project
If you are skilled in DIY projects and know well how bathrooms in campers and RVs work, you can try to assemble your own shower/toilet combo from the parts that suit you best. This means you will buy all the parts separately, connect them to one system, and install them in the camper.
However, some parts could be difficult to find since they are usually sold in combination with the toilet. You can search for parts on Amazon; if you can't find everything, contact the specialized camping equipment manufacturers.
Cheap Pop-up Camper Shower And Toilet Combo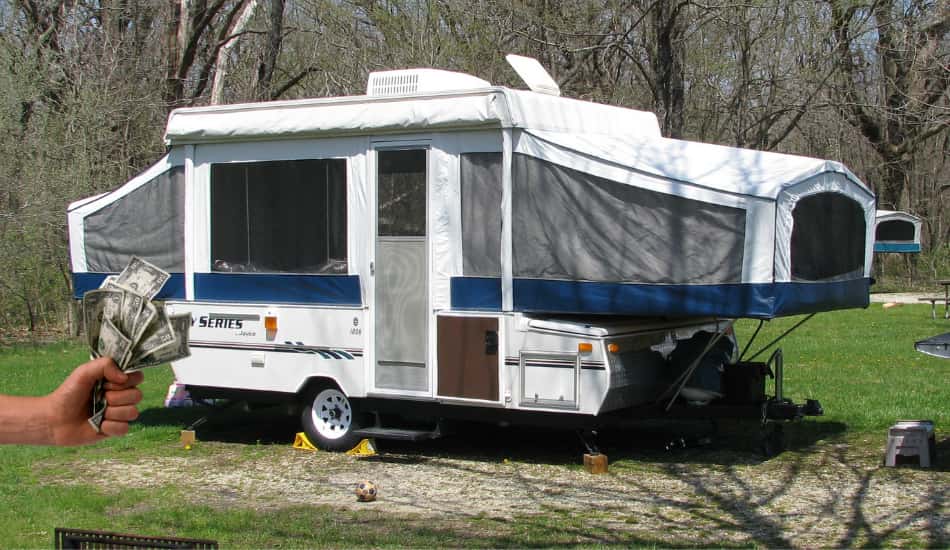 If you decide to install a shower/toilet combo in your pop-up camper, prepare to spend a lot of money. That's why you should search on Google for any current discounts.
Contact the manufacturer of your pop-up camper and ask what shower/toilet combo options are available for your camper, what they recommend, and what they have on sale in that category. You will be surprised how good this direct approach can be. In addition to making a bargain purchase, you can also get good professional advice.
Many people sell second-hand parts for campers, including shower/toilet combos. We have also encountered cases where systems were advertised for sales that have never been used. The owners took them out immediately after buying the camper because they took up too much space.
Of course, it is always a good option to visit all the stores that sell camping equipment and look for an opportunity to save. You never know what you might find.
Looking For Pop-up Camper Toilet And Shower Kit
Considering pop-up campers' popularity, you must think that finding a shower/toilet kit that will perfectly fit your camper model shouldn't be difficult. However, this isn't true. Manufacturers of pop-up campers do not offer many options in this category.
That is why it is recommended to make your kit if you love DIY projects. Someone else can do it for you if you're not into this. You wouldn't believe how many people install bathroom fixtures in campers and RVs. They are mostly plumbers who have their campers and know everything about them.
When you do your own shower/toilet combo, the big advantage is that you will have a system that exactly fits your needs, which is never the case when you buy a kit. Also, if you give yourself enough time, you can save a lot when you buy parts separately.
How To Add An Outdoor Shower On a Pop-up Camper?
If you don't want to make changes inside your Pop-up camper, you can opt for an outdoor shower. In that case, installing a shower outside the camper is a good choice.
After the installation is done, once you find your place in the camp park, you need to connect the system to the water source with the help of a garden hose and place a fold-down tent around the shower that will give you privacy and serve as a shower curtain.
Here you can see what an Outdoor shower on a pop-up camper looks like:
You can build your own outdoor shower when you can't find a model that suits you in a store or from a camping equipment manufacturer. For this task, you need: powerful suction cups, a PVC tube, and a few connectors. Of course, you should also have the knowledge and will to do it.
If you are considering buying one, be sure to read: How Much Is A Pop-Up Camper? (New, Used & Rentals).
Final Thoughts
Outdoor lovers all over America spend their vacations in traditional pop-up campers. However, the only drawback in most cases is that they don't have a shower or a bathroom. Because of this, their owners are forced to use public showers in camp parks or folding ones that are installed outside. Therefore, installing a shower/toilet combo is a project that many owners of pop-up campers are thinking about. 
Since there are few complete built-in models on the market, the shower/toilet combo is a common DIY project. The parts are easy to find, and if you are not skilled in DIY projects, a shower/toilet combo that will fit perfectly into your pop-up camper can be made by a professional. I hope that this article has helped you.