How To Build A Survival Cabin? Expert Explain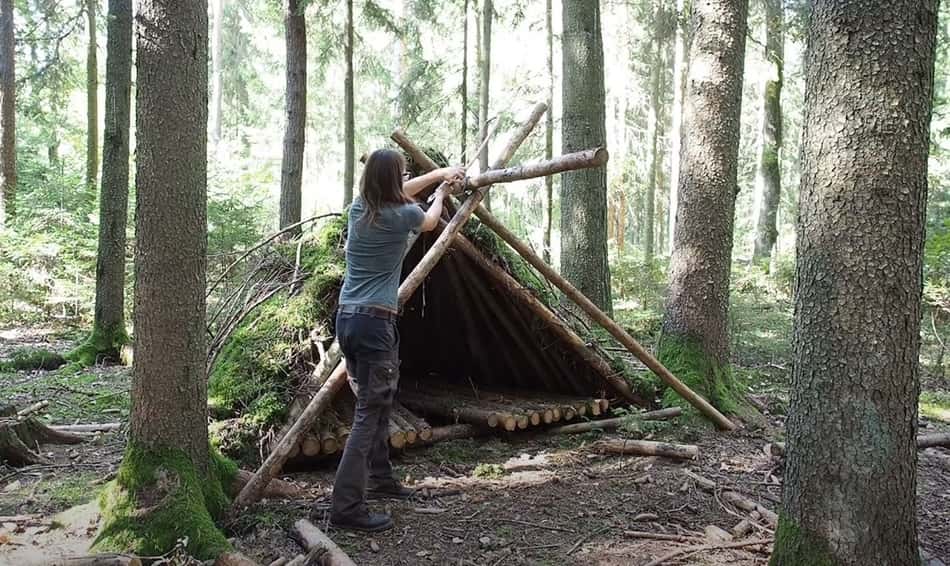 Sometimes, we want to get away from everything and live somewhere peaceful without technology for a while. If so, a survival cabin is then what you need. Either that or you want to have a safe option in case something terrible happens in your life and you want to escape. This article will explain how to build a long-lasting survival cabin and what you will need to build it. So, let's start!
How To Build A Survival Cabin?
So How To Build A Survival Cabin? To build a survival cabin, you first need to find flat and suitable terrain. Secondly, collect and prepare the logs that you will use to build a cabin. Make strong foundations from the logs so they can hold your cabin, and then build the walls around them. Lastly, cut the openings and lay the roof.
If you need a rest from technology and all the other stuff around you, a survival cabin is a beautiful escape, but it can also help you survive in the wilderness by keeping you warm. You can even supply it with water and food for an emergency if something terrible happens. The first thing we need to explain is what a survival cabin is and how it benefits you.
For those who want to learn more, be sure to read Can A Log Cabins Survive A Tornado?
What Is a Survival Cabin?
A Survival cabin, as the name suggests, is a cabin that is usually built of materials that the land provides. If you find yourself in the middle of nowhere with a friend or a partner, you need shelter to survive the night, and a survival cabin is the best option. By using only what the land gives you, it can be built quickly. For the equipment, you only need an axe and a friend to help you in the process. That is why a survival cabin is the best option.
Even though it can be built quickly, it can be a stable structure and will stay there long if you do it properly. It is constructed of logs, and it will provide you with warmth in the winter. Lastly, don't worry; it won't be blown away by the wind.
As mentioned above, you only need an axe, which means a survival cabin can be built without any nails or screws, but if you have them, there are options with them as well. Safety is one of the essential things, especially while we sleep. These cabins use a carved locking mechanism. One of the most popular mechanics is the v-locking type, and it is used in this survival cabin that we will cover in this article.
Why Survival Cabin Is Important?
There are a variety of reasons why you'll need a survival cabin. But we will touch only on the most important ones that are most often used:
Preparation for wilderness survival 
Shelter if you find yourself stranded in the wild
Emergency shelter if things go bad 
As mentioned before, a survival cabin needs to be built slowly and with readily available natural resources. Aside from that, the survival cabin must be sturdy and long-lasting because safety should be first. Now that we have explained what a survival cabin is and why they are important, we will move on to see what you need to build it.
Things That Are Needed to Build Survival Cabin
An axe is the only tool you'll need to build a survival cabin. However, you can't use a cheap tiny axe that isn't able to chop large pieces of wood. Axe must be strong and solid if you want to build a survival cabin with it. You may, of course, need some additional tools if you have more time where you want to spend and create a more solid and comfortable survival cabin.
Using more tools can speed up the building process and allow you to develop more complex but more strong and robust architectural designs. Now that we've gone through that let's look at what else would serve you well.
If you have access to more tools, you may want to use these:
Chainsaw
Axe
Peavey
Drawknife
Scribe
Level
Adze
Log Dog
Hammer
Mallet
Tape Measure
These tools will be beneficial in any creative job, so take advantage of them if you have the opportunity. If you're building in advance, you might want to plan a floor plan that is different, which will give you a quick, and strong cover. If you're building in advance and have some spare time, try a more complex floor plan, so you can have a more solid shelter.
You will also want the assistance of a friend or a partner, as building a log home or survival cabin may be physically demanding. The majority of your time will be spent dealing with large logs, that need to be lifted. This survival cabin should be built much faster than other log cabins if you have a companion who can assist you, as it is a temporary survival shelter. You should be able to construct a ten by ten-foot little survival shelter in these six simple stages after a few good days of full sunlight.
Step-by-Step How To Build A Survival Cabin
1. Find a Good Location
Two main things you should focus on when looking for a location for your survival cabin are privacy and water source. The water source could be either a river or a stream, but building your shelter near it is important. Check the surroundings, make sure the terrain is flat, and that any nearby trees aren't prone to fall on your survival cabin and harm you.
Natural light shouldn't be a problem since your shelter will probably be in the middle of the forest so the sun's rays will go through the woods. Also, when looking for a location think about the views and the direction where the sun is rising in, as you want to enjoy beautiful mornings.
2. Collect the Logs
To start things off, you will need 55 logs with a diameter of 10 inches and a length of around 10 feet. Each tree will provide you with approximately 5 logs, which means you will need to cut down about 11 trees. If you have never fallen down a tree before, use a sharp axe and make two cuts around knee height, one slightly higher in the rear, and follow the precise process not to hurt yourself.
You'll need to prepare the logs once they've fallen. Run a sharp axe down the logs on its side, removing any branches and cutting the log into 12ft lengths.
3. Prepare Your Site
As mentioned in the first step, choose a location that is near water, has enough natural protection, and isn't too close to any dead trees that may fall down. Be sure to avoid any hills or tiny slopes, as this will result in uneven ground, and a level foundation needs to be created, which is just extra work.
Once you have found the area where you want to build your survival cabin, clear away any garbage, and level the site as much as possible. If you're going to make a long-lasting cabin, you should consider putting some foundation in place where you want your cabin to be. However, if you want to build a quick survival cabin, you don't need a foundation. This will take about one hour to prepare.
4. Build the Cabin Walls
This step is very important and you have to do it well. Walls are very important parts of survival cabins.
Follow these four steps to build the survival cabin walls:
Select the four longest and straightest logs you have cut. These logs will be used to make a square shape that will serve as the foundation for your survival home.
Join the two base logs with a simple v-notch and fit them on top of the other two.
Raise the remainder of the walls by notching and stacking logs on top of each other until you reach the desired height.
Lastly, add a pitched roof.
5. Cut the Openings
Having the openings of the cabin at a minimum is very important. That way, you'll have a minimum and limited opening that will reduce the airflow and draft that is coming from the outside. Also, it is advisable to have an internal fireplace to keep your cabin warm and comfy.
When the door height is reached, cut downwards through one log at a time to construct your aperture, you will only need to make a large enough area to crawl through if you are not creating a door to obstruct your entrance. You'll be able to limit the draft to a minimum this way.
6. Lay the Roof
The most challenging part of building a log cabin is laying the roof. It's no different when it comes to building a survival cabin; it's complicated. The goal is to assemble two gable walls on opposite sides of the house. The end of the wall with a triangle on top is known as a gable wall.
To build this, stack shorter logs on top of each other to form a triangle shape. After that, look for two of your nicest logs and notch them to join the two gable walls, using a v-notch we already explained. Keep stacking logs until you reach the top, then join the two gable walls with one ridge log to complete the main log construction.
To finish the roof, you may use thinner logs to make a roof rafter, which you can coat with any natural materials like branches, leaves, and mulch.
For the end, here is a great video that will explain all the processes in much more detail:
If you dont own a log cabin, you might be interested in the Pros And Cons Of Log Cabin Homes.
Final Thoughts
Now that we have gone through the whole process we can say that situations where you will need to build a survival cabin, are pretty rare, but knowing how to build one can help you survive the night if you get lost in the woods or you just want to get away from all the problems. This article covered just a basic shelter guide that will keep you warm and provide you with substantial cover.
You can build it pretty much anywhere since wood is the most common natural resource in the forest. It can also be fun, and you can be proud of yourself as you build it with a friend or a partner. And after you build a few, you can even make something more prominent and enjoy it on the weekends with your family and friends. I hope that this article has helped you.