Pros And Cons Of Log Cabin Homes
For many individuals, owning a log home is something they have always dreamed about. The prospect of snuggling to the sounds of nature and a raging fireplace with the cabin located deep in the woods facing a lake or river seems like a heavenly combination.
Since log cabins have developed from early American traditional and earthy styles to today's elegant and contemporary designs, you should do some preliminary studying on this topic. In this article, we've taken the opportunity to present to you the usual advantages and disadvantages of owning a log cabin. So let's get going without too much procrastination!
Things To Know When Owning a Log Cabin
While having a log cabin may have been a lifelong ambition for you, you should be aware that it comes with many benefits and drawbacks, just like everything in life. For example, when owning a new log cabin, you might have to deal with shrinking and settling, bugs, mold, and unexpected upkeep needs. For some buyers, that might be a bit too scary and complicated.
We advise you not to get discouraged by this because almost every property needs maintenance.  Some other note-worthy pros and cons of having a log cabin are outlined below. If you're thinking about buying a log cabin, you should continue reading to find out more. 
Summary of all the PROS and CONS of Owning a Log Cabin:
| The Pros Of Log Cabin | The Cons Of Log Cabin |
| --- | --- |
| 1. Log Cabins Are Energy-Efficient | 1. Regular Maintenance |
| 2. Environmentally Friendly | 2. Insurance Issues Related To Log Cabin |
| 3. Log Cabins Provide Comfort and Relaxation | 3. Some Kits Will Not Fit Perfectly |
| 4. Quiet, Secure, And Cozy | 4. Very Complicated To Sell A Log Home |
| 5. Log Cabins Are Long Lasting | 5. Pest Problems |
| 6. They Are More Affordable | 6. The Question of Electricity |
| 7. Log Cabins Can Be Designed to Suit Any Garden |   |
| 8. Withstand Mother Nature's Wrath |   |
For those who want to learn more, you can also read How Long Do Log Cabins Last? Expert Explain
The Pros Of a Log Cabin
1) Log Cabins Are Energy-Efficient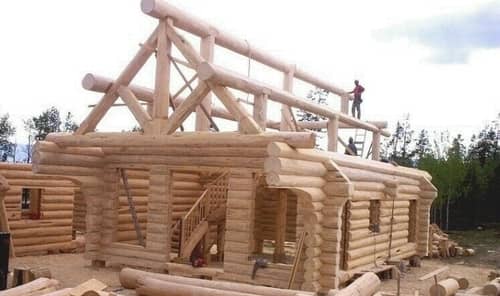 The energy efficiency of timber is well recognized. Wood has the ability to isolate heat and coldness at any time of day or night. As a result, you won't have to struggle to have your log cabin warm and comfy to be in regardless of the weather.
Additionally, the central heating and air conditioning systems will not be strained in keeping the cabin home warm or cool. This equates to decreased energy use and, as a result, lower energy costs. Still, the cabin should be caulked well to guarantee that the outside air doesn't find its way in.
2) Environmentally Friendly
There is currently a large demand for eco-friendly "greenhouses" because more and more people are becoming more environmentally conscious. Log cabins are similar to greenhouses because they are made from sustainable materials, mostly logs.
Logs and other materials from sustainable forests, where trees are cultivated particularly for the intention of being chopped down, are usually used by today's ecologically concerned builders. Furthermore, various tree products such as bark, wood scraps, and other tree products may be utilized as raw materials for carvings and other log house items as well.
3) Log Cabins Provide Comfort and Relaxation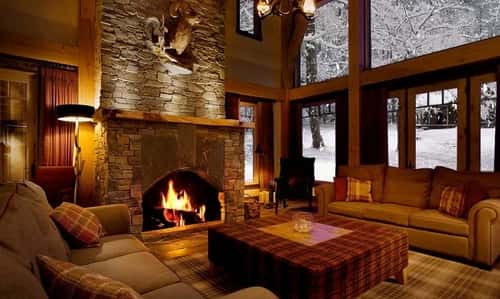 With modern appliances and replaceable technologies, you can personalize your log cabin to make it comfy but still modern. That means you don't have to give up urban gadgets (like phones, tablets, etc.) in exchange for a peaceful retreat in the forest or mountains. Other than great interior design, which creates a cozy atmosphere, the fact that you can simply unwind outside in the peace and tranquility of nature whenever you feel like it is also a factor that adds to a person's relaxation levels.
4) Quiet, Secure, And Cozy
Log walls, when properly insulated and caulked, give the finest insulation available. Those walls are very sturdy and long-lasting. They provide unrivaled security and tranquility, which is impossible to find in the city. Therefore, by owning a log cabin, you can have a quiet, secure, and cozy atmosphere. That has no price for some people.
5) Log Cabins Are Long Lasting
Log cabins have a reputation for taking to any weather conditions well because of their sturdy structure. The cabins are waterproof since they are made of interlocking logs. Additionally, the roof will not collapse even if covered with ice and snow because of its sturdy construction.
This also implies that the temperature inside the cabin will not be affected by even the worst winters and summers. Log cabins are great hideouts during extreme weather periods to spend time with family and friends, cook, read, or even host game nights. Unlike log homes, summerhouses can only be used during the summer in moderate weather. This is another reason to get a log cabin if you search for a vacation spot or additional property.
You can also read How Long Can You Live In Log Cabin?
6) They Are More Affordable
People who are living in log cabins are well aware of the enormous savings they are making. Traditional homes are more costly than log homes because of the diversity of materials used in building and the more complicated design.
If you want to save even more money than you already have during the construction process, you can build a log house yourself. Keep in mind that this is a job for those who have some experience in DIY projects. If you choose to do that, look for cheaper log home building kits. Additionally, you can eliminate professional fees and associated costs to save even more. 
7) Log Cabins Can Be Designed to Suit Any Garden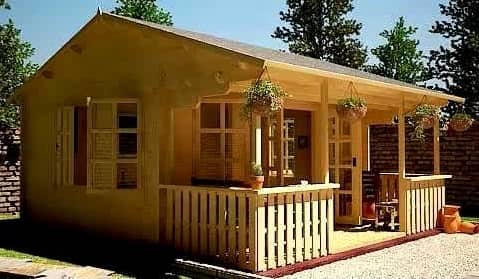 Whatever your taste is, a log cabin can be customized to please your interests. That's because cabins are available in a variety of sizes, designs, and styles. So, no matter if you have a large garden or just enough space for one room, the cabin can be customized to accommodate you.
This includes penthouses, contemporary gardens, small huts, and even abstract designs with modern glass. Some log cabins could also be utilized in the garden as extra storage spaces. Other than storage, they can also be used for business, leisure, and amusement.
8) Withstand Mother Nature's Wrath
The log and timber house industry has endless stories of homes that have successfully weathered Mother Nature's deadliest storms, including Hurricanes Katrina and Rita in 2005. For example, the strong log walls of Menlo and Mickey Klingman's 1,700-square-foot Satterwhite log and timber house in Eastern Texas resisted the pressure of the falling tree and averted additional damage when Rita's winds drove a big oak tree to smash the through the ceiling. "I have no doubt that this log and wood cabin saved our lives," said the owners.
Related Article: 10 Advantages Of Log Cabin Homes
The Cons Of Owning a Log Cabin
1) Regular Maintenance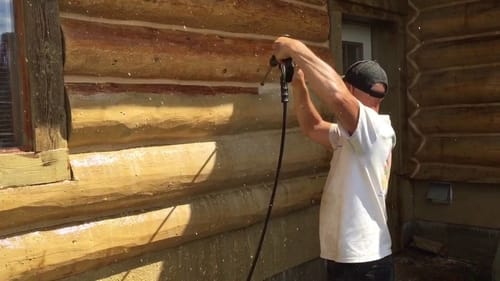 Although log cabins can be energy-efficient, they also require a lot of maintenance. In other words, cabin maintenance might be a major problem for some homeowners that don't like spending a lot of time and money for their cabin. This does not, however, imply that you are unable to manage and maintain the cabin. To have a log cabin in good form, the logs, for example, will need to be caulked on a regular basis.
Regular maintenance means every few years. It also might be necessary to sand and repaint your log cabin from time to time. As the logs expand and shrink owing to temperature fluctuations, settling is inevitable too. If you decide to purchase a pre-built cabin, be sure it is from a company specializing in log houses and has great reviews.
2) Insurance Issues Related To Log Cabin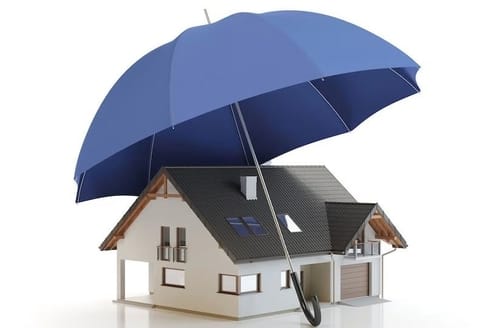 Sometimes it can be difficult to get insurance for a log cabin. Especially if the log house is located in rural surroundings where fire risks are high. The isolated location makes it harder for firefighters to come and react on time. Because of this, ensuring a log cabin is considerably more expensive than insuring a regular home.
Additionally, log cabins are costly to reconstruct after a fire or other type of damage, so several insurance companies have raised their premiums or stopped writing policies for them entirely. Search around and find a few different companies to pick from to save money on insurance, choose a fire-resistant roof over roof tiles when constructing, and select cabins with freestanding cooking burners instead of regular ones.
3) Some Kits Will Not Fit Perfectly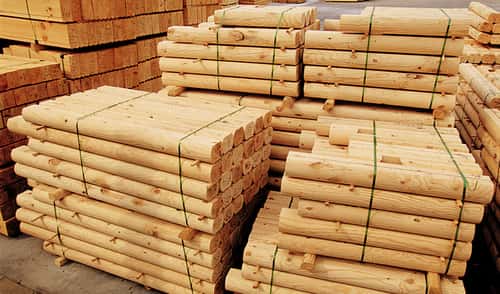 The majority of kits for log cabins are made to fit within a pre-made plan. On the other hand, the log house may not be able to accommodate numerous kits, so do your studying before acquiring any. When purchasing a kit, it is a good idea to examine user reviews, ratings, and other information of that kind.
4) Very Complicated To Sell A Log Home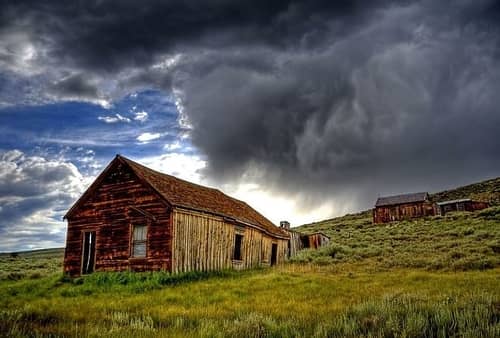 A log home is more difficult to sell than a standard conventional house. This is due to the fact that most of these properties deteriorate quickly, mainly if the previous owner did not take adequate care of the property. Good upkeep, on the other hand, may prove differently. A good thing about log cabins is that their value increases with time. This means that if you take good care of your property, you should be able to sell it for a higher price than what you originally paid for.
5) Pest Problems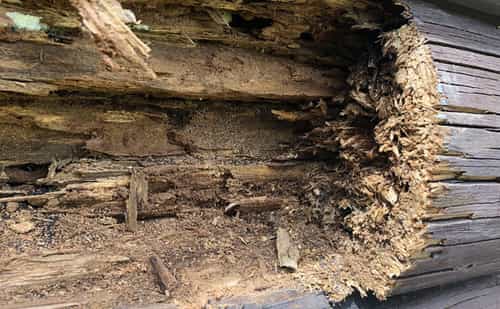 Carpenter ants, bees, woodpeckers, and termites are just a few of the insects that feed on and reside in wood. That way, they can create damage to your log cabin. You should be mindful of these pests by keeping an eye out for indications of their presence in your wood. That way, you can avert tiny issues from becoming big ones.
Insect problems in log houses are less frequent because of borate and other treatments, but they still exist. Other than insects, small animals, such as field mice, have an easier time getting inside a log house than they would in a conventional home, making them a bigger issue than they are in standard living.
If you own a log cabin, you surely want to know How To Remove Mold From Log Cabins? Complete Guide.
6) The Question of Electricity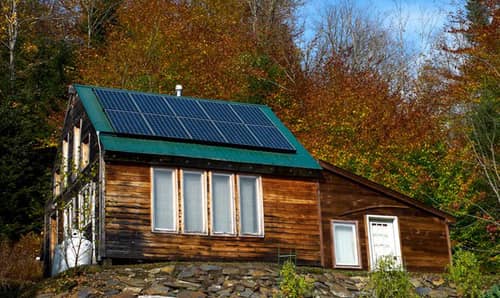 There are advantages and disadvantages to living completely isolated by busy life in your log home. Log cabin houses are ideal for certain individuals who want to escape from noisy surroundings. Sadly, with the luxury of constant peace comes the absence of everyday comforts that modern life offers such as electricity. For some, on the other hand, disconnecting from the modern lifestyle may be excruciating. 
It all depends on the type of person that you are and your preferred way of living. Of course, when it comes to electricity, it is possible to have it wired through in your log home by using solar panels. Because of isolated locations, it can seem impossible, but modern technology has proven many times that the impossible is, in fact, possible.
Related Article: 10 Disadvantages Of Log Cabin Homes
FAQ: People Also Ask
Are Log Cabins Worth It?
Constructing a log cabin, or even building one yourself, is much less expensive than constructing a conventional brick home. This is due to the fact that a timber house needs more natural resources than brick or concrete. Its value also rises with time if maintained well. When it comes to aesthetics, a log cabin is attractive. New wood also has the benefit of having a pleasant aroma, creating a cozy feeling inside that cannot be achieved in a modern home.
How Long Can You Live in a Log Cabin?
Permanently residing in a log cabin is completely possible if the proper level of insulation is done, glazing is installed, electricity is wired, and hot water is available. The log cabin can also be used as a vacation place as well. The amount of time spent inside the cabin entirely depends on what you prefer.
What Is The Lifespan of A Log Cabin?
Log cabins can last for more than 50 years up to one century.  Given the evidence of century-old log houses and wooden structures all over Europe, where the original log homes emerged, a log house may last for over a hundred years with proper upkeep and care.
Final Thoughts
Although log cabins in the woods or mountains may take your breath away and invite at first glance, there are several factors to consider before buying one. Some are the structure and the threat of pests invading and ruining your space. However, with a little research, planning, and personalization, your log will be able to meet your needs and provide you with a comfortable and optimal living environment. After you've completed all these steps, you'll be able to enjoy your log home for many years to come! If you have any questions, feel free to leave a comment below.