What Is A Campervan? Explained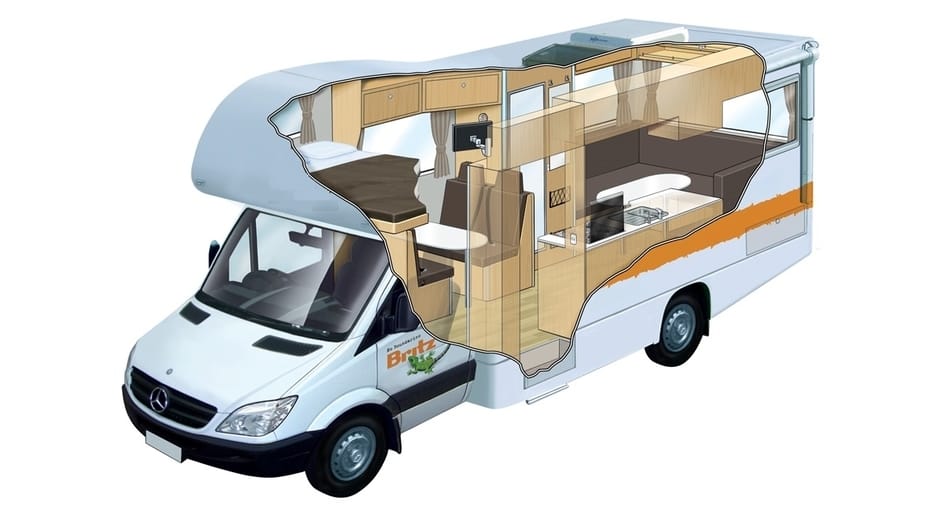 Before we define a campervan let us explain to you what does 'RV' stands for. RV is an American abbreviation for Recreational Vehicle. It can be difficult to understand the lingo at first but that is why we have Google. But other than that, we made sure to make a detailed article about this topic. It might seem unclear, but there really are more than a few differences in RVs' sizes, classes, and types that you must know. Campervans are getting increasingly popular in today's market. So let's take a look at what they are, and what is right for you.
What Exactly Is A Campervan?
A campervan (known as a camper van), or simply a camper, is a vehicle that is built for transportation and sleeping accommodations simultaneously. That's why many people consider the campervan a great vehicle.
A campervan is classified as a Class B vehicle, which means it is smaller than its big brothers Class A and Class C. You would expect that is at least bigger than Class C, that sizes are set in alphabetical order, but no, Class B is actually smaller than Class C.
Any recreation vehicle may be converted into a campervan. On the other hand, in case you have enough skills and knowledge, you can try to build one for yourself. The most popular vehicles that are used to build a campervan are Mercedes Sprinter and Ford Transit. Keep in mind, you don't need to build one, you can just buy it. Whatever you decide to do, like we already said, you will have a vehicle with sleeping and living accommodations.
While the traditional ''American dream'' fades, a new, so-called nomad lifestyle is spreading all over the world. Forget about owning a house, instead, let's have one on wheels.
For those who love to travel in winter, here is a great article you should read; How to Keep RV Warm in Winter?
Note! #vanlife – is a popular hashtag that is used on Instagram and Facebook for campervan enthusiasts. The freedom, the carelessness, the beauty of our nature, and what it means to become one with it.
Why Are Campervans So Popular?
Why are campervans so popular? There are numerous reasons. At first, they've become a rental option for young backpackers that are visiting Australia on a tight budget. These trips are known as 'low-budget' trips and they can be more interesting and more fun than staying in some luxury hotel.
You don't have to be Bill Gates to visit as many countries as you want if you know how to balance your paycheck the right way. With campervan or small people movers, you get yourself a bed, a cooking surface, and sometimes even a bathroom. It all fits into this vehicle, which for some people is invaluable.
What Licence Do I Need For a Campervan?
If you have a driving license for a car, I have good news for you! You are all set to go. Your car driver's license (category B) will usually suffice to drive the smallest RVs and campervans that weigh less than 3,500kg. The category was changed on January 1, 1997, allowing drivers who passed before that date to drive any vehicle and trailer combination up to 8,250kg MAM.
What Features Does a Campervan Have?
Because space is limited in campervans, you are limited with things that you can fit in them. Corresponding to that, the characteristics that you'll discover in a campervan will differ greatly depending on the size of a campervan, brand, type, and other factors. In standard campervan models you can frequently see the following:
Storage: due to their tiny size, storage capacity may be limited, but you can always get a roof racks
Sleeping Quarters: well, a campervan wouldn't be considered a camper without a bed (preferably one that folds up)
Dining Area: small table that folds up (if you are lucky)
Small Kitchen: generally speaking, it would be a kitchen with the essentials, such as a small refrigerator and a twin gas burner
Portable Toilet: you won't find full bathroom in a camper. Some types, on the other hand, may come with a portable toilet that can retain wastewater.
Keep in mind that you are not limited to this list of features. You can literally put whatever you want in a campervan if you have the right budget and appropriate van size. Let your imagination run wild! Self-contained models are available, with all of the functions needed without the requirement for external resources or campground facilities.
What Are Benefits Of a Campervan
Here are the five top reasons to buy a campervan:
Save money – Great thing is that you'll not only save money on caravan sites, but you'll also save a lot on gas. There is a lot of camper vans that have good economic engines that don't use a lot of fuel.
Save time – Unlike a typical caravan, your campervan does not need to be unhitched and leveled before you can go back on the road. You're all set to go on vacation once you've loaded everything on board.
Smaller size – Because most camper vans are about the same width as a car and are no more than 2 meters tall, you can park in underground parking garages, drive under bridges, and simply drive comfortably. They can also be driven on a basic Australian driver's license because they're under 4.5 tons. It allows you to travel almost everywhere.
More camping possibilities – Camper vans may obviously rent a spot at a caravan park, but they can also rent spots at "camping only" national parks and campgrounds. Hundreds of locations and cities offer free overnight parking for campervans, either in dedicated parking areas or along the roadside. You can even use a 4WD camper van to get to beautiful, remote camp areas without having to carry all of the amenities that come with a camper.
Luxury meets the outdoors – While camper vans are a budget-friendly alternative for backpackers, it doesn't mean they can't be luxurious. TVs, air conditioning, refrigerators, GPS, and even WiFi are among the luxurious features that can be installed. All of this is just on the doorstep of some of the most breathtaking places on the planet.
If you don't own a campervan, it would be a great choice for you to rent a campervan for a few days just to see if it is the right choice for you. After all, assuming that you start catching feelings for this friendly van, just go for it! Buy it!
The Difference Between a Campervan and a Motorhome?
You should now have a decent understanding of what a campervan is. But what exactly is a motorhome? A motorhome can be described as a self-powered vehicle that comes with living amenities. You can see it is similar to a campervan by definition.
Don't get confused, they are not the same. Like we said before, a campervan is a specific type of motorhome, the Class B. Dissimilar to a campervan, motorhome ranges from Class A to Class C. So, there you have it: it's like comparing apples and oranges. Whenever you find yourself in a conversation about motorhomes, remember that people usually refer to larger recreational vehicles like a Class A or Class C.
Which Is Better: A Campervan Or Caravan?
This one here is easy to answer. It all comes down to personal taste. Now, that we know what a motorhome is and what a campervan is, let's take a look at the caravan. The caravan is a mobile house that is towed behind a vehicle on the road.
To help you decide,  we have a little trick for you: relax and imagine a typical camping vacation and weigh the advantages and disadvantages of each mobile home style. Caravan requires hitching and unhitching at each destination, and it can be difficult to park. All in all, it takes more of your vacay time.
Once you arrive at your destination, you can unhitch and drive with your car freely. That's not all! A caravan also has more facilities and equipment such as bathrooms, showers, full kitchens, and many others. We can go on and on, but I think I've been persuasive enough.
Here is also one popular article that we recommend, How Much Is A Pop Up Camper? (New, Used & Rentals).
FAQ: People Also Ask
What is the difference between a motorhome and a campervan?
To simplify it for you, the main difference between a motorhome a campervan is their size. Campervan are often smaller and more van-like in size, while on the other hand motorhomes are built into large van bodies. Both of them may be driven without the need for towing.
What is the purpose of a campervan?
A campervan is a self-powered vehicle that provides both transportation and sleeping accommodations, while some include bathroom facilities. You may go on vacation without the trouble of bringing a complete caravan or motorhome.
How long do camper vans last?
The lifespan of a camper van is estimated to be between 10 to 20 years, nevertheless, it can be influenced by proper care and maintenance. They tend to last a little longer because they have fewer functioning components.
Does a campervan have a toilet?
Depending on the campervan converter's budget and environmental consciousness, there are a few different sorts of toilet/bathroom setups. Some campervans have fully integrated interior bathrooms, while others feature clever "pop up" bathroom solutions with a stowaway toilet.
How much do campervans cost?
The price range for a campervan is somewhere between $10,000 up to $120,000, depending on the type, brand, size, and amenities (such as sleeping space, kitchen, and bathroom).
Final Thoughts
What else can we tell to encourage you to rent, or even better, to buy a campervan? Not much, aside from all the things above. Just soak it up and think about going on vacation anytime and nearly wherever you like. Sun is up, and you can simply load up your campervan and go enjoy yourself. It was a pretty exhausting week for you, and you are looking for an escape!
I hope that this article has helped you and that you now understand much more about campervans and their pros and cons. If you have any additional questions, feel free to leave a comment below.