10 Best RV Backup Cameras (Make RV Driving Easier)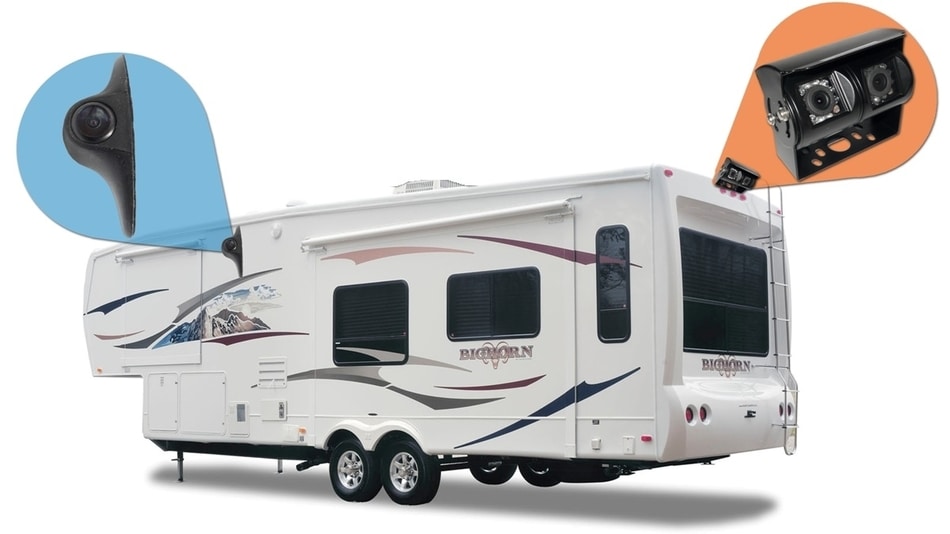 Having an RV backup camera can make a big difference, both for you and for your RV. When you are driving an RV backward, you cannot see what exactly is behind you. Therefore, having a camera that helps you park backward can be a lifesaver.
We did full research and found ten great cameras that you can use to install on your RV. However, having a backup camera can also increase safety, save the drivers time, care and hassle, and help prevent serious damage to the vehicle. In this article, we'll talk more about that. So, let's start!
Why Is It Good To Have Backup Camera On RV?
Having an RV backup camera can save you a lot of money, especially if you are not an experienced driver. Besides that, these camera makes life easier and safer. They can save you from accidents when visiting gas stations and when you are parking in campsites.
When trying to park an RV on some campsite, it can be very difficult and you can easily hit a picnic table or a post. It's a similar situation when you're trying to find your way in parking lots. I think these are more than enough reasons to get a backup camera on your RV (Recreational Vehicle).
This is for those who own an RV, so be sure to read: How To Find RV State Inspection Near Me.
How to Choose RV Backup Camera Systems
Now that you are familiar with all the benefits of a backup camera and have decided to buy one, you must now know what to look for in a camera! Don't worry; we are here to help you. The main things to look for when buying a camera are the following:
Video and Camera Quality
The video and camera quality are very important features of an RV backup camera system. They give you clear footage (view) of what is behind you. We definitely recommend buying a camera with a monitor and a video digital signal. That way, when you use your camera, it will not be interfered with by other electronic devices.
There are also models that come with advanced features such as infrared, split-screen monitors, night vision, black and white, or colored screen options! However, it is not necessary to have all these features on a camera for successful parking, but these are great options that we must mention.
You might also look for the model that comes with side cameras that are very helpful when you change lanes while driving on the highway. That way, you can reduce blind spots.
Installation
We recommend buying an RV backup camera that is easy to install unless you want a professional to do this for you. The best option is to buy a wireless model when it comes to installation. However, they also have their drawbacks, which we will talk about below.
Price of the RV Camera
Lastly, you need to know how much money you are willing to spend on your RV backup camera. If you have a smaller budget, it is just fine to buy an affordable camera. Also, if you have more money, feel free to treat yourself with a quality model that has lots of extra options and will serve you well for years.
Pro Tip: When buying, you should pay attention to whether the camera comes with a mounting bracket. Some models do not have this feature, so you need to buy it later.
Types of RV Backup Cameras
The first thing that you should know is that you have three types of backup cameras that can be installed on any RV:
Wired Cameras
Wired cameras are physically connected to the monitor by a wire. Such cameras are very reliable because they give a quality video feed and better image quality. Although wireless camera manufacturers have improved performance for these items, the wired camera still has the best video transmission. Installation of the wired camera can be done by yourself, but it is also recommended to call a professional for help if the setup is complicated.
Wireless Cameras
Wireless cameras are much easier to install on an RV, unlike wired cameras. These models can have a digital or analog signal that transmits an image from the camera to the monitor. The image quality is far better with a digital signal, but you have to keep in mind that if you have a weak signal, you will also unexpectedly lose the image completely! With an analog signal camera, if interference occurs, the image on your monitor will not be ideal, but it will still be there. The biggest advantage of wireless cameras is their easy installation.
Hitch Cameras
Hitch cameras, as the name suggests, are installed above the hitch of an RV. These camera models have magnets that are usually attached to the metal surface that is placed on a hitch.
The 10 Best RV Backup Camera Reviews
Below, we bring you a full overview of the best RV backup cameras on the market. We have narrowed the selection to ten models that we consider the best.
1. VanTop H612
The VanTop H612 is an RB backup camera that has backup, front, and rear views and comes with a 2.5K Ultra HD camera. This model comes with a touch screen that acts as a rearview mirror. This camera includes GPS tracking, a parking monitor, and voice control. Can handle night vision and loop recording.
Type: Wired
Pros: H612 provides continuous recording and it is also capable of reviewing footage. You can see everything behind your while driving. 
Cons: It comes with an extra hard wiring kit. It is not easy to set it up. Also, you have to buy this equipment separately. Otherwise, you won't be able to wire it into the electrical system of the RV and run it automatically.
2. Rear View Safety 770613-NM
The Rear View Safety camera model has a 7-inch LED display with auto-dimming and a 3-port power harness. It has 50 feet of night vision length and 130 degrees of sight. Great RV backup camera model if you ask us.
Type: Wired
Pros: The monitor is very clean. Another great thing is a night vision. The camera comes with an audio feature so you can listen to other people giving voice directions that are behind your RV.
Cons: It is a wired camera, so it's not easy to get it up and running.
3. Rear View Safety RVS-062710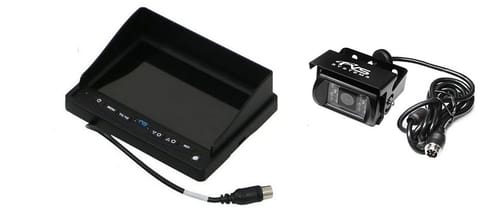 The Rear View Safety RVS is a great model that has a 4-camera and quad view display. It features two backup cameras that have a 130-degree viewing angle. One camera can be mounted on your vehicle and the other on the RV. In the package, you also get a camera that has 2 sides with a 120-degree viewing angle. All cameras come with night vision and are waterproof.
Type: Wired 
Pros: Beast feature of this model is the 7-inch TFT LCD monitor that comes with single, double, and quad viewing options.
Cons: This camera has video transition in real-time, and can't record.
4. 4Ucam 9901 Digital
The 4Ucam is a rearview and backup camera that is affordable and at the same time a quality camera. It is a wireless model, and it has a 7-inch monitor. The night vision of 4Ucam is 50 feet. The monitor has a power adapter of 12 to 24V.
Type: Wireless 
Pros: It comes with a Furrion-mount option, that is able to pre-wire on almost all recent RV models. Setup is easy, and you get everything needed for installation.
Cons: Like any other wireless camera, it will give you a headache when the signal does not reach the monitor. This model of a camera might require an antenna booster.
5. Haloview RD7 Wireless Long Range
If you have a very long RV or trailer that consists of metal, you will need a repeater that is wireless or at least an extender. This camera model kit comes with a wireless transmitter that you can install on the rig to get the wireless signal.
Type: Wireless 
Pros: This model has an SD card that is used to store any audio or video footage from the camera. It is a very helpful feature when you gather documentation in case of an accident.
Cons: Challenging installation as it is partially wired and partially wireless. The wireless transmitter hangs on a wire that you need to install.
6. Furrion Vision S Camera System
The Furrion Vision comes with four wireless cameras. One is the backup camera, two on the sides, and one on the doorway for security. Each camera features a live stream and night vision. The 7-inch monitor has rear assist markers and a touch screen display.
Type: Wireless 
Pros: This backup camera setup for RV can be used as a security system because it comes with a great motion sensor that can automatically activate the monitor. And the doorway and rear cameras include audio and microphones. On many RVs, this model is pre-wired, which makes the installation easy.
Cons: There is no doubt that this model is expensive.
7. AMTIFO A7 HD Wireless Backup Camera
The AMTIFO is a wireless rearview and backup camera. It has a 7-inch HD monitor in color. The great thing about this model is that the monitor has an extra split-screen which is useful if you want an additional camera. You can choose between these two models of the camera. One of them contains a bracket adapter and pigtail outlet power wire for an RV Furrion pre-wired.
Type: Wireless 
Pros: This model will give your money back after 30 days if you are not satisfied and it has a two-year warranty. They provide also full support. 
Cons: The range of the camera is only 50 feet. It is not a good option for a long RV. 
8. Iball Hitch Camera
The Iball Hitch Camera is a wireless setup, rearview and magnetic camera with a range of 25-foot and an LCD monitor of a 3.5-inch. It does not require any hardware for installation and can be mounted to any surface of your RV vehicle. 
Type: Hitch 
Pros: You do not need to do any wiring for this camera which makes it very easy to install and change its location as needed.
Cons: The battery lasts only for 3 hours while it is recording. This is just fine if you only use it for RV back up drive. But if you are going on a long trip with an RV  it is something very important to keep in mind.
9. Rohent RV Backup Camera
The Rohent RV camera is made for use on RV vehicles that have a maximum length of 45 feet. If your RV is longer, then this is not a model for you because the wifi range of the setup is just 50ft. The kit is made of a seven-inch monitor covering two cameras, each with its own channel.
This is a very durable setup that includes waterproof and shock-resistant features that can be used in all weather conditions. This camera has a viewing angle of 150-degree and infrared LEDs for superb night vision.
Type: Wireless 
Pros: Weatherproof for durability, HD crystal clear monitor and superb night vision
Cons: Small wifi range. Not suitable for RV models over 45 feet
10. eRapta RV Backup Camera Kit
The eRapta RV Backup Camera kit has a clear 7-inch LCD monitor and four cameras. Cameras can be placed anywhere on your rig and give you a 360-degree view! You can even put them all at the rear for an amazing backup image.
The monitor can split the screen into four images to see the work of all the cameras at once or you can view one camera at a time. Also, this monitor always shows an excellent image of everything that is happening behind you so you can always drive your RV with confidence.
Type: Wireless 
Pros: Great monitor that splits into 4 images and has a 360-degree view. Also, it is a waterproof system, good for all weather conditions.
Cons: Cables are a little short for big RVs. Zero contrast, brightness, or control color.
For those who want to learn more, be sure to read What Is a 5th Wheel Dolly? Expert Explain.
FAQ: People Also Ask
How Do I Install Backup Camera On My RV?
Camera installation varies depending on whether you purchased a wired or wireless camera. As we are not experts in this field, we recommend that you read this post for detailed instructions.
Should I Get A CCD or CMOS Sensor?
Charge-coupled device sensors (CCD) usually transmit a great image without much interference. They adjust perfectly depending on the availability of light, which is why they work well in poor lighting conditions. On the other hand, complementary metal-oxide-semiconductor sensors (CMOS) need much more light to transmit a quality image without interference. Therefore, for those who want a higher image quality, we recommend a CCD sensor that will not let you down even in night conditions with minimal lighting.
How Do I Fix My RV Backup Camera?
If you think you can repair the camera on your RV, feel free to do it. However, be sure to use the manual that came with the camera. I wouldn't do that though, I'd rather hire a professional for the job. If like me, you have no experience with repairs and you are not sure what exactly to do, you could do more damage to your RV.
Final Thoughts
In this article, we have listed the 10 best RV backup cameras that are currently available on the market. Each of these cameras has its advantages and disadvantages, but it is up to you to choose the one that you think would best suit your RV. We also talked about things to look for when choosing a camera such as quality, price, and type of installation. I hope we helped you a little bit and if you have additional questions feel free to leave a comment below.