How To Find RV State Inspection Near Me?
Regular vehicle maintenance, including RVs (recreational vehicles), is very important for you and other road users. State authorities want you to have vehicles that are safe to drive. This is the logic behind the several checkups that RV owners must go through to go on the road with their RVs. In this article, we'll talk about how to find the nearest RV state inspection in your area. So, let's start!
How To Find RV State Inspection Near Me?
So How To Find RV State Inspection Near Me? The best and easiest way to find a state inspection in your area is to use Google Maps or nrvia.org/locate. An additional method is to ask your local RV dealer, and he will direct you to the nearest state inspection in your city.
Keep reading this article to learn more about this topic. We tried to cover all of the information you'll need to get your RV properly inspected.
If you own an RV and want to sell it, then be sure to read How to Sell a Camper with a Lien (The Right Way).
When RVs Need an Inspection?
Some RVs don't need an inspection, which is good news! However, for those who live in a state where RV inspections are required, you'll have to get your RV inspected. To put it simply, you only need to get your RV inspected if you register it where this is required. Another good thing is that when the RV is registered where it doesn't require inspections, you'll not be required to obtain one while traveling to a state that does.
For those who have registered their RV in South Dakota, you may camp as long as you want in Texas, for example. South Dakota, where your RV is registered, requires inspections, but not Texas, where you've decided to travel.
Rules For RV State Inspection
Every state has its own rules. This is one of the disadvantages when you live in a country that allows setting its own rules and regulations. The only thing that you must know is that certain states require inspections while others don't.
Another thing you need to pay attention to is the fact that these policies and regulations will vary from mild to severe. In North Carolina, for instance, to get a license tag you will need to wait for the inspection to be finished. Usually, this takes 90 days for RV inspection before your existing tag expires. Meanwhile, Texas requires for every new RV an inspection and you have two years before requiring another. Inspections are required on a yearly basis after the first two-year term.
Additionally, keep in mind that having your RV inspected is not required by the state. Texas typically allows individual counties to impose this requirement, although not all of the state's counties require the inspection. To find out what your state requires for your RV, call the motor vehicle agency.
Who Does RV Inspections?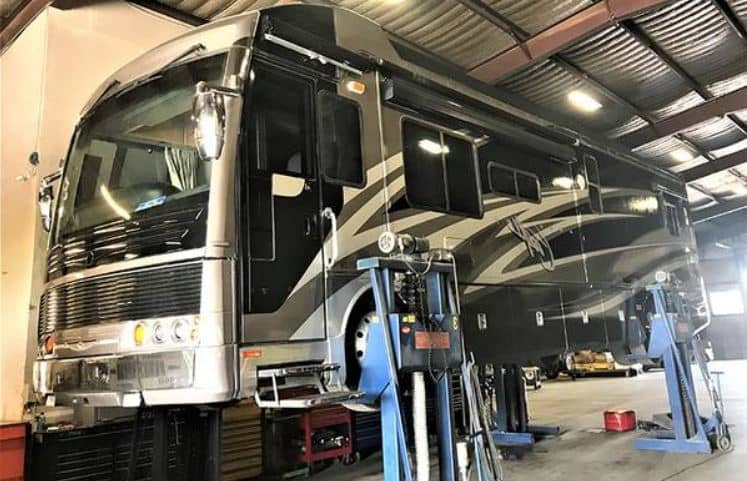 These RV inspections can be done in a number of different locations. For instance, some inspection stations can get the job done, while others claim that they go to their employees in a local repair shop. Inspections are also available at repair shops, RV dealerships, as well as numerous other locations. Nowadays, the National RV Inspection Association (NRVIA) is what provides you with a certified RV document.
This is only an inspection service that assists you in finding all of the data about the RV you want to purchase. The NRVIA has given these inspectors official training, so they know what they need to search for and to explain what they've found. To use their service, you must make an appointment.
RVs, TTs, and other recreational vehicles in Canada require an annual inspection, except for ATVs. Inspectors in Canada don't only look at headlights, turn signals, and other basic stuff. They inspect every corner of your vehicle in detail. Therefore, ask your RV dealer to see who is qualified to perform the inspection. Maybe you won't need a detailed inspection as NRVIA provides, and it might not be as expensive. It all depends.
What Is the Cost of an RV Inspection?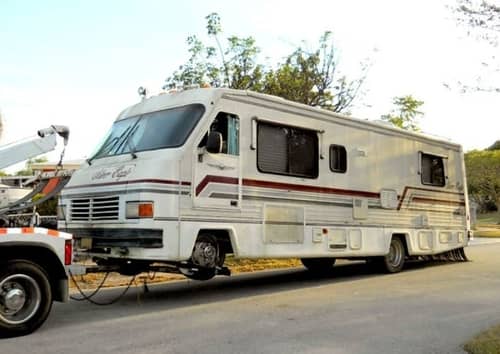 The price of an RV inspection depends on the service provider and what is included in it (work). The inspection price for one non-state company is around $12.50, however, that amount probably won't include the things that are related to emissions checks.
We didn't manage to find many governmental fees, but we did find a considerable amount of private prices if you are looking for a thorough inspection of your RV. If you want to know the exact price in your region, call the DMV or RV dealer.
They will inform you whether or not your RV needs to be inspected and how much it'll cost. You could expect to pay between $500 and $800 for NRVIA. Aside from the NRVIA, private inspections might cost anywhere between $170 to $400, depending on the inspection type and the location where it is performed.
However, there are people that pay around $7 for the inspection, although those prices have very likely increased since then. Also, whether your RV is registered in a large city or a little town will determine the price when we talk about the inspection price. Big cities are likely to demand a more detailed inspection, and you must pay for this additional service.
What Is Included In RV Inspection?
There are things like safety and emissions that are the subject of some RV inspections. These inspections will in most cases cover the fundamentals like headlights, turn signals, brakes, brake lights, and the emission system when done or permitted by the state or county.
Private inspections are also available, and they usually cover the whole vehicle, inspecting components such as heaters, appliances, slide-outs, and other functions of the RV. Inspections like these are pretty expensive because of all the additional services they include in the price. They basically cover every detail of your RV. To better understand everything that's included, make sure to check if an inspection is required in the state where you live.
After you've done it, check with them how long you need to wait for the inspection to be done and inquire about the things being inspected. As far as I know, the Canadian inspection charge is around $30 CDN, although that might have gone up by now. This inspection includes everything, even removing wheels to inspect brakes and other important components.
Also, be sure to keep an eye out for when it comes to inspections of the RVs that they have. They might try to rip you off and charge you up to $700, and then when a minor inconvenience happens, you'll have to pay another $500 for fixes that the dealer allegedly overlooked. Remember that not every inspection is done thoroughly, so watch out where you decide to go.
RV Inspection Before Registration
As far as we know, 2 states require an RV inspection before registration. Those two states are North Carolina and Texas. However, sometimes more states will require inspections before registering your RV, or any other vehicle. To be certain, contact your state's DMV office to find out if your state is on the list.
During the call, also ask about the price of the inspection, the location where it will be done, and everything else that includes in the inspection. Be sure to gather all the information.
There may also be exceptions based on the age of your RV. However, you may not need an inspection, if you have an older RV. It would also be good if you ask about this at the DMV office. For those who have older RVs, more than 25 years, there is a possibility that you won't need to pay for the inspection.
Another state that demands an inspection before the registration of your travel trailer is New York. After you are done, you'll get a sticker that must be kept in the vehicle.
Note! Every state is different and has its own rules, so be sure to inform yourself.
Make Sure to do the Inspection Before Buying RV
This is strongly advised and recommended because dealers tend to lie about the actual condition of the RV they are trying to sell. But it's not obligatory! Before actually paying, one customer hired an NRVIA inspector to see if the vehicle they wanted to buy. It turned out that the dealer lied about the vehicle's condition and they found several problems with it.
Therefore, it's a good idea to get an inspection of the vehicle before actually buying it. However, this may be a little expensive, but it will eventually save you a lot of money and time. Some companies are ready to do the inspection for you before the deal is finalized.
First of all, this is for the owner's safety, but still, keep in mind that these private inspections are a lot more expensive than the state or county-mandated ones. Some inspection prices have been reported to go up to $1200. Some other companies charge lower than that, and that usually depends on what is being inspected and the size of the vehicle.
As we previously stated, when it comes to private inspection, the cost is easily justified, as one inspector discovered that the dealer covered up a break in an RV by using a large sports team sticker. Here's a link to the photo gallery from the inspection. It's up to you whether you think that the private inspection before the purchase is worthwhile or not.
Checklist Before Buying Inspection For Your RV
The type of inspection will differ depending on the inspection company and the sort of inspection you are looking for. For example, NRVIA, which was founded in 2014., has a basic uniform checklist that includes almost all parts of your RV.
They also include standard disclaimers, along with an introduction that explains what will and will not be done throughout the inspection. By clicking on this link you will see their full guide. Another company may provide a safety check for $350, which includes king pin condition, propane and leveling systems, VIN confirmation, holding tank inspection, and more. Another good thing about it is that they provide a $150 inspection on how to run your RV.
This inspection explains how to control several components on your RV, including slide-outs. Click here to see the checklists for these inspections. If you are more prone to doing it yourself and saving money, here is a link to an inspection form you may use.
Lastly, go to this link to get a full guide for your RV. Your inspections, whether you pay someone to do it for you or you decide to do it yourself, secure you from potential scams that lead you to spend more money on your new RV than you expected in the first place.
Want to know more? Be sure to watch this YouTube video.
For those who want to know more about RVs, be sure to read How Much Does It Cost to Store an RV? (Cost Near You).
Final Thoughts
State inspections shouldn't be seen as something bad, even if they can sometimes be quite a headache. These inspections are important because they ensure that your RV is roadworthy as well as provide you with information about your RV and what is exactly going on with it.
In most cases, state and county inspections can be conducted anyplace if government officials have given their permission to do so. You shouldn't travel a long way to find a station that will inspect your RV for a reasonable price. 
It is your decision whether you will do a pre-purchase inspection or not. Maybe you won't like the expense of these services, but they might save you a lot of money in the long run after you buy the RV. Inspectors will uncover many details that you may not be aware of. With that said, my advice to you is to at least think about getting a pre-purchase inspection.