10 Best Small Camping Trailers With Bathrooms
Over the past few years, the idea of ​​living in a small space has become increasingly attractive to a large number of people. Such a lifestyle means a lot of sacrifices, and one of them is also a lack of a bathroom. But some people are not ready for this. We bring good news – there is no need for such a decision today! 
Below we will give you an overview of 10 small camping trailers with built-in bathrooms. If you are thinking about living in a smaller space, we are convinced that each of these trailers will interest you and pleasantly surprise you with the features that it has. So, let's start!
Benefits of Having a Bathroom in Camping Trailer
Those who have a bathroom in their RV (recreational vehicle) don't have to bother with using public bathrooms in the campground which are often of questionable cleanliness. You also have the opportunity to camp in the wild. When camping in unexplored areas with no bathroom in sight for miles, having your own in a camping trailer is a great benefit.
When we talk about smaller camping trailers, they usually have wet baths that do not take up much space, but you will be surprised that there are models on the market that have spacious dry baths – toilet and shower separately.
Best Small Camping Trailers With Bathrooms
When you are looking for a small trailer that has a bathroom, why not choose the best one? We did complete research on the best small camping trailers that come with bathrooms. Here is our top pick:
1. Happier Camper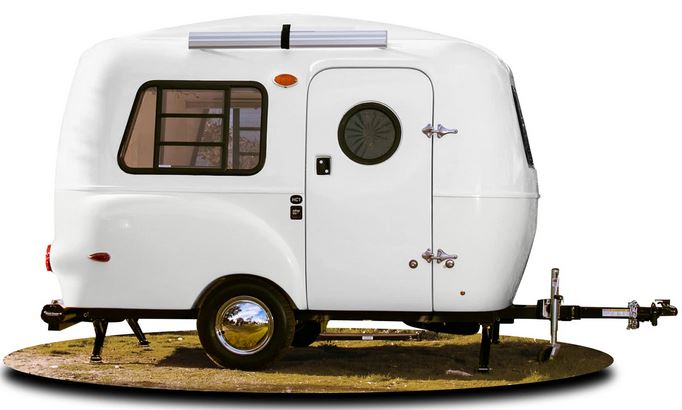 What delights the user with this Happier Camper model is the great variety of options. The layout inside this trailer is achieved with the help of the Adaptiv products line and the great possibility of adapting the space to the needs of the owner. The camper contains modular pieces that are easy to move so the floor plan can always be changed. 
In this camper, there is a kitchenette that, along with sinks and shower, uses gray water tanks and freshwater of 17-gallon. Also, this model comes with a standard toilet with a black tank, as well as installing a dry toilet. The choice is yours!
2. Aliner LXE Camping Trailer
The Aliner LXE camping trailer is only 15-feet long, so it's a real surprise how much comfort it offers to the user. This camping trailer comes with a fully equipped kitchen and a sofa bed that easily transforms into 80×76 inches bed. 
The ceiling peak is 8-foot so you don't have to worry about headspace in this camper. At first glance, the bathroom seems hidden, but with just a few simple strokes, it turns into a functional wet bath. This trailer has a cassette-style toilet connected to a black tank of 5 gallons. If you are looking for a small trailer that has a built-in bathroom this model is a good choice for you.
3. Little Guy Mini Max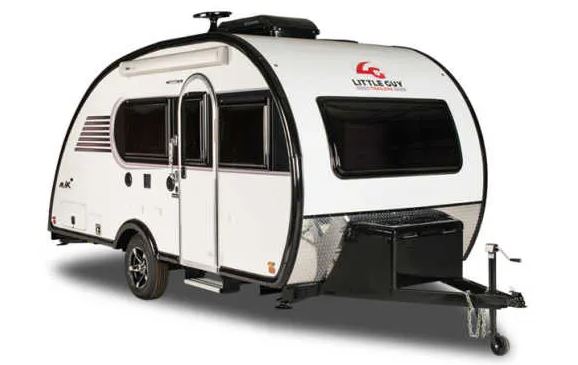 The Little Guy Mini Max has a tongue weight of just 280 pounds but gives the user everything he needs inside. Comfortable camping in all conditions is guaranteed with a 16,000 BTU furnace and 13,500 BTU AC system. The great benefit is the fact that this camping trailer can be towed by even a smaller SUV. In this trailer, you will feel at home with a two-burner stove, a 5-cubic fridge, and a microwave.
You can enjoy the beautiful view from this trailer without sacrificing privacy thanks to the dual pane-tinted windows. In addition, the bathroom in this model has a height of six feet and contains a shower with glass doors, as found in standard home bathrooms. A pedal flush shower and toilet share the same space. All in all, if you are looking for a smaller trailer that has a lot of comforts, including a bathroom, the Little Guy Mini Max should be considered.
4. 16' Casita Deluxe Small Camper
The Casita Deluxe model boasts five different floor plans, one of which is the Heritage Bunk model. Although it is a light camping trailer, it has 50 cubic feet of space in which you can store everything you need for travel. However, this is not common for smaller trailer models with a bathroom.
Inside, air circulation is ensured by an AC system that is mounted on the roof of the trailer. Standard equipment includes gray and fresh water tanks of 16 gallons, but it is possible to install tanks of 25 or 32 at the customer's request. The bathroom is unexpectedly spacious and has a toilet and shower that share space. Also, this model has a black tank of 15 gallons. You will also find a two-burner stove, a 5-cubic fridge, and a microwave in this recreational vehicle.
5. Jayco Hummingbird 16MRB
The Jayco Hummingbird 16MRB is full of conveniences that can also be found in much larger rigs. This travel trailer has a bathroom with a separate toilet, shower, and locker. Yes, you read that right! This little trailer has a real dry bath. And not only that! Inside there is a queen bed that works according to the murphy principle so that you still have enough space next to it. Also, there are three tanks of 25.5 gallons for fresh water and also waste water, so you will not have to empty them often.
A 2-burner stove, refrigerator, microwave, and pantry will surely provide an extra feeling of home. It is a 19 feet and 10 inches long model and has a dry hitch weight of 315 Ibs. Since it is a very light vehicle, there is a wide range of vehicles with which you can tow it.
6. Lance 1475
The Lance 1475 is the smallest Lance model that offers the full range of features needed for a comfortable trip. The kitchen is fully equipped and comes with a five cubic 3-way refrigerator, a 3-burner stove, a large round-shaped sink, and a work surface that leaves plenty of room to prepare each meal.
Parallel to the kitchen, you can find a meal area that features two comfortable chairs and a rotating table. In the front of the vehicle, you can find a top pillow queen bed. Of course, there is also a bathroom. That dry bath features a hand-flush marine toilet, a tall shower, a spacious vanity, and a dual-pane skylight.
Related Article: Top 6 Best Travel Trailers Under 25 Feet
7. Winnebago Micro Minnie
The Micro Minnie camper model is known as a small trailer that has everything you need. This travel trailer can be purchased in several different floor plans, so each user can customize the trailer to their needs. Also, this model has a lot of features that larger rigs have. It is a camper between 19 and 25 feet long that can be easily towed. It is also possible to buy a slide-out version of this model, which is a great luxury in this vehicle category.
The kitchen in this model is very spacious and comes with a 10.3 cubic refrigerator and a 3-burner stove. The bathroom is also very spacious, and it has vanities, a separate toilet, and a shower. Thanks to the dry bath concept, there is enough space for cabinets that provide additional storage of personal belongings.
8. TAB 400 Micro Camper with Bathroom
The TAB 400 Micro camper is an aerodynamically shaped teardrop. Although the TAB 400 seems very small, its interior is spacious and comes with a bathroom. There is also a kitchen, and two sleeping areas, one of which can be transformed into a bed from a dining set. The bathroom has a wet bath with a fold-down sink that saves space. The conclusion is that this camper provides the user with much more than it seems at first glance.
For those who especially care about the trailer's look, the good news is that the TAB 400 comes in more design versions, even when it comes to trim and base color of the vehicle interior and interior fabrics.
9. Camp Lite Trailer
The Camp Lite Trailer is a much larger travel trailer than others on our list, and it is a great choice for those who want to have more space in their trailer. The largest version of this model has all the comforts that can be found in a large RV vehicle.
Among other things, there is a spacious kitchen and a dry bathroom. But you should know also that this trailer should be towed by a more powerful vehicle. If you have such a vehicle at your disposal, we recommend the Camp Lite Trailer because the extra space it provides really means a lot.
10. Escape 17B
Traveling in the Escape 17B trailer is the best choice if you are going on a vacation getaway. This camper model is a 17 ' trailer and can sleep a total of four people. Escape produces its models guided by the idea that almost any vehicle can tow its trailers. Therefore, this recreational vehicle has everything you need, and the trailer can still be easily towed. Keep in mind that the Escape 17B and Escape 17A model, of which only 17B has a bathroom.
Why It Is Great To Have Camping Trailers With Bathrooms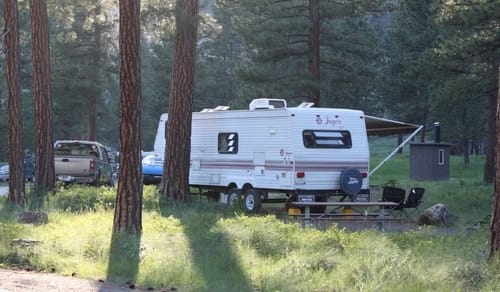 After reviewing our list, you can easily conclude that smaller camper trailers with a bathroom are a great choice. This is not surprising given that their manufacturers know what their potential customers want. You no longer have to sacrifice yourself if you want to live in a smaller space, but you can enjoy that dream by having a real bathroom at your disposal!
Difference Between Dry vs Wet Bathrooms Camping Trailer
When we talk about smaller camping trailers that come with a bathroom, we have two types: dry and wet bathrooms. Dry bathrooms are a typical form of bathroom that you usually have in your home. They have a separate built-in shower/tub, sink, and toilet.
On the other hand, wet bathrooms represent a multifunctional space in which all built-in elements use the same space. This means that the bathroom actually consists of only a shower, and there is a toilet and a sink in the shower area. Such bathrooms have the epithet "wet" because everything in them can get wet without causing damage.
This type of bathroom greatly saves space in a small camping trailer. But some people still don't like them. The reason for this is the uncomfortable feeling when you have to use the toilet after someone has taken a shower with it or vice versa.
But when you are faced with the choice between not having a trailer bathroom or having a wet bathroom, you will obviously choose the second option. It is clear to everyone that wet bathrooms have their drawbacks, but they can be forgiven if it means that you can have a toilet and shower with you at all times on the trip.
If you love to travel, you would also like to know Where Can I Park my RV to Live and Travel Full-time.
The Definition Of a Small Camping Trailer
A small camping trailer is a towable camper that is pulled by another vehicle. It usually has a small kitchen that serves as a dining area. Also, it has a sleeping area. The great thing is that the interior of such trailers can usually be easily adapted to the wishes and needs of users. There are a really large number of models smaller camping trailers available on the market, so there is no possibility that you will not find one that is ideal for you.
Smaller camping trailers can usually be easily expanded, so don't despair about the seemingly smaller space. You will be surprised how many smaller trailers with a bathroom can be spacious. Their biggest feature is that they can be towed by almost any larger car with a hitch. Also, their dimensions allow you to store them in almost any garage or spend the winter on the driveway.
Final Thoughts
Every trip is much more comfortable if you can take with you something that refreshes you and gives you a feeling of comfort as if you were at home. Small camping trailers offer just that. With them, your travels will become longer and more interesting.
Why would your every trip end up in a camp when you have everything you need to be able to camp in any location.  We believe that in this text we have presented the concept of small camping trailers with a bathroom in the right way, that you will take them into account, and that if that happens you know what are all the best options available to you!