Top 6 Best Travel Trailers Under 25 Feet in 2023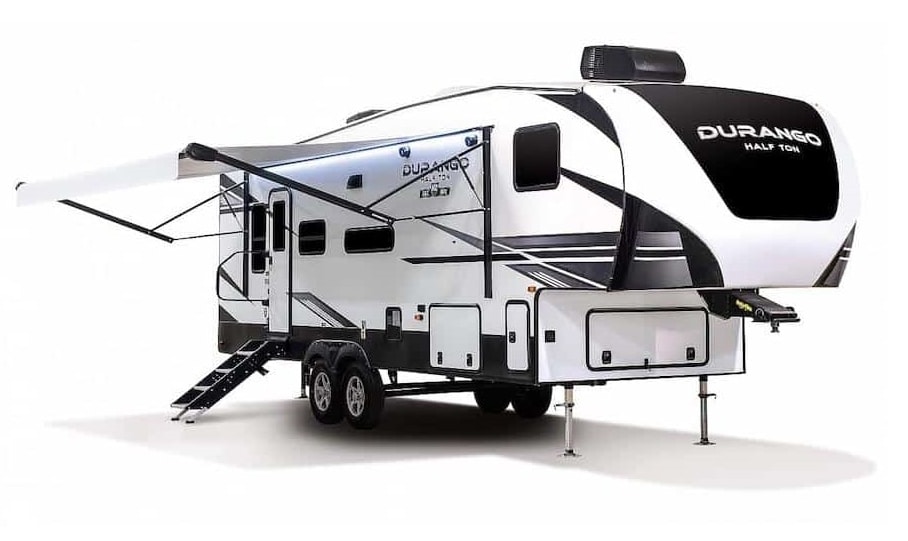 Having the travel trailer up to 25 feet long is a great option if you are traveling alone or with a small group. Owning a smaller trailer is good for two reasons: First, when the trailer is small, it is also lightweight, which means that you can easily move it.  In addition, regardless of size, these trailers are spacious enough. An additional benefit is that you can park the vehicle without difficulty. Because of all this, smaller trailers are a favorite among camping enthusiasts.
Why Choose Travel Trailer Under 25 Feet?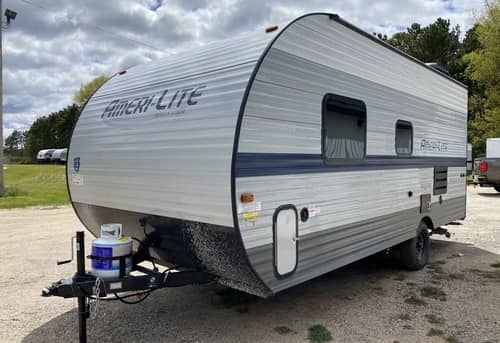 Why is it important to pay special attention to the length of the travel trailer while buying one? While the general opinion is that it is not comfortable to camp in a travel trailer that is under 25 feet long, this is not true! Smaller trailers can also be very comfortable. In addition, a smaller trailer has its advantages. There are several reasons why trailers under 25 feet are a favorite to many campers, and some of them are:
1. Ease of Storage
When you are not using your trailer, you can simply park it in your driveway right next to your SUV. This way, you can save money because you don't have to worry about the cost of an additional parking space and use that money to make your trailer even more comfortable. This type of trailer is easy to rearrange according to your needs. Buy a basic model at an affordable price, and you gradually adjust it to your needs as your budget allows.
If you are looking to buy a portable fridge, be sure to check this model: Smad 3.5 Cu.ft. Propane Refrigerator 3 Way.
2. Travel With Family
The mini travel trailer is an ideal choice for those who are going on a trip only with members of the closest family. These travel trailers can accommodate 3 to 4 people without a problem. Also, they are very comfortable for couples. Many of them include compact, beautiful canopies that allow you to enjoy the outdoor environment of your camping location comfortably.
3. Easy To Transport
The smaller travel trailers are easy to tow with a standard SUV, so you don't need a larger towing vehicle for them. The fact that their length is shorter makes them easier to tow, so it can be said that they are in the category of affordable holiday vehicles. If you opt for a mini travel trailer, you certainly don't have to buy a stronger towing vehicle.
4. They Save Money
Obviously, this type of trailer is much cheaper than larger vehicles that offer more space. But if you travel as a couple, a mini trailer has quite enough space, so you are, in any case, at a profit. With the mini travel trailer, you can save even on fuel. Since these trailers are easier, they have higher energy efficiency, and less fuel is needed to tow them.
Note! If you own a travel trailer, you might also want to read how to Find Rental Trucks for Towing Trailer or Fifth Wheel.
6 Best Travel Trailers Under 25 Feet
Below we'll get into an overview of some of the best mini travel trailers that you can buy. Let's study them!
| Best Travel Trailers Under 25 Feet | Trailer Length | Sleeping Capacity |
| --- | --- | --- |
| 1. Forest River Flagstaff Micro-Lite | 22 feet 4 inches | 4 people |
| 2. Jayco Jay Feather 7 19BH | 22 feet 2 inches | 5 people |
| 3. Lance Trailer 1475 | 19 feet 8 inches | 2-3 people |
| 4. Sportsmen Classic 181BH | 20 feet 9 inches | 5 people |
| 5. Airstream Bambi 16RB | 15 feet 11 inches | 4 people |
| 6. Grand Design Imagine XLS 21BHE | 24 feet | 7 people |
Table with the best travel trailers under 25 feet
If you are looking for Travel trailer accessories, be sure to see this great offer HERE on Amazon.
1. Forest River Flagstaff Micro-Lite
Specifications:
Length: 20-25 feet.
Vehicle weight: 3,127-5,277 lbs
Sleeping capacity: 4 people
Awning Size: 15 feet.
At the top of our list is the premium Forest River trailer, which despite it having smaller dimensions, it provides the user with a great design that makes it extremely compact. This trailer can house up to four people with ease. Also, this model has a radius roof and aluminum frame, which makes it a very durable vehicle.
This trailer also has quality LED lighting, which gives excellent visibility on the road and, thus, safety in traffic. A big plus is its pet-friendly features. Inside there is an area for pets, and there is a possibility to install housing for larger animals. Forest river also comes with a risk that you will have minor problems with water leakage, but overall this trailer is a good choice to consider.
Pros:
Provides plenty space for more people
More durable due to its aluminum frame
Safe on the road with great lighting
Pet-friendly travel trailer for pet owners
Cons:
Leakage issues possible for some
2. Jayco Jay Feather 7 19BH
Specifications:
Length: 22 ft 2 inches.
Vehicle weight: 3060 pounds.
Sleeping capacity: 5 people.
Awning Size: 13 feet.
Next on our list is Jayco's 719BH model. Let's see what this model offers! This trailer is a great choice for those who are looking for an easy-to-towable trailer. The front of this trailer has an aerodynamic design, making it very easy to pull. It is also a good choice if you care about the look. Inside the trailer, you have a vinyl plank floor and wooden cabinets.
If you are interested in a Backup Camera for your trailer, check these models HERE on Amazon.
The exterior does not lag behind the attractive interior. The outer shell of the vehicle has a premium-grade finish. Also, it should be mentioned that the dining room can be easily transformed into a bed. Note, it can easily wear off, but we have to admit that it is a fantastic trailer!
Pros:
Easily towable due to its aerodynamic design
Amazing interior design for a great appearance
Very appealing due to quality finishing
Dinette can be transformed into the extra bed
Cons:
3. Lance Trailer 1475
Specifications:
Length: 19 ft 8 inches.
Vehicle weight: 2600 pounds.
Sleeping capacity: 2-3 people.
Awning Size: 12 feet.
This list would be incomplete if we didn't put the Lance 1475 trailer on it, so let's learn more about this model, especially about the options that make it one of the best trailers under 25 feet. The Lance is the first choice for those who love comfort but also want a vehicle that is easy to move. A great feature of this trailer is that in its production manufacturer uses toxic-free materials, so it is classified as an environmentally friendly product. It is therefore recommended for those who care about their health in the long run.
Like the previous model on the list, the Lance 1475 also has a beautiful design that delights everyone and has a great storage space. This space may lose its functionality over time, but regardless of this, this is the trailer that is recommended to buy!
Pros:
Light-weighted and easy to tow
Environment-friendly, made from toxic-free elements
Has considerable storage space
Classic design with an extraordinary look
Cons:
After long use can wear out
Note! If you need a generator for your travel trailer, be sure to read 10 Best Generators for Travel Trailers in 2023.
4. Sportsmen Classic 181BH
Specifications:
Length: 20 feet 9 inches.
Vehicle weight: 3000 pounds.
Sleeping capacity: 5 people.
Awning Size: 14 feet.
The Sportsmen Classic 181BH is another great travel trailer under 25 feet. Let's find out exactly why! The space inside is perfectly arranged due to the bunk beds that allow more people to stay in the trailer. Additional sleeping space is obtained by transforming the dining room into a bed. Otherwise, the dining room itself is comfortable for meals for the whole family.
If you are looking for a Waterproof, Tear-Resistant, Windproof Camper Cover, be sure to check this one Here on Amazon.
Just like the previously mentioned Jayco Jay Feather model, this trailer is easy to tow even when it comes to longer journeys. The downside is the fact that the interior of this trailer is still a bit cramped. But on the other hand, this model offers many benefits and is a good choice to buy!
Pros:
Plenty of space for sleeping
Extra space is provided by convertible technology
Added Dinette makes additional space for family meals
The trailer is easy to transport and tow
Cons:
For some people, it might be a bit cramped
5. Airstream Bambi 16RB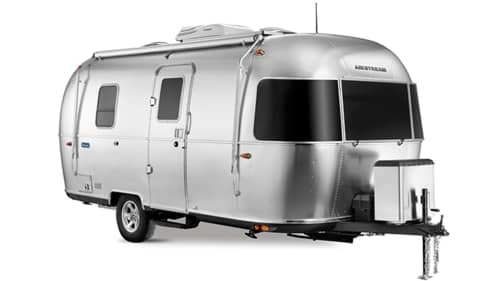 This premium model, the Airstream Bambi 16RB provides extra interior just like the previous model that we mentioned Forest River Flagstaff. It is also a very light towing vehicle that does not require much power.
You will definitely feel at home in this trailer! Intelligently designed windows allow you to enjoy the view of nature while the superbly constructed kitchen, bathroom, and dining room can give you the feeling that you are at home. The disadvantages of this trailer are the dents. But when all the advantages are taken into account, it is a recreational vehicle that we recommend!
Pros:
Towing is easier due to lightweight construction
Smart window placement gives plenty of natural views
Home-like experience is provided due to the dinette, kitchen, and bath
Dinette can be transformed into an extra sleeping space
Cons:
Dents can accrue as an issue
6. Grand Design Imagine XLS 21BHE
Specifications:
Length: 24″ 11″"
Vehicle weight: 4,698 pounds
Sleeping capacity: 7 people
MSRP (price): $37,507
The Grand Design Imagine XLS 21BHE is definetly one of the best travel trailers you can find on the market and is under 25 feet. Its exact length is 24.11 feet, and without additional load, it weighs 4,698 pounds. This trailer can easily host up to seven people, and the price of this model is $37,507. It is the most expensive vehicle on our list, but you can be sure that this is also the vehicle with the most equipment.
You'll probably need a Backup Camera System Kit for this model, so be sure to check this one Here on Amazon.
The master bedroom is located to the left of the entrance. It has a large wall-mounted TV, a queen bed, and a large amount of storage space. The bedroom is not separated from the rest of the interior by a wall, but it has a curtain with which this room can at least visually stand out when you need privacy.
The living room and kitchen are located in the center of the trailer. The kitchen is equipped with a large refrigerator, a pantry, a large sink, an oven, and a microwave. There is also a spacious worktop for preparing meals. Across from the kitchen is a cozy dining room in the form of a booth that the whole family can use. At the left end of the trailer is the second bedroom, which contains two sets of bunk beds.
Want more? Here is a youtube video with 5 travel trailers under 25 feet.
FAQ: People Also Ask
1. What is the number one travel trailer?
Forest River and Airstream are some of the most reliable trailer manufacturers that you can find on the market.
2. Who has the worst travel trailers on market?
The worst user experience belongs to Coachmen trailers.
3. What is the best length for a travel trailer?
Best trailers are 25 to 30 ft long according to RV owners.
Final Thoughts
While reading this post, you had the opportunity to get familiar with several models of travel trailers that are under 25 feet. All the trailers we've reviewed are great choices for family travel. The conclusion is that trailers of this length can easily provide sleeping space for more people.
And not only that! Many of them offer their customers the comfort of using the dining room, bed, bathroom, and kitchen, making them the perfect family environment. Still, wondering whether to buy a trailer or not? Don't wait! Choose the model that suits you best and go on a journey! I hope that this article has helped you.