10 Spacious Travel Trailer Models with Opposing Slides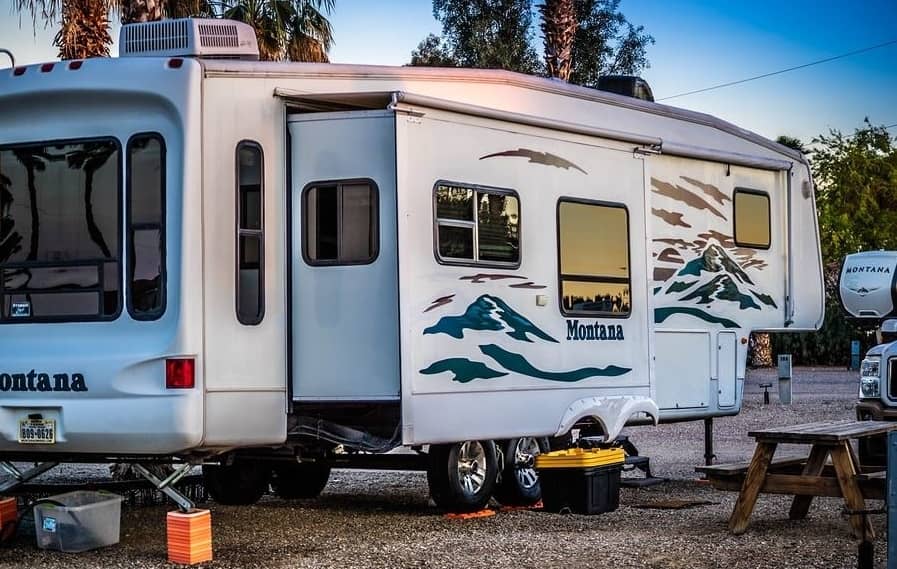 Travel trailers with opposing slides are becoming increasingly popular among campers. The reason is simple, this feature (opposing slides) gives the user more space. In vehicles that have an opposing slide, the entrance is widened and leaves more opportunity to stay in and relax with friends and family. In this article, we bring you an overview of the 10 best travel trailers with opposing slides, making them a comfortable living space like the one in a standard house. So, let's start!
1. Forest River Wildwood 27RE
The Forest River Wildwood 27RE is the first travel trailer with opposing slides on our list that comes with a very spacious and beautiful design. It has a Versa-Lounge seating kit that leaves plenty of room to adjust the living space to the owner's liking. A seating arrangement like the one in the theater allows everyone to enjoy their favorite TV show in complete comfort.
The kitchen comes with a stove top, two-sink island, large fridge, oven, and pantry. The best room in this RV is the bedroom which comes with a queen bed and plenty of space to move around, a walk-in closet, bedside tables, and extra storage space on top of the bed. The bathroom doesn't lag behind in appearance, either. It comes with a skylight, walk-in shower, and linen closet. Definitely a great RV with opposing slides.
If you are interested in Anti-UV & Windproof Camper Cover for your Travel trailer, check out this model Here on Amazon.
2. Jayco Jay Flight 34RSBS
This Jayco Jay Flight model is 37ft 11inch long and boasts as many as four slides. Opposing slides located in the rear of the vehicle leave enough space for a large entertainment center with a fireplace and a 39-inch TV on one side, while on the other, there are plush upholstered cinema seats. Also, in the living room of this RV, there are dinettes with the option of using chairs, a large kitchen, and a sofa.
Another benefit of this RV vehicle is the queen-size bed with the option to upgrade it into a king-size bed, a separate double sink, and a sofa that can serve as an extra bed with adjustment. The frame of this Jayco model is custom and made of high-quality material, which is typical for this manufacturer whose products guarantee great durability.
Users of this model point out that the Jayco Jay Flight 34RSBS is a great RV that gives you a sense of luxury and plenty of room to hang out with family and friends. Also, this recreational vehicle has the highest ratings in the consumer guide in the category of the best travel trailer.
3. Flagstaff Classic Super Lite 832IKBS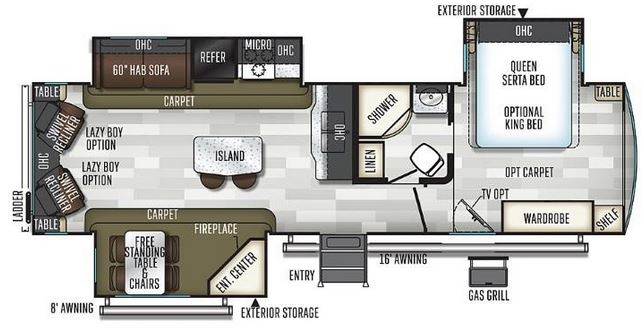 The Flagstaff Classic Super Lite 832IKBS model is 3ft 11 inch long, opposing slides are in the back, which leaves enough space in the carpeted dining room with a classic table and chairs right next to the window above. An outer canopy 8 feet long provides perfect shade during meals. There is also a fireplace, an entertainment center, and a 60-inch sofa.
In the center of the kitchen is an island that visually expands the space, and next to it are two bar stools. Along the back wall, the seating area has swivel recliners that can be transformed into a lazy boy option. The bathroom has a linen closet, shower, and a passage to the bedroom that can be upgraded to a king-size bed. Also, an additional option is a corner for TV and carpeting.
If you are looking for extra things for your Travel trailer, be sure to check it Here on Amazon.
This RV model also has a fireplace that users adore, especially on cool days and nights. Otherwise, four people can sleep comfortably in this travel trailer, and what users especially praise is the well-organized storage with access from the outside, which can hold a lot of things.
4. Prime Time Lacrosse 3370MB
The Prime Time Lacrosse RV provides a great blend of comfort, convenience, and luxury in one package. It has built-in aluminum laminated frames, a walk-on roof 3/8 'decking, and TPO one-piece roof membrane. Inside there is a premium vinyl floor, first-class carpet, and cabinet door of shaker style with glass inserts. The kitchen boasts respectable work surfaces, a swell, and a stainless steel sink.
5. Forest River Salem 27REI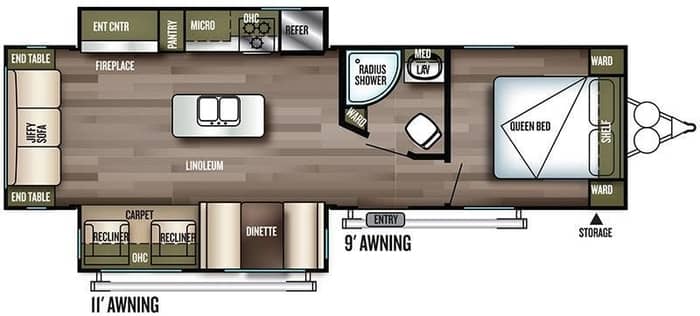 Forest River Salem 27REI is another travel trailer model on our list that has opposing slides. It is 34ft 1inch long, making it easy to move. This RV model can accommodate up to five people. It has a queen-size bedroom, a mirrored wardrobe, and additional storage space under the bed.
Opposing slides expand the living room so that matching recliners and a dining room in the form of a window booth can easily fit into it. There is a fireplace, entertainment center, and kitchen on the opposite side. The kitchen has a fridge with a double door, a three-burner stove, and an island with a built-in sink.
The users are delighted with this layout, and in their reviews, they point out that in Forest River Salem 27REI, they feel more like they are in an apartment than in a travel trailer. Some users point out that the extended part of the RV provides more opportunities when it comes to socializing in the living room, especially those who travel in the company of their pets.
6. Gulfstream Trailmaster 299RLI
The Gulfstream Trailmaster has a uni-body design and a 4 ′ 1/4 ′ beam of steel in the main slide out. The seamless roof is made in a one-piece roof with a 12-year warranty.
Inside there is a queen bed with one nightstand and enough space to walk around. There is also a shirt closet on both sides. We especially like that the bedroom has a door. The bathroom boasts a skylight, foot flush toilet, and a power bath vent. The kitchen has a large refrigerator, carousel microwave oven, three-burner stove, and power range that has a hood light. There is also an island where a 6/40 sink is installed in the kitchen.
The cabinets are made of maple with strong drawers and doors, the flooring is made of wood grain vinyl, and the countertops are laminated for stain resistance. This RV really gives the user a lot of options, so be sure to watch the Youtube video below and see which ones. Our conclusion is that opposing slides give this vehicle more spaciousness and more opportunities for its owners to socialize in a group.
7. SportTrek Touring Edition STT333VFL
The great thing about SportTrek Touring Edition is that the opposing slides are located on the front side of the vehicle of this RV which is 36ft 11inch long. The layout is made so that there is a fireplace and entertainment center on one slide, and on the other, a seating area and additional lockers. In the front part of the RV, there is a 70 inches long sofa that folds in three points and can serve as an extra bed that even has nightstands from the ends of the table.
Here you can check some Travel Trailer Accessories if you are interested.
Next to the seating area, separated by a nice small wooden screen, there is a kitchen with a table and chairs for dining. This arrangement provides the user with greater comfort and a feeling of staying in a standard house. The kitchen also boasts quality work surfaces, dark wood cabinets, and stainless steel sink.
This RV looks really great from the outside, but that's not the only thing users like about it. SportTrek lovers adore the interior design, together with which the manufacturer offers three types of performance: mountain walnut, latte, and granite. This RV model is the right choice for those who want a spacious RV that provides great comfort. It should definitely be mentioned that this recreational vehicle has beautiful large windows, 82-inch ceilings, and a wide entrance.
8. Highland Ridge Open Range 275RLS
The Highland Ridge Open Range Light 275RLS RV is 33ft 11inch long, and its opposite slides are located in the rear of the vehicle, where they provide a big living room, an island kitchen, and a dining area. The extra space was mostly used for a standard set of tables and chairs. This way, the installation of a classic dining booth was avoided, which is a common solution for meals in most RV models.
The bathroom has a slightly larger shower and sink than is the case in similar vehicles. The bedroom has a large closet, two bedside tables, and a dual-shirt wardrobe. A special feature is an entrance through a French door from the outside.
This travel trailer has additional options to choose from, such as an outdoor kitchen with a BBQ grill and an additional AC unit. Users of this model point out that they are satisfied with the manufacturer due to the excellent customer support and guarantee. It is also emphasized that this spacious model is easy to tow, which turns every trip into an unforgettable experience.
9. Rockwood Signature Ultra Lite 8326BHS
This RV model is the right choice for those who like to travel with a large group of people! It is 35ft 11inch long and has a total of four slides.
Opposing slides of this travel trailer are located in the rear open-up space with three sets of bunk beds with enough space on the wall and for the TV if the user wants to install it. The living room and kitchen contain a dinette that can be converted into a bed and a 67-inch bed sofa. Since this bedroom also has a Serta queen bed, this RV can easily host 10 people at a time.
This travel trailer is well equipped and can feed up to 10 people. There is a swing-stove top outside the kitchen, and there is also an extended work surface where meals can be served. There are also spacious driftwood cabinets for extra storage, and the basic package also includes a gas oven of 22 inches, external speakers, and quality worktops.
Users love this RV model because it is easy to tow and because it is suitable for the whole year round due to the quality material it is made of. Even for families with teenagers, this vehicle is a real home on the go, the high ceiling and good warranty especially contribute to that.
10. Keystone Premier 24RKPR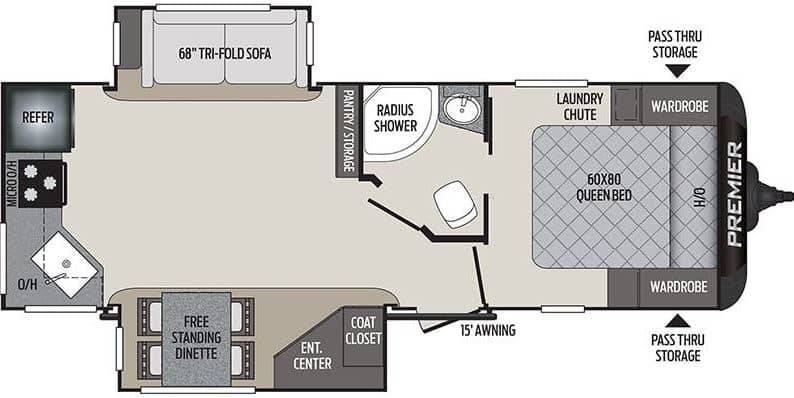 Just like the previously mentioned Jayco model, the Keystone Premier 24 RKPR has three slides on the back. It is 29ft 6inch long, and the opposing slides are located in the living room, leaving enough space for a 68inch sofa that can be adjusted in three points and thus easily transformed into three separate seats. There is also a coat closet, dinette, and entertainment center.
The third slide is related to the kitchen and does a very good job of dividing the space so that you really feel at home. The bedroom has an LED reading light, queen bed, laundry chute, and a wooden front door.
The bathroom has a luxury shower with a door that is made of glass and a medicine cabinet made of solid wood. This vehicle also has a fun addition – an Aussie grill that is mounted on a bumper. Keystone vehicles are one of the best-selling, and in reviews, users praise their spaciousness. This is also the case with this model, which has great advantages such as easy towing and an open floor plan.
Also, if you are interested be sure to read 10 Best Travel Trailers With King Beds.
Final Thoughts
Having more slides on the travel trailer is a great thing as they provide extra space. But having RVs with opposing slides is far better because they significantly expand the space. This is especially important when it comes to kitchens and living areas, the rooms where people gather the most. So it makes sense that campers want their spaciousness. 
Although the opposite slides come with risks such as poor performance, leakage and stuck slides, campers agree that the spaciousness they get with opposing slides is worth the risk. Keep in mind that there are a number of travel trailers with opposing slides, the ones we talked about in this text are just a small fraction of the offer on the market.