20 Amazing Camping Storage Ideas (With Pictures)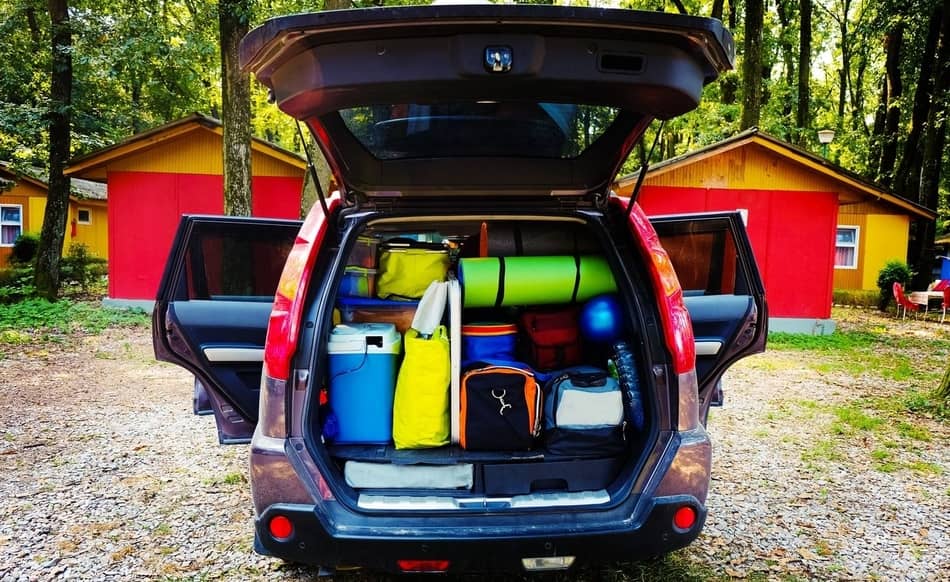 You certainly know how stressful it can be to lose your stuff when camping if you've ever traveled with youngsters (or disorganized adults). You search your whole campsite for the other pair of your sock you left out to dry, and everything is suddenly all over the place!
It is not a waste of time to put some effort into organizing everything and putting it in its place. Once you start applying this method, you'll get it. Therefore, twenty camping storage ideas are listed below to help you have a camping trip without a hitch.
How to Organize Your Camping Gear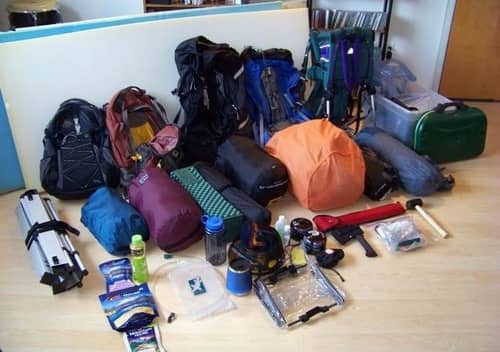 The first step in organizing your camping gear is to put up some durable camping storage boxes. This is one of the most effective methods that you can do to organize your camping gear and level up your entire camping experience, and in the next chapter, we'll show you how to do this:
1. Gather Camping Gear
First, make sure that you have a full list of the camping supplies that you will bring on the trip. Take a piece of paper and a pen and write everything down in detail so that you don't have any problems later.
2. Group The Camping Gear into Categories
Of course, this varies based on the group you are going camping with and the sort of camping you're planning to have, but most campers should be covered by these eight types of camping equipment:
General Camping Gear
Recreational Gear & Activities
Camping Kitchen Gear
Cumbersome, Large or Frequently Dirty Camping Gear
Toiletry & Hygiene Items
Clothing
Cold Foods
Dry Foods
3. Make sure to select camping storage boxes for your gear
When you are going on camping, be sure to use the best camping boxes to make it easier for you to distribute things in them and to make them easier to find while camping.
4. Organize the gear into storage boxes
This is perhaps the most important thing. If your gear is organized, it can make your job easier and save time, which is very important, especially during camping.
5. Find a place where you can store your camping storage boxes
Next, for each of the eight types of camping gear, let's look at some camping storage ideas and see what you can do to properly organize them.
For those who are camping from time to time, be sure to read How to Store Your Camping Gear at Home.
20 Camping Storage Ideas (Tips and Tricks)
1. Get a Camping Trashcan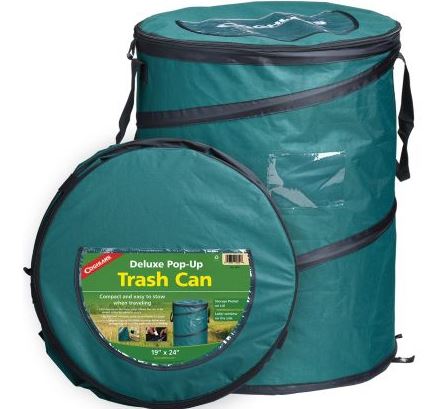 You don't want your garbage to become mixed up with your other belongings. Look into getting a trashcan created just for camping, and that comes with a zip-up to keep those annoying, uninvited visitors at bay.
Coghlan's Pop-Up Trash Can is a good choice. It folds compact for storage yet maintains its original shape when the trashcan is popped up. You truly can't make a mistake for only $16 to get one of these.
2. Get Compression Sacks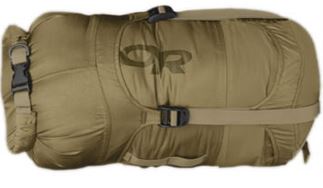 A lot of people are denying the luxury of buying an inexpensive compression sack. I always told myself: Who needs them? I generally camp in my car, so I have more than enough room. I was mistaken. No one likes to dig through heaps of everyone's clothing in search of your own.
> Buy Compression Sacks HERE <
We use compression bags to stay organized. I always label the bags' tops to know whose clothes are in which bag. This also ensures that children need to look for their stuff. Or, at the very least, as responsible as children can be. These Summit Compression Sacks are available in several sizes, and colors, making them an excellent option.
3. Use Coffee Cans to Store Your Toilet Paper
Even though it may seem weird, you'll thank me for this one, I promise. This way the toilet paper will be cleaned and dry during camping. And trust me when I say that you'll want it that way. You will find on Google that this is a very popular storing method.
4. Use Locker Racks to Pack Your Food
Don't tell me you forgot the good old days when you used your locker in middle school and were so thrilled to decorate it. Or is it just me? Nevertheless, the same locker rack organizers fit perfectly inside coolers and can make things easier for you to keep your food apart from the ice.
Simply place the ice below the racks while the food is placed on top. In case you don't want the ice to melt at all, use ice packs, frozen water bottles, or dry ice blocks. If you freeze your food prior to the trip, you'll use less ice to keep it fresh.
5. Get Plastic Storage Bins
Labeling the bins and making a list of which plastic storage bin contains which item will increase the level of organization. By doing this, you will ensure that you do not leave out anything while packing. The laminated master list may be created again for the next trip after the one you already made is checked off with a dry-erase marker and wiped off.
> Buy Plastic Storage Bins HERE <
This also aids in keeping you organized and ready for the next trip you plan. Those containers should be devoted solely to camping. In case you need something from the bin, get another one. If you do this, the camping gear will always be on your hand for that last-minute weekend getaway. 
6. Get Plastic Drawer Organizers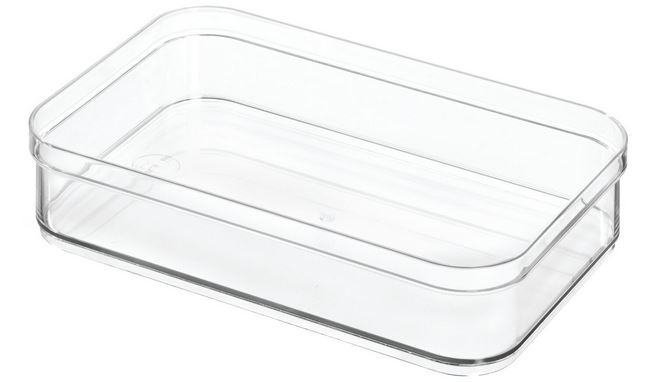 For those who know how to use them, drawer organizers will be as good as storage containers. Place a few of them in the back of your car and camp outside of the vehicle.
This will keep your campground more organized. To create a united surface space that may also be utilized as storage, make sure that tops are covered with a solid surface or a towel.
7. Use an Old Baby Wipes Container
I personally camp with children, which means there are diapers. To make sure everything smells nice, put them in plastic bags. Plastic bags can also be used for holding smelly things like shoes that many people bring into the tent (however, if it's possible, try avoiding bringing shoes into the tent).
8. Get a Tidy Tent
A Tidy tent is a large outdoor storage space that can hold a pair of bicycles (or other things that need to be stored).
I believe it is worthwhile to spend extra cash to keep your stuff clean and protected from the weather when camping. It's an excellent option for vehicle camping if you'll have to bike or walk a long distance from your parking space.
9. Use a Shoe Organizer for Kitchen Gear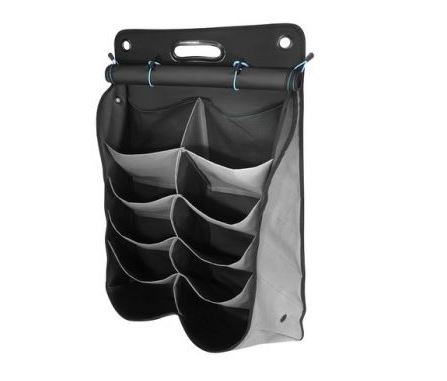 Another good piece of advice is to use shoe organizers, given that they may be hung almost any place and offer plenty of room for all of your belongings. For example, you can put all of your cutlery in one pocket and still have enough space left for soaps, sponges, shampoos, utensils, and other necessary items.
10. Use a Clothesline
A clothesline and clothespins may be found even in the dollar store, so they aren't going to be a huge investment, but they will help you keep the nasty bugs away from food. Clip your opened snack bags on them and you won't have to worry about the unwanted visitors finding their way in.
11. Get a Portable Toolbox That Has Several Layers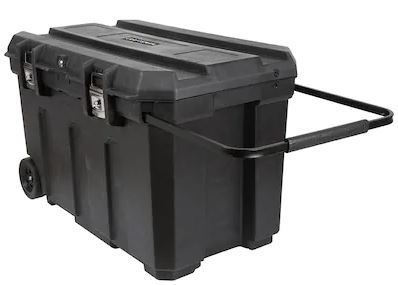 Usually, toolboxes are equipped with wheels for convenient transport. They extend into stacked drawers and are weather-resistant, so they're perfect for storing camping gear.
I think they're best used as storage for culinary utensils and cookware. Trolley Toolbox can accommodate a couple of pans and pots, as well as all of your spices and cutlery.
12. Get or Create a Tent Mesh "loft"
By hanging your items overhead, the tent floor can be keept free and suitable for sleeping. You may either buy one Roof Top Tent Gear Loft or make them on your own with some mesh or strong fabric and a few connections.
13. Use Mason Jars to Store Eggs (prevent breakage)
Forget about carton packages as storage for your eggs. Rather figure out how many eggs you'll need and put them in mason jars. When you want some, make sure to shake them and put them into your pan. Other goods, such as pancake and soup mixes, can be stored in mason jars as well.
14. Use Mini Containers For Spices
You don't have to eat boring food just because you're camping. Bring your favorite spices with you to add some flavor to your camp meals.
Get small containers, such as lip balm jars with screw lids or candy containers, and store them. If you don't care about spending money on it, you can also find some really stylish traveling spice containers for sale.
15. Add Extra Storage Space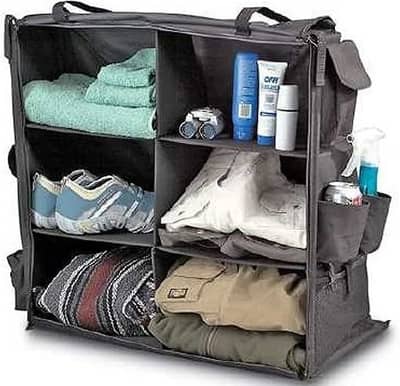 A DIY camping storage concept is a good idea for any extra storage space in your camper. They noticed an opportunity to add more storage to the side of their kitchen that wasn't there before. For products that are used frequently, they are built-in durable camping storage.
16. Get Corner Shower Shelf in Your Bathroom
I'm sure you've seen them in the shower before, but have you ever considered using them as a corner shelf in your camper? Make use of space that you might not ordinarily consider.
They converted this corner shower shelf in the bathroom to house a plant, toilet paper, and tissues. You may also keep spices, napkins, and paper items in one in the kitchen.
17. Get a Roof Rack
If you don't already have one, think about getting a roof rack. Make sure you have some sturdy straps for securing boxes and other stuff. Also, be sure to install a rooftop box or capsule that effectively expands your boot room to make things even simpler.
18. Closet Organizers
A closet storage obsessive's dream camping solution! There's a place for everything. I like the concept of using plastic organizing drawers to fill this closet instead of hanging clothing and wasting all of the space beneath.
19. Get Yourself a Hand and Dish Washing Station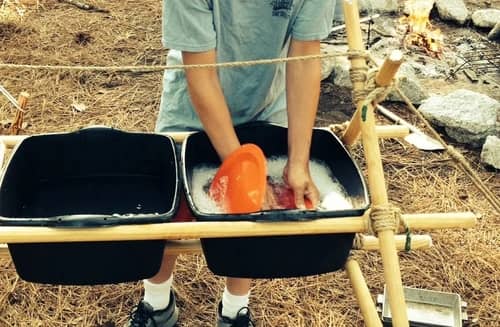 Having a specific area for hand and dishwashing is an excellent way to keep your campground in order. A 5-gallon water tank with a faucet can be mounted on a picnic table if you're camping with your car.
Keep your soap close by, and hang a paper towel rack or hand towel holder above it using bungee cords. Place a plastic container on the ground below the water tank to capture the wastewater.
20. Hanging Shoe Rack
Because of their versatility, hanging shoe racks are an excellent camping storage solution. They may be strung inside an RV or on a clothesline at a vehicle camping area. They're fantastic for organizing kitchen goods, food, and toiletries because they have so many pockets.
> Buy Hanging Shoe Rack HERE <
If you want to learn more, be sure to watch this youtube video that talks about the organization of your camping gear.
Related article: 14 Romantic Camping Ideas for Couples
Final Thoughts
Camping is intended to be a relaxing and rejuvenating experience. This is the time you should forget about your stressful everyday life. Spend some time organizing your camping gear to create better camping storage options.
Your family will be grateful, and you will be grateful to yourself because of the time you spent doing so. I hope that this article about storing your camping gear has helped you and if you have any additional questions feel free to comment below.