6 Best Screen Tents For Camping In 2023
A screen tent (also known as a screen room) is a very simple tent that can be set up in just a few minutes without too much effort. If you are on a camping trip and bad weather suddenly appears, a screen tent can save your day. Therefore, having a high-quality screen tent is a great thing, especially if you don't want to rely on weather conditions.
These tens can also be used on sunny days, to protect you from the sun so you can enjoy really hot days. Also, they can save you from bugs which is great if you want to rest. In this article, we'll talk about the best screen tents that you can get for your camping trip.
What Are Screen Tents? 
The screen tent is different from the average tent in a few ways. The walls of screen tents are see-through, allowing you to have a better view of nature without bugs. These tens have a lot of features, such as zippered doors and floors.
The simplest screen tents are very easy to set up, and the more options your tent has, the longer it takes to set it up. There is also a full-coverage option, which protects you even from the rain. All in all, there is a large selection of screen tents on the market that you can buy for your camping trip.
Benefits of Having a Screen Tent
The biggest benefit of screen tents is protecting you from pesky bugs. Another great advantage is weather protection. These see-through tents can protect you from the rain that is pouring outside or from the hot sun. A lot of screen tents also have a UPF rating, which is great.
What to Look For When It Comes to Screen Tents?
As we always say, there is no universal tent that is the best for everyone's needs. Therefore, you should look for a screen tent that is perfect for your needs!
Most people are looking for a tent that is pretty easy and fast to set up. Another great thing is that they must be durable throughout a few seasons. Easy storage and the tent's weight is also important factors when you are picking your tent.
How to Choose Screen Tent for Camping
Here is a list of important things you need to pay attention to when choosing a screen tent for camping. Therefore, be sure to follow these tips if you want to pick the best model for your needs.
Durability
Quality screen tents need to withstand anything. The things that can most often damage these tents are unpacking them, the weather, setting them up, packing them in the car, and things like that.
Ease of Use
The easier your tent is to set up, the better. You went camping to enjoy nature and the outdoors, not to spend the whole day setting it up. So when picking a screen tent, pick one that is easy and simple to set up!
The Level of Protection
When buying a screen tent, there are different aspects of protection that they provide. Although every tent provides bug protection, you should consider how important to you is sun protection and bad weather protection.
Usually, the tents come with shade protection, but not all screen tents come with rain protection, so if you want that, check for tents with side panels, it is an optional pick in some tents, and some come with the side panels included.
Storage
The less space the screen tent uses, the better! Easy storage of the tent is a big advantage. When camping, you are probably bringing a lot of stuff with you anyway. Therefore, having a tent that uses a lot of space is a bad idea.
Weight and Size
When it comes to the weight and size of the tent, it is also important that the tent is spacious and can accommodate a lot of adults.
However, the tent itself should not weigh more than 35 pounds. The less space your tent uses and the lighter it is, the better! The fast-setup tents are usually a bit bigger when packed, and the slower-setup ones are smaller in their carrying bags.
Tip: Tents that are easy to set up are usually the ones that weigh more.
Floors and Doors
If those little critters and bugs are your concern, then you need a tent with good walls, floors, and doors so you can make sure nothing tiny is getting inside.
6 Best Screen Tents for Camping
Now that we have discussed what you should keep an eye on when searching for a tent, here is our list of 6 best screen tents for camping that you can buy.
1. Quick-Set Clam Escape Screen Tent
Dimensions: 12 x 12 ft when its open, 6′ x 12″ x 12″ ft folded
Weight: 34 pounds (15.4 kg)
> Buy Quick-Set Clam Escape Screen Tent HERE <
The Quick-Set Clam Escape Screen Tent is a tent that is easy and quick to set up and just the same to tear down! In the video below, you can see for yourself that it only takes about two to three minutes to set up the tent.
There is requires no assembly, and just as you take your tent out of the bag, it's ready to use. Being on the heavier side with 34 pounds, the tent's style and looks make it worth that little extra weight.
We bought this model as it is 12 x 12 ft when spread and only 6′ x 12″ x 12" when packed and folded. Being water-resistant, this screen tent did a great job helping us enjoy the outside of our RV and even a better job keeping those pesky bugs outside!
When folded, it comes with a carrying bag, and the tent comes with stakes to keep it grounded even when the weather gets windy.
2. Coleman Instant Screen House
Dimensions: 15 x 13 ft when it's open
Weight: 18.25 pounds (8.2 kg)
The Coleman Instant Screen House being only 18.25 pounds makes it a perfect tent if you are looking for something that you can easily carry around. Its made out of Polyguard double-thick fabric, which makes it very durable, and the set-up time of the tent is just about a minute.
The tent has two doors, which is great if you plan to move in and out of your tent often. This tent is really roomy, and it can be a comfortable outdoor hanging space. The maximum height of the tent is 84 inches.
3. Coleman Screened Canopy Tent
Dimensions: 12 x 10 ft when it's open
Weight: 45.2 pounds (20.5 kg)
> Buy Coleman Screened Canopy Tent HERE <
The Coleman Screened Canopy Tent is a great model that comes from Coleman. Be it in your backyard or outdoors camping, this stylish screen tent is a real eye-catcher when it comes to looks and functionality.
Also made out of doubled-up heavy-duty Polyguard, which makes this tent great protection against the sun, pesky bugs, and bad weather.
Setting up this tent takes only two to three minutes and it has two doors. The tent is very durable and big, although it is a bit heavier because of that, weighing in at about 45 pounds. It can be easily portable and the storage of the tent is easy as it has a wheeled bag that does not use much space inside your vehicle.
4. Alvantor Pop-up Screen Tent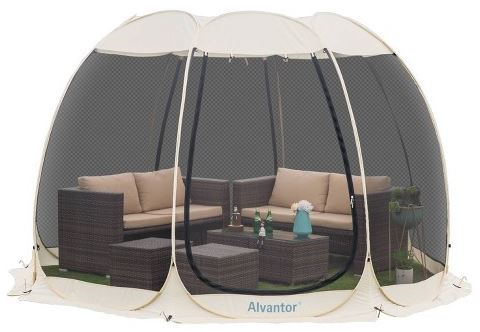 Dimensions: 10′ X 10′ X 7′ feet open
Weight: 8.8 pounds (4 kg)
> Buy Alvantor Pop-up Screen Tent HERE <
The Alvantor Pop-up Screen Tent has a great design and the weight of the whole tent is just about 15 pounds, making it maybe even the best pick on our list.
With an added floor option when buying this tent, it just might be a perfect tent for those warm summer evenings that you are trying to enjoy without bugs.
Being of hexagonal shape, nothing will distract your view of the beautiful nature that is around you! The walls are made out of mesh netting fabric. It can have up to six people inside, the setup is instant, although the downside is; it is not waterproof.
5. Gazelle Pop-up Screen Tent
Dimensions: 10'4″ X 10'4″ feet open
Weight: 31.5 pounds (14.2 kg)
> Buy Gazelle Pop-up Screen Tent HERE <
The Gazelle pop-up screen tent is the perfect pick for you. Being hexagonal and having a gazebo shape will give you a unique feel. The tent requires no assembly at all, weighs only 30 pounds, and it takes to set it up just 1 minute.
It has ground anchors and tie-downs, so you do not have to worry when that strong wind starts to blow.
The roof is waterproof, so you don't have to worry about the rain as well. The tent is a lower-price version of the expensive Quick-set Clam screen tent brand. It has a perfect quality to price ratio and will not break down on the first signs of strong winds.
6. Tailgaterz Magnetic Screen House
Dimensions: 11 x 9 x 7.5 feet open
Weight: 19.9 lbs (9 kg)
The Tailgaterz Magnetic Screen House has great magnetic doors, which close automatically, making them great if you are tired of those zip doors. The tent itself is very tall, and the frame of the tent is made out of fiberglass and steel.
The tent has vertical walls and four tall legs, making its shape cubic. The tent itself is lightweight, at about 19.47 lbs or 9kg, and it is pretty spacious with its 99 square feet of inside space (9.2 m²). It comes with its carrying bag and does not use much space when packed inside!
If you are going camping, read 20 Amazing Camping Storage Ideas.
Final Thoughts
When you have made your pick and bought a screen tent that best suits your needs, the only thing that is left is to organize a nice outdoor gathering. Prepare some dishes, get those drinks ready, and send invites to your dearest friends and family.
One thing you surely won't be worried about is those pesky bugs. We believe that you will opt for one of the tents that we have selected in this article. I hope that you enjoy reading this post, and if you have any additional questions feel free to comment below.