Find Rental Trucks for Towing Trailer or Fifth Wheel
There are many examples of people who have a towable RV but no car to tow it with.  However, they used to have one, but their tow truck broke down, so they want to rent or purchase a replacement to tow their trailer with.
Enterprise is one of many companies that rent out pick-up vehicles large enough to tow travel trailers. Of course, towing must be included and permitted in the rental agreement, which they clearly state on their website. Since they rent out towing vehicles on the regular, the process itself isn't difficult.
Here are some of the companies that rent out towing trucks:
To find out more about renting out a truck to tow from companies and knowing what to expect from their service, keep on reading.
Can You Rent a Truck to Tow an RV?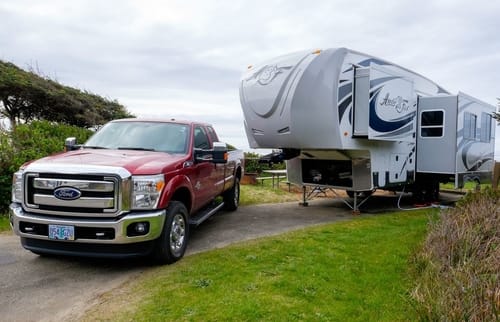 Renting a truck to pull your travel trailer or 5th wheel is possible. However, not every rental company has trucks large enough to pull a trailer that is so large. Therefore, be sure to call them up beforehand and check the status.  Once you've found a provider that does rent trucks large enough for this job, you should ask about the price.
If you are looking for a tow hitch, be sure to check one Here on Amazon for some great models.
The price for this service varies somewhere between $100 and $150 per day for rental. The important part of towing equipment is the hitch. The hitch is a metal item that safely connects two vehicles. If you have your own hitch, the rental price will be lower since the rental company won't need to provide you with one. 
If the truck rental businesses in your area do not have trucks big enough to tow an RV, the second place to seek a solution is in the local moving agencies like Hertz. They have different types of transfer vehicles, so there is a big chance they will have what you are looking for.
Lastly, you could search the companies that are specialized in moving RVs around the country as their primary job. It is possible to hire them as well if you need to move your RV to another location.
Do Rental Trucks Have Tow Hitches?
Most rental trucks do not come with a tow hitch. That's because most rental businesses do not rent out vehicles just for towing, so attaching hitches wouldn't make sense for them. However, they might select a few of the vehicles that are specifically designed for towing, and those will have tow hooks, but most of the rental vehicles do not. You shouldn't rely on that, though, because some that do might have already rented all of the vehicles that come with hooks. Make sure to call and check before you go.
Certain companies, such as Hertz, will suggest that the towing equipment is installed before you do any towing. You'd have to check with the different rental agencies to see what regulations they have in place. Additionally, while some companies permit towing, they may not be equipped to pull travel trailers or 5th wheels. They may provide only typical towing with vehicle carriers and tiny freight trailers that can't carry much weight.
One of the models we recommend is B&W Trailer Hitches Tow.
Can You Rent a Truck for Towing a Travel Trailer?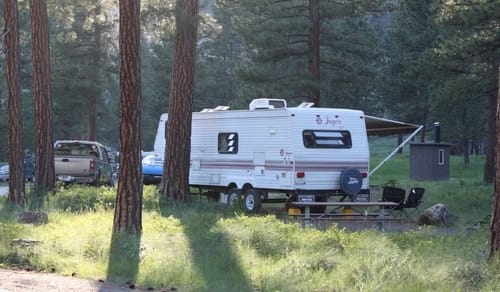 As previously mentioned, finding a towing truck is difficult, especially because most rental companies don't offer towing services. That's because the company or a policy's insurance very rarely insures the cars and not the trailers.
However, there is some good news. Some rental companies will allow towing by using trucks that meet that demand. Those companies usually have their own towing packages that they want you to use while towing.
Then there are companies that do allow towing, but they don't include 5th wheels or travel trailers. Many of these companies are using these trucks to move large equipment and supplies and not trailers. Towing a travel trailer or 5th wheel requires a specific kind of pick-up truck that can carry more weight than the average vehicle.
That usually means the 2/2, 3/4, or 1-ton pick-up truck that can handle the vehicle's weight.  Most companies that rent out these vehicles demand to follow the manufacturer's towing rules. When you rent a Ford, for instance, you must follow Ford's towing guidelines. If you rent a Chevy truck, you must follow Chevy's guidelines, such as not overstepping the weight limit. 
Can You Rent a Truck to Tow a Fifth Wheel?
You'll need a 3/4- or 1-ton truck in the case of a 5th wheel rental that is capable of towing a 5th wheel trailer. That means that the vehicle can pull that weight and that it has the right equipment.  Because this isn't a common requirement, not many towing companies offer this type of service. Therefore, it will take some time and effort to find a vehicle of this capacity and the right company that is ready to rent it to you.
Make sure that the rental agreement specifically says towing is permitted. It's especially hard to find a company that rents out 5th wheelers if you live in a more rural environment or a small town. If you are in the city, on the other hand, you will most probably have more luck.
Here you have one great model that you can use for your vehicle: B&W Trailer Hitches Tow.
Does Enterprise Rent Trucks for Towing?
Enterprise is among the few firms that have trucks that are specifically designed for towing travel trailers. We mentioned their website above. There you can find all the necessary information about the availability, regulations, and much more. It also includes links to the various truck manufacturers' towing guidelines, so you can get an idea of what each car brand expects from you.
For example, according to the website, Dodge Ram 2500 and 3500 vehicles can only pull 10,000 pounds; Chevy Silverado 2500 and 3500 vehicles are only permitted to pull 9200 pounds, whereas the Ford 250 & 350 vehicles can only tow up to 12,000 pounds.
Even though Enterprise does offer tow vehicles and is a well-established company, the chance of renting a tow truck depends on the availability.
That's why it's important to check if there are any trucks of that type that you are looking for available before going to any of their locations. Additionally, before you rent, make sure to inform yourself about the company's requirements, standards, hitches, and other details.
This will help you understand what to expect once you get to the location. One thing to pay attention to is the in-cab brake controller. If you can ask for a vehicle that has one because it will simplify the whole towing process.
Does Enterprise Rent 5th Wheel Trucks for Towing?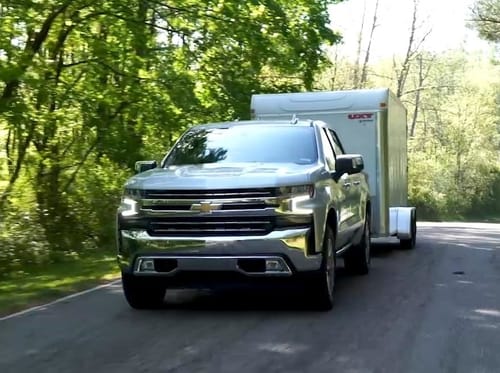 According to online information, Enterprise can rent you a 5th wheel capable truck. That option, just like most great things, comes with a catch. The rental must be for a period of at least 6 months. The rental period is influenced by factors such as the rental, the company, and the equipment that is used.
We do not know the exact price because, as we said, it varies. There have been different claims on this topic. One source says that the price is around $100 to $150 each day while another is that the rents may be found for as little as $350 per week. That's just to give you an idea, but we recommend doing your own research to make sure.
You should consider purchasing your own 5th wheel hitch to save money on extra rental charges for the hitch. Especially if you are renting for more than 6 months. Having your own hitch also gives you intel on its quality so that you can tow your vehicle without concern about the hitch breaking. Make sure that the rental agreement says that you can tow because if it doesn't, even if all requirements are in order and you have your own hitch, you are not allowed to tow.
Can You Town By Renting a U-Haul Pickup?
Yes, U-haul customers can tow with the U-Haul truck. But, in most cases, customers can tow a camper and regular trailer, not travel trailers or fifth wheels. The company even rents out pick-up towing trucks. Those are very practical, but they do have a weight limit of 6000 pounds and only allow local and short-distance towing.
That means going for road trips with a recreational trailer attached to the U-haul pickup isn't an option. Since the U-haul website doesn't give more details on towing, we suggest giving them a call or sending an e-mail to find answers to any questions you still might have.
Renting a Truck on Turo.com for Towing
Turo.com offers a wide choice of vehicles for rental, but none of them is allowed to "tow or push anything". If you just want to rent a vehicle, they have some excellent but still reasonably priced vehicles. There are, of course, some that are a little out of reach for the average person. Their truck collection dates range from this year's models and span at least ten years.
We advise you not to use their vehicles in any way that's prohibited because they are not tolerant towards indulging in forbidden behaviors.
Even though they usually start with a forceful written warning about consequences, they take further, more severe steps if the rules are broken again. If you are wondering how their rental rules look, go to their website through this link.
As you can see, their towing regulation is written so that no loopholes can be found. Besides forbidding towing, they also insist that their customers be approved before renting any of their vehicles.
Places To Rent a Truck with a Fifth-Wheel Hitch
We cannot give you exact towing company names that can tow 5th wheelers because their policies depend on many factors and keep changing with time. Additionally, some companies do not give out all information unless you make a direct phone call. For instance, Enterprise advertises that they rent towing vehicles, but it doesn't say if that includes towing trucks for 5th wheelers.
The best piece of advice we can provide you is to contact businesses that claim to hire towing vehicles and check what packages they are offering.  Underneath is a list of firms that claim to rent out tow trucks. If any of them are in your area, try contacting them.
Hertz
U-Haul
Enterprise Truck Rental
Bullet Point 2
Penske Truck Rentals
Budget Truck rentals
As we previously mentioned, most companies do not rent out towing trucks. Underneath is a list of those companies, to give you a clearer picture of what we were talking about.
Alamo
Avis
​Budget Rent-a-car
Fox Rent-a-Car​
Rent-a-Wreck
Dollar Rent-a-Car
Enterprise Rent-a-Car
National Car rental
Turo
Payless Car Rental
Sixt Rent-a-Car
Thrifty Car Rental
U-Save Car & Truck Rental
All these companies are renting their vehicles by the hour.
Final Thoughts
It can be tough to get a tow truck for travel trailers and/or 5th wheels, but certainly not impossible. Very few companies are eager to put their cars through the hardships of such a mission. It's also possible that they don't have the necessary insurance coverage because that insurance is pricier.
There is a variety of additional choices, such as companies that transport RVs across the country. They will most probably have the necessary equipment and vehicles to do the task. All you have to do is make contact and begin discussing a deal. If you have any questions, please feel free to reach out!