How Long Do Log Cabins Last? Expert Explain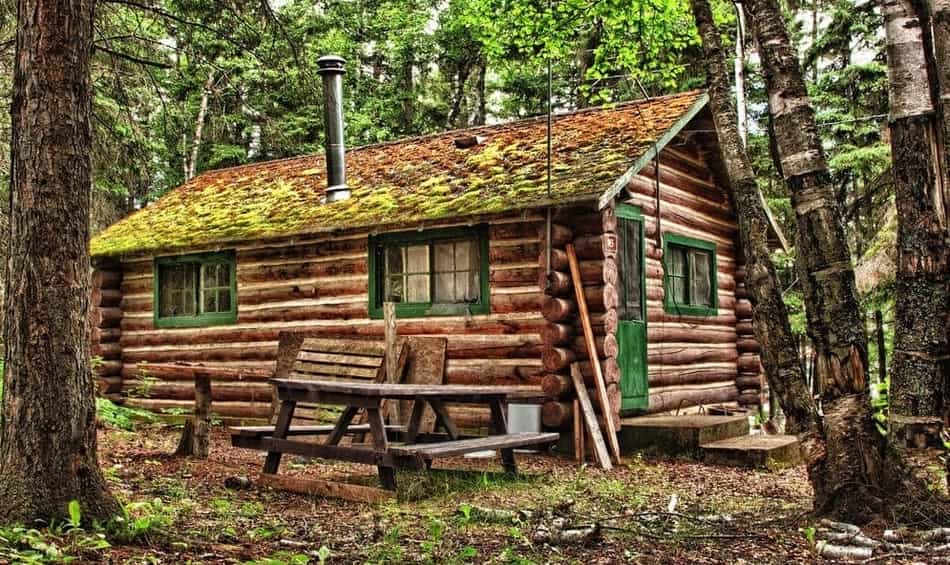 Today when we walk through the forest we can see some log cabins that have been standing there for years. Log cabin needs to be in excellent functioning order anytime you want to use them, whether it's for a half-year residence, a family vacation destination, or a seasonal escape. Spending money on something that will only last for several years is not so smart compared to something that will last a long time.
Log cabins are built to be durable and safe. They were also designed to endure harsh weather conditions as well as wild animals. In this article, we'll talk about how long log cabins can last and how to maintain them properly. So, let's begin!
How Long Do Log Cabins Last?
So How Long Do Log Cabins Last? The usual lifespan of a log cabin is between 30 to 70 years if it is built and maintained properly. Things that affect the lifespan of a cabin are its location, logs, regular maintenance, and weather conditions. If the log cabin is built incorrectly, its lifespan will be drastically shorter.
The lifespan of a log cabin is what interests most people to build or buy them. If you maintain them regularly, log homes can even endure a whole century. On the other hand, if you leave them, the story is completely different. The log cabins will probably require extensive upkeep within the first five years of ownership.
Many individuals are drawn to these cabins because of their sturdiness. They are very well known for their high level of durability. That's why active outdoors people gravitate to cabins for warmth and safety, especially in the winter. 
What you should also be interested in when it comes to log cabins is mold. Here is an excellent article How To Remove Mold From Log Cabins? Complete Guide.
Things That Affect The Longevity of Log Cabins
The beautiful thing about log cabins is that they can last for decades. Besides being cozy to spend time in and sturdy enough to protect their owners from the outside cold, they also become part of family heritage, making them sentimentally important to people. That's why log cabins aren't just a new craze that will fade away in a few years but actual places of residence that have, for centuries, been erected and used all across the world.
A log cabin is constructed to last, even if it isn't in great condition after decades of neglect. The log cabin is noted for its sturdiness, toughness, and being straightforward and functional. They have the ability to insulate you during the cold winters and they can remain cool during the hot summers.
In the next chapters of this article, we will go over the actions you can take to extend the life of your log cabin, as well as the aspects you must consider while looking for one.
1. Log Cabin Structure
When it comes to a log cabin, the structure is the most important thing. If your structure is weak, your log cabin will not last as expected. It maintains the stability, strength, and tightness of all parts. Also, resources are gathered to build the house all up until 30 years later when it needs mending, a log cabin's construction requires a lot of maintenance.
Log cabins are well-known for being weather and temperature-resistant structures. This does not, however, imply that they are completely immune to these occurrences. Weather and temperature variations have an impact on the materials used to construct log cabins. Extreme temperatures can crack and tear down drywalls between logs, necessitating a great deal of upkeep. Outside walls might deteriorate slowly as a result of heavy snowfall or intense heat as well.
The same concept underpins the methods for preventing, avoiding, and resolving structural issues. It's critical to show your cabin some love by doing routine maintenance at least once a year.
2. Materials of Log Cabins
When it comes to building a cabin, using the right building materials may provide and increase your log cabin lifespan. It's important to make good selections for the wood being used and also the location. Because different types of wood react differently to weather and temperature, logs must be carefully picked based on location. The handling of the logs before they are utilized as a construction material is also something to think about. By correctly drying and treating your logs, you may increase their water resistance and safeguard your cabin from early damage.
Did you know that there are steel options that can imitate a log cabin look? One of the largest advantages of using synthetic materials is great weather resistance. Synthetic materials look like wood but do not act like it. Their upkeep does not necessitate regular maintenance. It can typically be easily rinsed off and disinfected without dampening it. Synthetic logs are the best alternative if you are looking for a rustic look without any complications.
As previously stated, the location of your cabin has a large impact on durability. If you build it in an area prone to snowstorms or scorching summer heat, your cabin will require more frequent repairs.
3. Regular Maintenance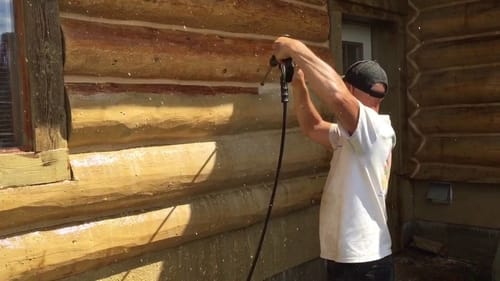 Maintaining your log cabin once it's been built is essential for it to last a long time. It's advised that you treat your log cabin wood with wood stain for preservation when you first purchase it and then annually with a high-quality wood preservative.
Periodic maintenance with a high-quality wood stain will prevent problems like moisture collection within the material. It's smart to have a notebook or notepad in which you will write down everything you've done on the log home. This will assist you in staying on top of any maintenance responsibilities.
Note! Regular maintenance is important.
4. The Roof And Dry Wood
Getting a roof cover that protects your timbers as much as possible is a popular practice among log cabin owners. The longer you can keep your logs dry the longer your cabin will survive. That's because wood loses its structural integrity when it gets wet or damp. This is something we've all probably experienced with roofs or flooring getting damaged by water. When water invades the wood, it must be rebuilt entirely.
It is important that the logs that are used for the cabin are dry before construction. Having dry wood is a key element of a long-lasting cabin. Therefore, it is important that your log cabin comes with a roof that will protect your logs from rain and snow during winter.
Issues That Affect Log Cabins Over Time
Log cabins are very sensitive to certain issues that can affect the structure of the cabin. Cold weather and other natural elements may have a negative impact on your log home, necessitating a variety of care procedures to keep it in good shape. Classical log cabins that are built by piling logs on top of each other may encounter movement and shrinking issues.
As the wood dries, it fissures, and these gaps, also known as cracks, allow moisture to enter, potentially leading to mildew, rotting, and bed bug infestations. The whole outside of the log home is constructed of wood, which is subject to mold spores. We talked about it, and if you are interested in more details, you can read how mold affects the log cabin.
When it comes to recognizing and treating log cabin defects, professional log cabin builders and contractors are the best options you can take. With their tips, you will get a lot of useful information that you could use to extend the life of your log cabin.
Advice From Experts For Long-Lasting Cabins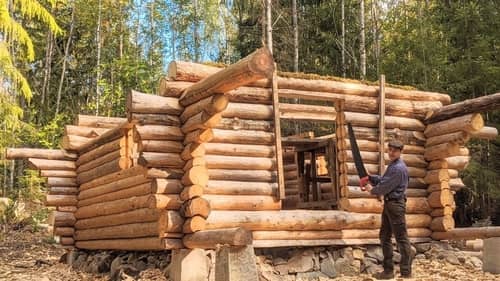 One of the most important pieces of advice given by log cabin specialists is to make sure your log is dry at all times since the moisture level in the wood has a significant impact on its lifetime. Covered porches, extended roof overhangs, and adequate gardening are some of the current methods for keeping moisture and rainwater off the logs once they've been placed.
Sprinkler systems must also be kept away from the logs since a faulty sprinkler head might cause permanent damage to the cabin if left unnoticed. For a log cabin owner, smart designs that avoid any moisture or water damage are practical to use. High overhangs, lowering the grade far from the wooden home, and designing everything to keep both moisture and the heat off the house as much as possible are all examples of successful quality designs.
To protect logs from being saturated and soggy, they should be at least ½ inches away from the ground. Treat and preserve the wood or timber in your log cabin to keep it protected from the weather. Staining is one of the most effective ways to protect your log cabin, while treatment to prevent insects is also an important thing that needs to be done.
If you want to know more about log cabins, be sure to read Can A Log Cabin Be Moved? Expert Explain.
FAQ: People Also Ask
1. Do Log Cabins Need Maintenance?
A log cabin is not a typical home. Therefore, it requires unique upkeep. One of the things that should be done to maintain the log house in good shape is thoroughly washing the outside of the cabin once a year to eliminate pollen, bug detritus, and grime. Additionally, when washing, the house should be examined for mildew and mold. If anything is found it should, obviously, be eradicated.
2. Do Log Homes Hold Their Value?
Log homes do not lose value over time, instead, they even increase in value. That's why the value of log homes does not only remain constant but typically rises with time making them amazing investment properties.
3. Is a Log Cabin Cheaper To Build?
Log cabins are often 20% to 40% more expensive than traditionally constructed houses. That's because log houses are more difficult to construct than regular dwellings.
4. What Is The Time Taken to Build a Log Cabin? 
Building a strong, durable log cabin, as we've seen, takes preparation and planning in advance. If you want your cabin to survive a long time, you must first prepare your timber. The planning step is critical for getting the most out of your work and expenditure so don't skip it.  Taking everything into consideration, it may take 3 to 4 months to build a cabin, but the actual construction time is shorter.
Final Thoughts
Because of its classic charm, many designers prefer log cabin projects. That's why it shouldn't be hard to find an interior designer to take on your project. Because there are so many intriguing exterior designs available, log cabins appeal to a wide audience too.
One of the best things about log cabins is that no matter which type you choose, you can be confident that they will retain their value for many years to come, as cottages of all kinds are in high demand. As a result, if you want it to last, you must put up your best effort into its construction. I hope that you have learned something and that you will apply it to your project.