How Much Does It Cost to Store an RV?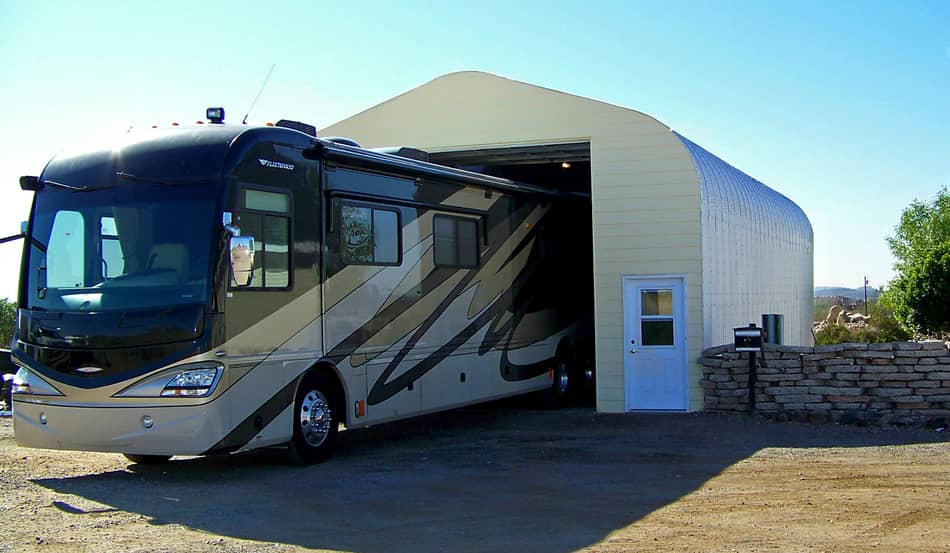 If you are a person who owns an RV (recreational vehicle), you certainly know the benefits that this vehicle brings, but also the obligations you have with it. One of the problems that RV owners face is their storage. How much will it cost you to store your RV safely? Does the size of the vehicle, the storage type, and the place where you live also play a role? In this article, we'll get depth into this topic. So, let's start!
How Much Does It Cost to Store an RV?
So How Much Does It Cost to Store an RV? Usually, storing RV costs between $70 to $250 per month, depending on the size of the vehicle, type of storage, and location. The average cost in most places around the US is around $155 per month, according to a self-storage marketplace by Sparefoot.
Clearly, we are only talking about the average value. In order to get better information on this topic and gain insight into costs to store your RV safely, below we bring you an overview of the factors that affect the cost of storage.
Note! For those who want to learn more, be sure to also read Finding RV Car Wash Near Me: Locations To Wash RV.
Things To Know About Storing RV
Although at first glance, it seems that the RV does not need special storage space since it is a vehicle whose purpose is to stay outdoors. But you are mistaken, there are many reasons why you should consider about storage place for your RV outside your home. Certainly, the most important reason is the parking space.
Not everyone has access to a big house that is large enough to store a trailer or RV vehicle on it. Also, there is a possibility that in the neighborhood where you live regulations or HOA restrictions apply and prohibit the storage of RV vehicles on the driveways or on the street.
Quality protection of RV vehicles should also be taken into account. These are very valuable and large vehicles that attract criminals. On the other hand, you should also take into account weather conditions such as strong winds, snow, and rain, that can damage your RV vehicle. 
Even if you don't care about any of the above you should consider safely storing your RV when not in use. For example, if you are camping in the same place several times during the year, it is a wise decision to store your RV in a warehouse near that location. This way you can avoid the difficulties that driving creates for you every time you go camping.
How Much Does It Cost To Store an RV?
The cost of storing an RV is influenced by a number of factors, the most important of which are:
Dimensions of your RV vehicle
Where you live
Whether you prefer storage outdoor, indoor, or under a canopy
Storage units with the right temperature and security protection 24/7, etc.
First, consider the cost of storage determined by the size of your vehicle.
1. Monthly RV Storage Cost According to Size
How much storage space you need depends on the size of your camper or RV. You will definitely have to pay more for storage if you have a large vehicle, class A, than in a situation where your vehicle is smaller and belongs to class B. Below is a table with an overview of the potential cost of storing a recreational vehicle in the appropriate space.
| | | | | |
| --- | --- | --- | --- | --- |
|   | Av. Length (Feet) | Av. Height (Feet) | Required Storage Unit Size (Feet) | Average Monthly Cost |
| Class A Motorhome | 26′-45′ | 12′-14′ | 40′ long – 15'+ height | $130 + |
| Class B RVs & Camper Vans | 17′-23′ | 7′-10′ | 25'+ long – 9'+ height | $130 + |
| Class C RVs | 20′-30′ | 10′-12′ | 25'+ long – 12'+ height | $130 + |
| Pop-up Trailer | 8′-15′ | 4′-5′ | 15'+ long – 8′ height | $75 – $130 |
| 5th Wheel Trailers | 24′-40′ | 11′-13′ | 30'+ long – 15′ + height | $130 + |
| Travel Trailers | 10′-40′ | 10′-12′ | 15'+ long – 8'+ height | $75 – $130+ |
* The table shows the average prices affected by the type of warehouse that suits you best, the location of the warehouse, and the comfort it provides
2. Location Plays a Big Role
Depending on the state in which the warehouse is located, the cost of storing your RV varies. Also, the prices of warehouses differ depending on where you live, as is the case with the prices of other services and products. 
Thus, the price for RV can be significantly higher in a location where there is not much storage space, where more people live, and those who are near their favorite camping places. We recommend that you review our summary of RV storage, find the location that suits you best, and find out the cost of storage. This way you will get the best insight into the real situation when it comes to storage costs.
3. Type of Storage For Your RV
Depending on whether you prefer storage outdoor, indoors,s or under a canopy the cost of storage varies. Therefore, we will consider all three options more closely.
Indoor storage no doubt costs more than outdoor storage, but it has its advantages.
Does the price of RV storage justify the cost? 
When comparing, you will come to the conclusion that paying the cost of storage on a monthly basis is always higher, but you should also keep in mind the long-term cost associated with the negative impact of weather on your vehicles such as extreme temperatures, hail, and strong sun. In any case, you should always compare the prices of storage outdoors, indoors, or under a canopy. 
Tip: You always need to plan your storage in advance! For smaller vehicles like the pop-up camper, it's not hard to find a free spot, but if you have a large home on wheels that may not be that easy at the moment the need arises. If you want indoor storage, go look for it earlier.
What is the cost of indoor storage for an RV?
To store your RV indoors, you will pay about $135 per month.
Pros
Guaranteed RV vehicle protection
Usually, the most secure option
Great storage comfort
Cons
Long term very expensive storage option for RV
Some facilities have limited access. (Best look for open 24/7)
There are length and height limitations
Very low availability in some locations for big RV
RV owners most often use the outdoor storage option, although it does not seem like the best choice at first glance. This type of warehouse is usually easily accessible for RV vehicles of all sizes, and it is easy to find a warehouse and the prices are reasonable.
What is the cost of outdoor storage for an RV?
The cost of storing RV vehicles in an outdoor warehouse ranges anywhere between $40 to $120 per month, depending on the location of the warehouse.
Pros
Least expensive option RV storage option
Access easy (check storage facility conditions)
Best availability of all options
Cons
Low protection from weather conditions and parasites
A big risk of damage or vandalism
This option represents the golden middle when it comes to RV storage. It is a good choice if you want to protect your vehicle from adverse weather conditions such as hail, rain, or snow. When you store the RV under the canopy, you definitely better protect your RV than in the open with a better price than indoor storage.
What is the cost of cover storage for an RV?
The cost of storing RVs in outdoor storage is a cost ranging from $80 to $135 per month which is a good option compared to everything on the market.
Pros
Snow, rain, and hail protection
Lower cost than indoor storage
An issue can be height clearance
Cons
No protection from pests and UV rays
Cost more from outdoor storage
Low security opposes indoor storage
4. RV Storage Amenities
Some warehouses offer additional benefits that make the RV vehicle storage experience better for the user. Some of them are 24-hour access, heated storage, valet parking, and sewage dumping. Clearly, for additional benefits, the user pays a higher storage price. If you can't afford the high cost of storage, think carefully about what benefits you actually need. Why pay for a service you don't need? 
Tip: You can save on storage costs by changing the liability and collision coverage RV insurance plan for the vehicle while it is in storage.
Best Way How You Can Store an RV
If we do not take into account the cost of storage, the best option for your RV is to place it in an air-conditioned environment, in an indoor unit that has secured safety oversight. The second best option is storage under a canopy and last but not least outdoor storage. Note that if you use outdoor storage put a cover over RV to protect it from the weather.
Things That Affect the Price of RV Storage
When looking for storage space for your vehicle, keep in mind how you will get exactly the service you pay for. The more you are willing to pay, the more you will get. In any case, you need to pay attention to the following items.
Size of Space Rented
Depending on how much storage space you need, the range of storage prices ranges. You will definitely have to pay more for storage if you have a large vehicle, class A, than in a situation where your vehicle is smaller and belongs to class B. For a class C vehicle, you will pay a medium price. It is very important that you know the exact dimensions of your vehicle as the prices depend on the length and width of the vehicle.
Indoor, Outdoor, or Covered
The cost of storage depends mostly on the level of protection you buy for your RV. A higher level of protection means a higher cost of storage. The price is also affected by the existence of air conditioning.
Location
You will have to pay a higher price for the storage if it is located near an attraction or in an area with a larger population. You will have to spend less money if the warehouse location is in a remote location. The reason is obvious – you always compete for a place in the store with many other RVs owners.
Facility Amenities
The special benefits that the storage space offers to the users make it stand out from the others. Benefits can range from water or electricity availability to enhanced safety oversight. Also, a good convenience can be a dump station that saves time after your camping trip is over.
Tips For Storing Your RV
When objects or devices stand for a long time without being used, there is a risk that something can happen in the future. To avoid this happening to your RV some items need to be taken special care of before storage.
Remove All Personal Belongings
Before storing from the RV, remove everything you consider valuable. Leave as few things as possible in the RV. Climate conditions and security levels vary from storage to storage which is why this option is always better than coming for your RV and realizing that there is no expensive device or some other valuable item in it.
Drain Lines and Winterize if Necessary
When leaving the RV in storage for winter, it is very important to prepare the RV system connected to the water for winter conditions. First of all, connect the equipment from the water supply, you need to close every tap and lever for the water supply, including those in the toilet and shower. Be sure to draw out all the water from the lines. 
Also, you need to pour antifreeze into the lines. On this occasion, be very careful not to put antifreeze in the drinking water tank. Also do not put antifreeze in the boiler.
Use Moisture Absorbers to Prevent Mold
When the RV is left in a warehouse that does not have a large airflow, the moisture can damage it considerably. That is why it is important to protect your equipment with dehumidifiers that will reduce the possibility of moisture and mold damaging the vehicle. We recommend the need for Dri-Z-Air or Damp Rid products from proven manufacturers.
Related Article: How To Sell A Camper Fast (Step-By-Step)
FAQ: People Also Ask
Is covered RV storage worth it?
Covered RV storage is a good option for you if the storage is located in a mild climate. The level of protection it provides is sufficient, and a completely enclosed space with or without heating would be a waste of money.
Why is RV storage so expensive?
Why are RV storage prices so different? Warehouse rental prices are mostly influenced by the available offer of warehouse units and the number of RV owners in a certain area. By this logic, it is easy to conclude that you will pay the most money for storage space in city areas with a large population. The best example of this is that a 15'x50 'storage unit in the Los Angeles area currently costs as much as $ 330 a month.
How much is RV insurance a year?
For an RV insurance policy based on 12 months, the average premium at Progressive in 2020 was $848 for a motorhome and $502 for a travel trailer. RV policies liability-only at Progressive are $125 per year and up.
Final Thoughts
As you could see, if you own an RV you might encounter a problem where to store your RV vehicle. In some states, even if you have a house with a yard, you can't store your RV because it is not allowed by law, so it is necessary to find a warehouse in your area. Also, go through the article once more if something is not clear, we explained everything in detail. I hope you found this article helpful.