What Is The Largest Log Cabin In The World?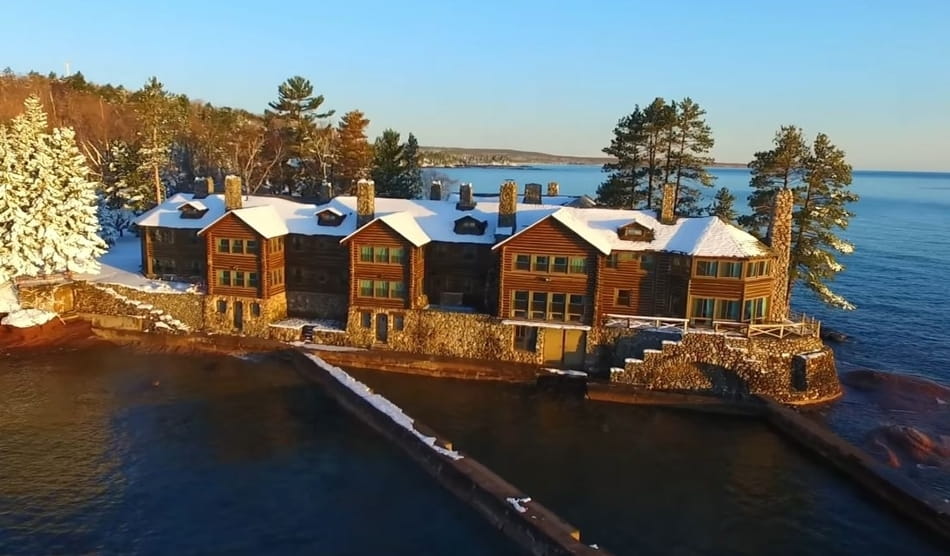 If you are one of those who love log cabins, you might be curious about the largest and biggest log cabin in the world. Imagine a cabin so big that it takes you almost an hour to go through! This huge log cabin is called Granot Loma, and it's by the beautiful Lake Superior. People from all over the world come to this place to see this piece of history. In this article, we'll talk about the world's largest log cabin. So, let's start!
What Is The Largest Log Cabin In The World? The world's largest log cabin is called Granot Loma. It is located in Marquette, Michigan, in the U.S. This massive cabin sits by the shores of Lake Superior and is known for its rich history. Back in the early 1920s, over 400 workers from Scandinavia built it, and Louis Graveraet Kaufman spent over $5 million on it.
This huge cabin sits next to Lake Superior and spreads across almost 5,000 acres. Even though it's 100 years old, it's still special because it's listed in the National Register of Historic Places. This cabin cannot be compared to any other in the world, both because of its size and because of its past.
Where The World's Largest Log Cabin Is Located?
The Wrold's largest and biggest log cabin is located in Marquette, Michigan, in the United States. This place, named Granot Loma, is like those big camps from old times. It's super big, about 26,000 square feet (2,400 m2), and has even been named the world's largest log cabin by the WORLD RECORD ACADEMY. The cabin is more than just a big wooden house; it's a piece of history. If you ever visit Marquette, it's a must-see, and you'll be amazed by its size and beauty.
Related Article: How Log Cabins Were Built In the 1800's?
How Large Is the World's Biggest Log Cabin?
Granot Loma has 23 bedrooms and 13 bathrooms. There's also a farm that used to have 200 cows! On this huge property, there are 13 other buildings like a guest house, a play area, places for helpers to stay, big garages, and even a tennis court made by the famous Bill Tilden.
The cabin, Granot Loma, was made by Louis Graveraet Kaufman. He was a rich man from Marquette who had a big part in creating the Empire State Building and even helped start the company that became General Motors. He made this big summer house to be like the fancy homes other rich families, like the Vanderbilts and Rockefellers, were building in New York.
How Much Did the Biggest Log Cabin Cost?
Granot Loma log cabin was built between 1919 and 1923. Over 400 workers from Scandinavia worked on it, and Louis Graveraet Kaufman, whom people called LG, paid over 5 million dollars for it. Today, that amount would be much higher. Some even say that the cabin would cost around $90 million today. He wanted a summer house that would be as awesome as the ones the super-rich people had in New York's Adirondack Mountains.
Famous movie stars like Fred Astaire and Mary Pickford used to hang out there. People even say that the famous boxer Mohammed Ali wanted to buy it to make it a place for boxing! It's on a super big piece of land, over 5,000 acres, right next to Lake Superior. The cabin has a long main room, many bedrooms, bathrooms, and cozy fireplaces. There are special designs inside by a famous artist, Orry Kelly.
Near the cabin, there's a place called Loma Farms. It's like a mini-village with 13 buildings made from a special clay.
The cabin is really unique. It's a historic place that Louis and Marie Kaufman started. Later, in 1987, a man named Tom Baldwin fixed it up to make it look like new again. Some people even say that a past U.S. President, Gerald Ford, wanted to make it his special home.
A long time ago, people in the Adirondack Mountains just had simple tents when they wanted to be in nature. But from 1870-1900, they built over 200 hotels there. Some guests wanted to feel more like they were in the wild, so they set up tent camps near the hotels. Looking at all this, you understand why this cabin is valued at 90 million dollars today.
If you want to see what the largest and biggest log cabin in the World looks like, here is an amazing YouTube video that you need to watch:
13 Reasons to Buy Michigan's Granot Loma
Are you considering buying the world's largest and biggest log cabin? Granot Loma might just be the perfect choice for you. Here are 13 reasons why:
It's the largest unique log cabin in the world.
The piano there tells a story.
It has amazing views.
No need for tons of warm blankets here.
There's a cozy spot just for reading.
It even has its own island and place for boats.
The designs and details are all handmade.
The kitchen is perfect for serious cooks.
You can plant and eat your own veggies.
You can make your own electricity.
It comes with lots of other buildings.
It's a great place to go fishing.
You can even start a small shop or business there.
Related Article: Are Log Cabin Homes Energy Efficient? Explained
FAQ: People Also Ask
What is the largest US log cabin?
The largest log cabin in the US is the Timber Moose Lodge. It has over 25,000 square feet of space and is located on 12 private acres in the Utah mountains. The lodge also boasts 9,000 square feet of outdoor decks and balconies with stunning 360° views.
How big is a Royal Caribbean cabin?
The inside rooms on Royal Caribbean are between 180-270 square feet. They've got a good amount of space to put your stuff. Just remember, some of these rooms might not be right across from the ones with balcony views, so you might need to walk a little more to find them.
Final Thoughts
The world's largest log cabin, Granot Loma, is a piece of art located in Marquette, Michigan. Built alongside the beautiful shores of Lake Superior, this historic structure boasts over 26,000 square feet of space and has witnessed visits from famous people throughout the years. Its craftsmanship, with handmade details, stands as a testament to its grandeur.
Beyond just its size, Granot Loma offers unique features like its own island and the possibility to start a business. Truly, this cabin is not just a home but a piece of history and architectural wonder. I hope this article has helped you, and if you have any other questions about this topic, feel free to comment below.