8 Best RV Roof Sealants (Choose Best for Your Camper)
You can protect the roof of your RV (recreational vehicle) if you use a quality roof sealant. Therefore, it is very important to regularly maintain the seals on your RV roof, if you want to avoid these problems in the future. If you don't get this job done sooner or later, you will face a roof leak that will cause damage to your vehicle. Below, you can see the eight best sealants and choose the best model for your RV. So, let's start!
What To Use to Seal Your RV Roof?
Having several different options to seal your RV roof is always a good thing. RV owners often use liquid sealant that comes with a tube. By using this method, you can easily solve minor crack problems effectively. Each brand has its own recommended use, so read the instructions carefully before doing this.
RV users also often use sealant tape as an option. This tape can create an airtight bond at the edges from the penetration of water into the vehicle's interior. It is an excellent tool for roof maintenance, but also for repairs.
RV owners have a custom of protecting the rear and front ends of the RV with sealant tape to further secure them even before any problem arises. To make sure that your roof does not leak, we recommend that you always carry sealant tape on your trip. You never know if you will have unexpected problems such as, for example, damage to the roof in a collision of a vehicle with a branch. When it comes to smaller cracks sealant tape is a quick solution.
Types of RV Roof Sealant & Coating
To always enjoy your RV trips, the use of the right RV roof coating is also essential. Get familiar with several different options when it comes to roof coatings for campers and roof sealants. Read also what is available in this product category.
Urethane Coating
This type of coating is great for off-road use. It protects your vehicle from small branches and debris that can suddenly hit the RV roof. This coating also prevents the formation of puddles of water on the roof and provides the vehicle with excellent protection from UV rays. 
It is also very durable and is among the best options when it comes to coating. But this product also has its drawbacks. It is not cheap, especially considering that a double coat is recommended for effective protection. Also, if you plan to use it, be prepared for an intense and unpleasant odor.
Acrylic Coating
When you are looking for reliable protection and need to save money, the acrylic coating is a perfect choice. It provides reflectivity leak protection and is resistant to UV radiation. This coating has a short life span, does not prevent the accumulation of water, and is easy to peel and wear, which often results in leaks. To be more effective, it is recommended to apply two coats.
Silicone Coating
It is a bit more expensive coating solution, but it is definitely worthwhile given its effectiveness. For a quality coating, only one layer is enough, which positively affects the budget you have at your disposal. This product has great durability and high reflectivity and protects the roof against water accumulation. It is also characterized by long-lasting elasticity. It will not harden too quickly, nor will it get sharp edges.
Choosing a Roof Sealant for an RV
In order to choose the best possible option to seal your RV roof, you need to consider several things. Here are the things that you need to pay attention to.
Inspect Damaged Area
There are different ways to solve the problem when it comes to small or large sealant cracks. So before you decide which product to use, thoroughly inspect the entire RV roof, not just the first damage you encounter. When you climb on the roof of the vehicle, do everything possible to fix the crack that was noticed and deal with other similar problems that you encounter.
What Roof Material Does Your RV Have?
Although most RV roofs are made of rubber, it is not uncommon for them to have a fiberglass or metal roof. Clearly, each material requires a different approach when it comes to sealants. Therefore, you need to be very careful. If you use the wrong sealant you can harm it and create a big problem. In a situation where you are not sure which sealant to use it is best to consult the manufacturer. The customer service will be able to help you.
Choose the Right Seal
If the RV is used through all four seasons, the vehicle is exposed to drastic changes in temperature throughout the year. That is why it is important to use a sealant that is flexible and also resistant to spreading when it comes to roof protection. This is the best way to protect the roof of your RV from damage.
UV Resistance
The roof of your recreational vehicle is often exposed to direct sunlight unless it spends most of the time in a closed warehouse or under a shade tree. The high temperatures that the sun's rays create on the RV roof can significantly damage it. So when you go on the roof to put a new sealant be sure to have protection from UV radiation.
The 8 Best Roof Sealants for RV
Once you have learned what is important when it comes to sealants for RV roofs, it is time to look at which products are most often recommended to finish this job. Here are the eight best roof sealants on the market:
| Best RV Roof Sealants: | Sealant Type: | Best For: |
| --- | --- | --- |
| 1. EternaBond Tape Micro Sealant | Micro Bond Tape Sealant | All roof types |
| 2. Geocel ProFlexRV Flexible Sealant | Flexible liquid sealant | Fiberglass roof |
| 3. Dicor Rubber Roof Acrylic Coating | Acrylic coating | EPDM RV roof |
| 4. Pro Guard Liquid Roof | Liquid roof protection | EPDM RV roof |
| 5. Liquid Rubber RV Roof Coating | Water-based rubber coating | EPDM RV roof (rubber roofing) |
| 6. Dicor Self-Leveling Lap Sealant | Liquid lap sealant | EPDM and TPO RV roofs |
| 7. Heng's Rubber Roof Coating | Acrylic latex polymer | EPDM RV roof |
| 8. Rust-Oleum LeakSeal Rubber Coating | Rubber Coating | Air vents, AC units |
Table with 8 best roof sealants that you can use for your RV
1. EternaBond Tape Micro Sealant
Eternabond is a super strong gray sealant tape, which gives a strong bond to the material from which the roof is made. However, we do not suggest using this tape to cover the entire roof of your RV. That's because some parts of the roof structure are not suitable for it. Although it may not be the most affordable product, its great virtue is that it has a variety of uses, so it is great for any quick repair. We used it for unexpected repairs of all sides of the RV and even the chassis.
Sealant Type: High Strength Sealant (Micro Bond Tape)
Best For: For every roof type, just make sure it's clean and dry.
2. Geocel ProFlexRV Flexible Sealant
Geocel ProFlexRV sealant can be purchased in a 10-ounce tube. Keep in mind NOT to use this sealant on single-ply rubber (TPO) or synthetic rubber (EPDM) roofs. However, this flexible roof sealant is great for RV roofs that are made of glass, aluminum, coated steel, wood, steel, vinyl, and fiberglass.
We recommend that you always have a few of these tubes on hand for emergencies. Their average price is around $12 per piece. This sealant also protects the roof from bad weather conditions almost immediately after you apply it. Also, cleaning debris is not a problem due to the non-stringing formula.
Sealant Type: The Geocel ProFlex is a great flexible liquid sealant for RV. 
Best For: It is the best option for a fiberglass roof. (Note: never use it on EPDM or TPO roofing materials)
3. Dicor Rubber Roof Acrylic Coating
A Dicor is the most popular brand when it comes to sealants that are used on RV roofs. In this case, we are talking about acrylic sealant that can provide your roof with significant durability. If you use it for the whole roof, use a roof activator/cleaner from the same manufacturer. It is recommended to apply two coats.
One gallon of this sealant is enough to cover an area of 125 square feet. The great thing about this sealant is that the product dries quickly, so there is no need to wait long between coats. Once you have done a job, you can be sure that the roof of your vehicle is also protected from UV radiation.
Sealant Type: Dicor RPCRC1 is an acrylic coating.
Best For: Great choice for an EPDM roof. To get the best results use it with the activator/cleaner.
4. Pro Guard Liquid Roof
Pro Guard Liquid Roof is a great option, whether you are repairing your existing RV roof or simply installing a new roof. It can easily withstand temperatures from 300 F (148 C) to -60 F (-50 C). It comes with a five-year warranty! One gallon of this product is enough to cover an area of 42 square feet. Before applying the sealant, the roof needs to be cleaned. Users reviewed this product, and it also has the best ratings on Amazon.
Sealant Type: Proguard F99911 (liquid RV roof protection).
Best For: The best sealant for EPDM RV roof.
5. Liquid Rubber RV Roof Coating
Liquid Rubbert is a liquid RV roof coating that is easy to use. You can apply this coating on the roof of your RV by spray, but you can also use a brush or roller if you prefer. For optimal protection, use one gallon of this product to cover an area of 50 square feet. It is estimated that you will spend two or three gallons for the entire roof. You can buy this product in a package of one or five-gallon sizes. Keep in mind that five gallons are enough to cover a roof with a maximum length of 30 feet.
Sealant Type: Water-based rubber roof coating.
Best For: Best to use on any rubber material for roofing, especially EPDM.
6. Dicor Self-Leveling Lap Sealant
The Dicor 501LSW-1 sealant is one of the most popular products among recreational vehicle owners. It can be used on mortar, aluminum, vinyl, wood, galvanized metal, concrete, and fiberglass surfaces.
It is a great choice for additional fastening of your RV roof, vent pipes, vents, and screws heads. This product has the excellent feature of being self-level, which gives the surface a professionally smooth look after finishing work. It can be purchased in a tank containing 10.3-ounce mass, an ideal quantity if you only need it for repairs.
Sealant Type: Dicor 501LSW-1 – a liquid lap sealant.
Best For: Recommended for small touch-ups on TPO or EPDM roofs, wood, fiberglass, steel, aluminum, or masonry. It is a great choice for sealing around skylights, vents, and solar panels.
7. Heng's Rubber Roof Coating
This Heng's Rubber sealant is a great choice for rubber roofs, and you can buy it on the market in packs of one and six-gallon sizes. It is also excellent for protecting slits and cracks around AC systems and vents. It can withstand driving on uneven terrain full of bumps and is generally resistant to cracking. It adapts to shrinkage and expansion due to changing weather conditions and has excellent insulating properties.
Sealant Type: Heng's Rubber Roof Coating is 100% acrylic latex polymer.
Best For: Best to use for seams, tears, and seals around AC and vents on rubber EPDM roofs. Also, it is a great option for a recoat of an old roof for extra strength and brightness.
8. Rust-Oleum LeakSeal Rubber Coating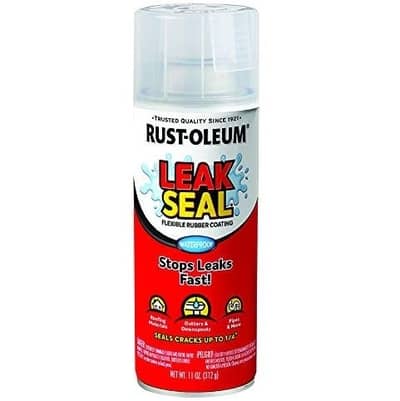 The Rust-Oleum brand is a also well-known brand of sealants for home use, and its LeakSeal Flexible coating rubber formula is recommended as an excellent choice for RVs roofs. With a 30-ounce tank of this product, you can cover an area of 40 square feet.
It has a great feature that prevents the penetration of moisture and water into the vehicle. Since it can only be purchased in smaller packages, it is good to use it for repairs and minor interventions on the roof. This product is a great choice when it comes to the coating of AC systems, vents, panel mounting brackets, and solar panels.
Sealant Type: LeakSeal Rubber Coating of Rust-Oleum is based on oil formula.
Best For: It is recommended for small jobs such as AC systems and air vents.
How Often Should You Reseal Your RV Roof?
The roof on the RV should be thoroughly inspected at least once a month if you want to spot changes on time. If you notice cracks or any other type of damage and repair them at once, you will definitely extend the life of your RV roof. 
When your vehicle is under the RV warranty, you must know that it is possible to be obligatory to check the condition of the roof once a year by going to an authorized dealer. In some cases, you can do such an inspection by yourself. If you come across a sealant problem during the examination, be sure to start the repair immediately. If you do not do that, after a year or two you may find yourself in a situation where the problem escalates and costs you dearly.
Although at first glance small damage to the roof does not seem like a special problem, you must be aware that over time it can develop into a dangerous situation for your RV and all its users. It is possible that a leak will occur and destroy the interior of the vehicle.  Or that mold may enter your RV. That is why inspections of the RV roof are a very important factor in preventing future damage.
If you have AC problems on your RV roof, be sure to read RV Air Conditioner Repair and Troubleshooting Guide.
Best RV Roof Sealant Brands
When you are looking for a quality sealant, RV vehicle owners generally recommend two reliable brands as Liquid Rubber and Dicor Products. Find out something about them.
Dicor Products
The Dicor Products have more than 40 years of experience in the production of sealants, but also in the production of just about everything needed for the successful maintenance of recreational vehicles. This company is always working to improve its existing products.
Liquid Rubber
It is a manufacturer from Canada that has a large number of excellent sealant and coating products for RVs on the market. Their most popular product for this purpose is the liquid roof coating formula.
Final Thoughts
It is very important to take care of your RV, so it is necessary to do regular maintenance. In this article, we have looked at the eight best RV roof sealants that you can use to patch the roof of your vehicle. Pay attention to what type of roof you have, and use a sealant that suits your type of roof. I hope this article helped you, and if you have additional questions, feel free to leave a comment below.