RV Air Conditioner Repair (Troubleshooting Guide)
The main reason why people love RVs is the ability to travel in the comfort of home, where in addition they have an air conditioning system always available! Unfortunately, like with all devices, they break down after a while, especially if they are not maintained regularly. But do not worry! Below, we bring you a complete RV air conditioner repair and troubleshooting guide that talks about the most common problems with AC systems in RV during travel. This guide will for sure help you save money and time while you are on the road with your RV.
Also, if you are interested be sure to read How To Clean RV Air Conditioner Filter with 5 Easy Steps.
Regular RV A/C Maintenance Tips
Now we will do a full overview of potential air conditioner problems in your RV and ways how to fix them, we want to note that it is very important to maintain the air conditioner regularly and properly. If you maintain your AC device regularly, you can save a lot of money and time. Also, you will avoid a situation that no one is looking forward to – being stuck in a place, away from the urban environment, with a faulty AC device!
Important: Before you start doing anything on you're A/C unit, the first step is to turn the unit off and unplug it from the power source. That way you'll avoid any electrical shock.
1. Clean the Air Filters
After the air conditioner in your RV has been in operation for about two weeks, it would be desirable to clean the air filter(s). That way, you will also improve the air quality in your RV, which is important for health.
Important: Never turn on your AC unit without a filter! If you do so, you can easily clog the evaporator with dust, which will reduce the efficiency of the device.
2. Clean Your RV AC Box Housing
The Control panel and air distribution box housing should be cleaned regularly with a soft cloth and mild soap. That way you'll extend the life of your AC unit.
Important: When cleaning the control panel and air distribution box housing, never use furniture polishes or scouring pad.
3. Protect Your RV AC Unit When Not in Use
During the year, when your RV is not used for a long period of time, dirt builds up on your AC device, which can later cause a number of problems. Buy a quality cover for your air conditioner. This will help you to keep your AC unit clean and prevent pieces of dirt from getting into it. 
Tip: When inspecting the roof of your RV, check well and additionally secure the seals at all openings. The same goes for all screws. This will prevent leaks and your RV AC device will run quietly.
4. Inspect the Air Conditioner Condenser & Evaporator Coils
Check the evaporator coils and air conditioner condenser at least once a year to avoid future repairs. An inspection is especially important if you notice that your AC device is not running normally. 
5. Lubricate the RV AC Fan Motor
Some AC units require periodic motor lubrication. Be sure to read the owner's manual that came with the device to determine if it is necessary and what type of oil is used. Campers most often use SAE 20 non-detergent-type oil to lubricate the motor. It can be purchased at stores with cooling and heating parts. You can also purchase it on Amazon.
If you have a problem with the AC compressor be sure to read: RV Air Conditioner Compressor Not Coming On (Solution).
RV Air Conditioner Repair Guide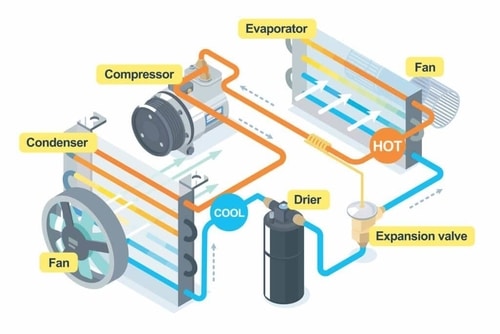 Every air conditioner can break down, so you should be prepared and know how to proceed. When this happens, the three most common causes are:
The AC unit won't turn on and has no power
AC will turn on but will not work
AC works but cold air is not coming out
Depending on which of these three problems you have, be sure to look for a solution in the sections below. 
Important: When you plan to do anything with your air conditioner system the first step is to turn it off and then unplug it from its power source. That way you'll avoid any electrical shock.
1. RV Air Conditioner Isn't Turning On
If your  RV AC unit won't turn on and it's not receiving power, you most likely have a problem with the breakers or the power supply. But don't worry, this problem can be easily fixed if you follow our tips.
Troubleshooting Tips:
Test the RVs power supply. You should plug your AC unit into a 110v outlet in your RV to check if it works. If it starts working, then the power in your vehicle is just fine.
Check the breakers. If your RV has power, next you should check the breakers. It often happens that the A/C unit stops working because of the breaker trip.
Check the transfer switch. If you have a bad transfer switch your AC unit will power on with shore power, but not if using a generator.
When you have checked all of these steps and your AC device still does not work, we recommend that you call a professional for assistance.
2. RV Air Conditioner Won't Run
If your RV air conditioner is turned on, but it won't run, you can tell that something is wrong with the device itself. If this is the case, be sure to follow our troubleshooting tips below.
Troubleshooting Tips
Check the fault codes. Most RV air conditioner models, like the Dometic Brisk 2, display a fault code when there is an issue. To understand the code, check the owner's manual.
Check the high-pressure switch circuit. In difficult conditions, like dirty filters, in your AC model, a high-pressure safety circuit switch could have been tripped. Check your owner's manual to learn how to reset the circuit. Sometimes it's not as easy a task as just turning the power supply on-off.
Check the capacitors. Your AC in RV typically has two capacitors – a start capacitor and a run capacitor. If the fan won't work but you hear a humming sound, then the capacitor is gone bad. By using a standard multimeter you can test your capacitors. If you find a bad one, you need to replace it. Contact the manufacturer to find out how to get a new one.
Check the thermostat. Although it seems like an obvious step, you should make sure the temperature is low enough on the thermostat before you turn on the device.
If you have checked all of these steps and your AC device still does not work, we recommend that you call a professional or an authorized service center for assistance.
Related Article: Is it Possible to Get a 12V RV Air Conditioner?
3. RV Air Conditioner is Not Blowing Cold Air
If your RV AC device is running normally, but it does not blow cold air, it means it is time for service. Or, in some cases, that it is simply because it can no longer perform its requirements. To fix this problem be sure to check the tips below.
Troubleshooting Tips
Check the outside temperature. During hot summer days, for your RV AC, it can be very difficult to keep up. Especially if RV is gaining high heat. Even the best AC can't keep the RV cool if its vehicle is badly insulated, with a lot of windows or it is parked directly under the sun. Try to park your RV in the deep shade, don't use indoor appliances like a stove, and keep windows and doors shut. All this can help keep your RV cool.
Inspect the air conditioner filters. For your RV AC unit to blow cold air it is important to check and clean the filters. At least every two weeks.
Check the condenser and evaporator coils. Another common reason why your AC is not blowing cold air are dirty evaporator coils and/or condenser. Also, this can cause your high pressure circuit switch tripping. In this video you can see how to clean AC coils in RV.
Check the refrigerant levels. Through our experience, if the compressor has low refrigerant levels, it can cause your AC not to cool. You can check the AC refrigerant level depending on the model of the device you have. Although you can check the levels yourself and even recharge your AC, we recommend seeking help from a qualified technician. He will see the problem with your unit and check your refrigerant levels, where he will discard the old freon by the book.
Replace old AC model with new one. Nothing lasts forever, not even the AC device. The older your air conditioner is, there is bigger the chance that at one point, it won't be able to cool the RV as before. It could be the time to buy a new AC device for your RV. We recommend the Dometic brisk 2. Also Coleman has few high-quality models.
If you are having problems with a Coleman Mach RV AC unit, be sure to read: 5 Common Coleman Mach RV Air Conditioner Troubleshooting.
4. RV Air Conditioner Switches On & Off Repeatedly
Many campers during travel face the problem that their AC unit constantly switches on and off. Sometimes can be hard to figure out what causes this problem in the first place. The first step is to check out the coils. The appliance may reach a point where it is constantly switched on and off if the coils on your rooftop are frozen (where the AC system is placed). 
This problem is easy to solve. The device needs to be set to fan mode or turned off until the ice deposits melt. This problem can be caused by high humidity combined with the temperature setting on the AC or the accumulation of dirt on the filter.
While it is not pleasant to know that the coils on your AC are frozen, this is a situation that you don't need to worry about. There is also a possibility that the AC will turn on and off because there is a short circuit on the control panel. In these cases, we recommend that you call a professional or an authorized service center for assistance.
5. RV Air Conditioner Leaks 
In addition to the problem with the power supply of the AC unit, what most RV owners also have is leakage from AC devices, not to mention leaks caused by the cooling system (although it can create similar problems). Check if the AC device on your RV leaks in all weather conditions. This can destroy the device itself and other things in your RV vehicle.
Related Article: King Dome Satellite Dish Problems and Troubleshooting 
FAQ: People Also Ask
How Much does Replacement of RV Air Conditioner costs?
A new AC device for RV costs between $500 and $1000, while the installation is around $400 and $700. Keep in mind that the new AC devices are more energy-efficient and have lower operating costs. Future energy savings depend on the size of the new device.
Can You Recharge RV Air Conditioner?
Most RV AC devices can be recharged without problem, most of them will require a qualified technician to do it. 
Why RV Air Conditioner Leaks During Rain?
If the AC device in your RV happens to leak, but only when it rains, the problem is most likely in a bad rubber gasket or bad seal on the RV roof. Be sure to check it out and repair it as soon as possible.
Final Thoughts
Since buying an AC device for an RV vehicle can be quite a large investment, the device should be regularly maintained and properly cared for. But regardless of that, you need to be aware that each AC device has its own lifespan and that you will need to buy a new one after that. If you are in a situation where your AC unit is nearing the end of its life, be sure to check out our review of the best choice for a new RV air conditioner. I hope that this article has helped you and if you have any additional questions feel free to contact us.