Are KastKing Fishing Reels Any Good? Explained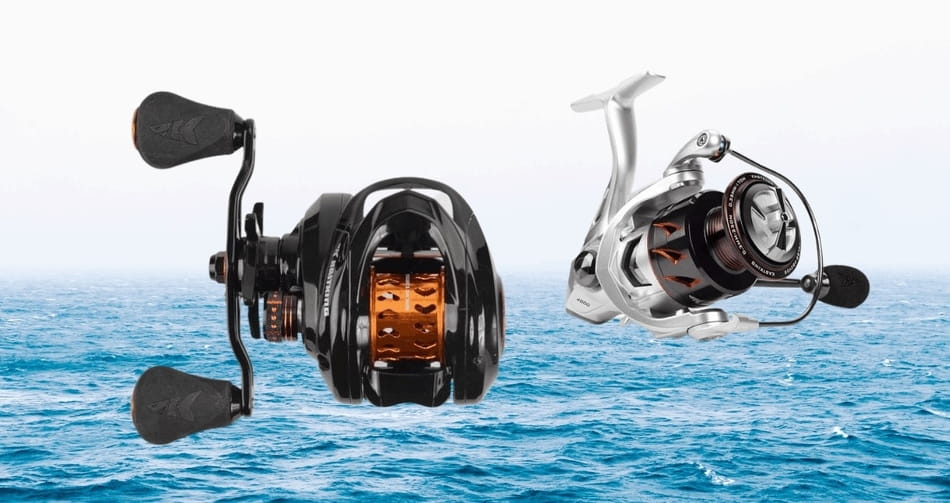 KastKing, a recent addition to the industry, is gaining significant attention for all the right reasons. Their superior products, offered at amazingly low prices, are highly sought after by fishing enthusiasts keen to experiment with new tools and techniques without spending too much money.
While KastKing's gear may not be the best on the market regarding the quality of reels, they stand their ground during tough environmental circumstances and the exploratory phase that most novice fishers experience. So, how good are KastKing fishing reels really? Let's find out!
Are KastKing Fishing Reels Any Good? Yes, KastKing fishing reels are indeed good. They offer a balance of quality and affordability, making them a popular choice among both beginner and seasoned anglers. Despite not being top-tier competition quality, they are reliable and durable under challenging conditions.
KastKing produces a broad selection of reels to satisfy any fishing enthusiast's requirements. From their user-friendly spincast reel to their premium baitcast reel, KastKing is dedicated to crafting top-notch products without putting a strain on your wallet.
Taking everything into account, are KastKing fishing reels a good investment? We'll discuss this in detail and also highlight some of the top fishing reels from KastKing.
The Inside Stroy About KastKing Reels
KastKing reels rank among the top in the industry for various reasons. Firstly, they are very cheap compared to other products on the market. Yet, they are loaded with helpful features and crafted from high-quality materials.
These reels are fitted with excellent ball bearings, which are known for their fluidity compared to other brands. They're also good for those who just begin fishing and for experts.
Their user-friendliness can indeed transform casual anglers into experienced fishermen. Also, they come with the Intrusion Shield System, which safeguards the reel's body from water.
The great thing related to KastKing reels pertains to their longevity. Some customers have mentioned minor mechanical glitches when using the reel, but these issues were easily fixable. Conversely, a few first-time buyers were surprised when they bought it because they didn't believe they would get such a good product at that price.
Lastly, KastKing reels provide good value for money. Considering their price, they perform very well. They also feature robust drag and a sturdy frame. While the lifespan might not match your expectations, it's still the best deal available within that price range.
Here is also an interesting youtube video that shows a full review of KastKing Fishing Reels:
An Overview of KastKing Fishing Reels
KastKing consists of four distinct reel varieties: round baitcasting reels, spinning reels, spin-cast reels, and casting reels. Let's see a brief overview of each.
1. Spinning Reels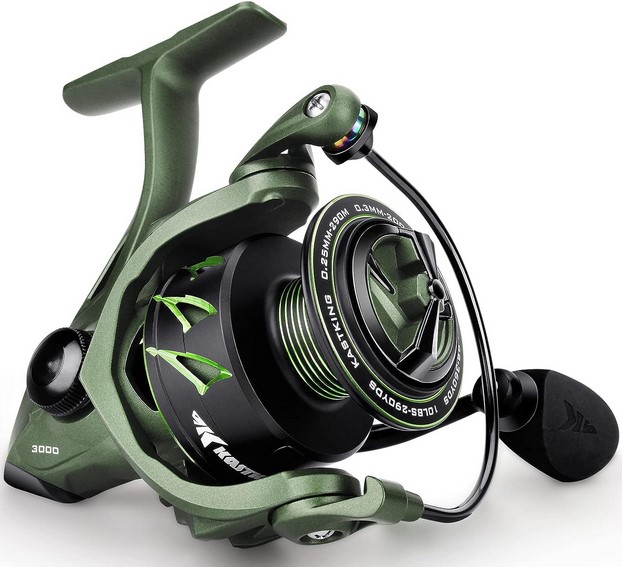 KastKing's spinning reels are designed for use with spinning rods. When it comes to these rods, they are perfect for beginners as they have a lower tendency to get tangled. They feature slim spools that are optimal for shorter ranges.
The reels are fitting for capturing lightweight fish. They are positioned right beneath the rod, at a right angle. Some examples of KastKing's spinning reels are the Sharky III and the Speed Demon Elite.
2. Casting Reels
Casting reels are designed for long-range, accurate casts. They are paired with casting rods, which require a potent drag and an expansive line capacity. Unlike spinning reels, most casting reels are equipped with a trigger.
We don't recommend combining a casting reel with a spinning rod, as it could potentially damage the rod due to its design for softer reels. The Bassinator Elite and Speed Demon 9.3:1 are among KastKing's low-profile casting reel offerings.
3. Spincast Reels
Spincast reels are an excellent choice for beginners also due to their simplicity. This item comes with a button that immediately releases the line. Moreover, they avoid tangles due to the line being encased in plastic.
KastKing's spincast reels offerings include the Brutus the Cadet. In fact, these are the only spincast reels produced by the company.
4. Round Baitcasting Reels
Casting reels can be either round or low-profile. Round baitcasting reels are usually used for catching larger fish. They offer a more robust drag, allowing you to take on bigger fish without experiencing excessive torque. They also have a greater casting range compared to low-profile reels.
Related Article: What Food Should I Bring for 3 Days Camping?
5 Top KastKing Fishing Reels
Although there is a very large selection of KastKing Fishing reels, we have selected 5 that we consider the best and most affordable. Here we will review each of them and briefly give their specifications, and it is up to you to choose the one that you think will suit you. So, let's start!
1. KastKing Brutus Spincast Reel
Key Features:
4.0:1 gear ratio
Strong steel rotor (double-pin pickup system)
Pre-spooled with monofilament
The Brutus is considered one of the most affordable reels available from KastKing. It's a perfect fit for those who are yet to master a casting reel. Despite its lightweight design, it delivers reliable drag power.
While the Brutus may not be suited for casting across long distances, it still offers exceptional value for the price. Finding another reel in this price bracket that provides comparable features is hard.
2. KastKing Sharky 3 Spinning Reel
Key Features:
Carbon Fiber Drag System
KastKing Intrusion Shield System
Anti-Reverse Function
The Sharky spinning reel from KastKing brings together a lot of great features: a budget-friendly price, a remarkable drag system, and a stylish design. The drag system comprises carbon fiber discs, enhancing its smooth operation and sturdiness.
The Sharky boasts the Intrusion Shield System from KastKing, designed to repel dirt and safeguard the body from water exposure. Its body is made of reinforced, long-lasting graphite that ensures the reel's longevity.
Also, Sharky's anti-reverse feature stands out; it blocks the reel from back-rolling and potential tangling. While a high gear ratio would have been nice, Sharky's price makes any minor shortfall easy to overlook.
3. KastKing Zephyr BFS Baitcasting Reel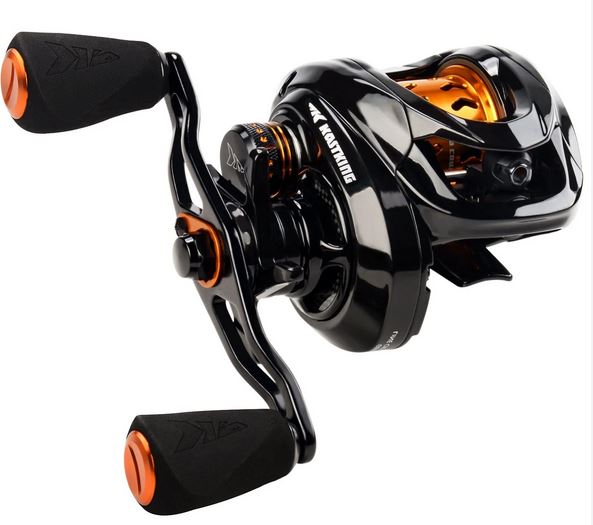 Key Features:
7.2:1 gear ratio
Drag Clicker alert setting
Lightweight
One of the best models from KastKing is Zephyr BFS Baitcasting. Sporting a carbon fiber body and disc drag, this reel is more resilient and lighter than its aluminum competitors, weighing only a mere 5.7 ounces. The precision 7.2:1 gears and dual-tone stainless bearings allow for extended casts even with smaller baits.
Its 17.8-pound adjustable drag comes with a clicker feature that signals when you've hooked a fish. Despite offering premium features, this reel is surprisingly affordable at a very low price.
4. KastKing Speed Demon Elite
Key Features:
9.3:1 gear ratio
Carbon Fiber Drag System
Long-Distance Spool
The Speed Demon Elite stands as a notable creation from KastKing. The brand takes great pride in the reel's impressive retrieval speed, as its 9.3:1 gear ratio outperforms many of its competitors.
Further enhancing its reliability is the robust carbon fiber drag system. Additionally, the Speed Demon boasts a resilient spool that can cover greater lengths than other reels in KastKing's lineup.
5. MegaJaws Baitcasting Reel from KastKing
Key Features:
High Drag Power
Carbon Fiber Discs
Good Line Capacity
The MegaJaws reel by KastKing is a great product designed to give its competitors a run for their money. It's an excellent choice for budget-conscious individuals, boasting a setting of 17.8 pounds, with carbon fiber discs that are notably high for their cost range.
Additionally, the MegaJaws reel has a carbon fiber material that ensures decent grip and contributes significantly to the reel's seamless operation. The reel's only shortcoming is its relatively small spools. Most importantly, it has a good line capacity, so this issue can be easily overlooked.
Related Article: How to Keep Food Cold While Camping?
KastKing's History
Established by a handful of university friends from the northern region of New York, KastKing came into existence in 2013. These MBA graduates, who shared a passion for angling, embarked on their dream to produce top-notch, affordable fishing gear using environmentally responsible production methods.
The company's mission is to make fishing enjoyable for all while preserving our planet's health. Despite considerable growth and expansion since 2013, the company remains committed to crafting the finest possible products using the most cost-effective components, subsequently passing on these savings to their customers.
Learn more at this link: https://kastking.com/pages/our-story
FAQ: People Also Ask
Are KastKing Reels Made in the USA?
Like many other companies, including Lew's, Abu Garcia, and Penn, KastKing also produces their fishing reels and rods in China. This is quite common in the fishing tackle industry, with over 80% of all fishing equipment globally being manufactured in China.
What Is the Warranty on Kastking Reels?
KastKing reels come with a 1-year warranty, covering any faults in materials or craftsmanship. This specific warranty does not include any changes made to the reel, regular usage wear, professional use, or inappropriate maintenance. KastKing does assist and discounts replacements for reels found to be faulty.
What Do Users Say About Kastking Reels
KastKing reels present a budget-friendly choice in the expanding fishing equipment market. They stand toe-to-toe in performance with more costly brands. First-time users generally view the brand positively, applauding the superior material quality and the reels' silent, smooth functioning.
The baitcasting reels receive special praise for their balance of affordability and excellence, making them a fantastic gift idea for fishing enthusiasts of all genders.
Final Thoughts
KastKing is certainly a good investment. They manage to offer reliable products at reasonable prices by maintaining meticulous attention to detail and using quality parts. The sole critical remark I came across pertains to their 'Made in USA' assertion.
Many components originate from China, and some reels are even manufactured there. It would be advisable for KastKing to share this fact upfront to avoid any allegations of misleading marketing strategies.