How To Turn On Electric Water Heater in RV? Expert Explain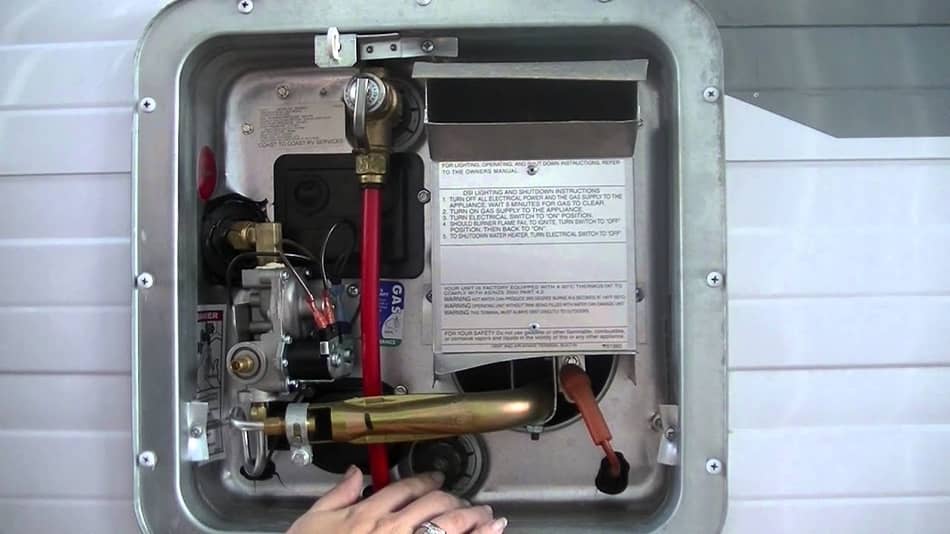 When it comes to RV camping, having the comfort of your home all the time anywhere you go is priceless. Especially when you have the main comfort such as hot water! For an RV to have hot water, it must have an electric water heater installed. In this article, we'll talk about an electric water heater in your RV and how you can turn it on. We will also look at a couple of important things related to the RV water heater so that you can take good care of it. Let's get started!
How To Turn On an Electric RV Water Heater?
So How To Turn On an Electric RV Water Heater? Typically, to turn ON the electric water heater in your RV, locate the heater access cover (usually placed outside), and remove it. Look for an electric water heater RV panel with ON and OFF switches and turn it to ON. These switches are typically located on the bottom left-hand side.
As you can see, turning an electric heater on your RV is quite a simple task that everyone can do. The hardest part of this process is to locate where the on/off switch is placed. Keep in mind that some RVs can have an electric or a gas (or both) water heater. We'll discuss this in more detail below.
Also, for everyone who owns an RV be sure to read How Does an RV Propane Furnace Work?
Note! It is very important to have water in the electric RV water heater before turning it on. Without having water in your heater, you will instantly burn out the heater element.
Step-by-Step How To Turn On Electric RV Water Heater
Now we'll learn the step-by-step process of how you can turn ON your RV electric water heater. For this example, we'll be using the Suburban SW6DE model. Here are the steps:
Make sure to check that your hot water tank has water in before you turn it on.
Find where the access panel of your water heater is placed (usually, its located outside of the RV)
Find the panel with an on/off switch on your RV water heater. Typically, it is installed on the bottom side.
Turn the switch to the ON position. 
Every RV model comes with the owner manual, where you can also see the complete step-by-step process on how to turn the RV water heater ON. Each brand is different, and there can be slight differences. If by any chance you lose the manual, here we will provide you with the direct links to the most popular manufacturers for RV water heaters like Keystone, Jayco, Forrest River, and other popular brands:
Maintenance Guide For RV Electric Water Heater
Sometimes problems with the RV electric water heater can occur. Therefore, if the water heater on your RV is not functioning properly after it is turned "ON", do the following steps:
Check your circuit breaker. It must be turned off in your motorhome.
Inspect the ON/OFF switch. It is connected to a 120-volt AC.
Restart the heater by pressing the button that is usually placed on the water heater control panel.
If the problem is still present (after you have tried the previous steps), try turning the power off and inspecting all wire connections.
Finally, use the voltage meter to measure the heating element. If the element is broken, replace it.
If after all these steps you still have a problem, then don't hesitate to call a certified RV technician.
Does Leaving RV Water Heater On Cost More Money?
Some people might be interested in how much it will cost them to leave RV hot water ON all the time. For example, leaving your hot water heater 24/7 will cost you additional money in overall fuel expenses compared to turning it on/off when needed. However, if you have a very small RV water heater (around 6 to 10 gallons), the additional cost of leaving it turned ON will not be so high.
For people who are constantly using hot water during the day, it may be cheaper (cost-efficient) to leave their RV hot water heater turned ON – 24/7 (but this is rarely the case).
Note! One way to save money is to try to turn off your RV hot water heater after you are finished with dishes at the night and turn the hot water ON in the morning.
RV Hot Water Heater Regular Maintenance
Leaving RV hot water heater ON all the time will not cause any additional wear of materials since the heater doesn't have any "moving parts". The lifetime of an RV water heater is typically more than 10+ years. In this YouTube video, you can see how Cleaning flushing, and descaling an RV Water Heater is done.
The only thing that you need to do with your RV water heater is regular maintenance. Normal use on the other hand will require only semi-annual maintenance for your RV.
Pros and Cons of Leaving RV Hot Water Heater ON
For those people who are wondering is it good to leave their RV hot water heater on 24/7, here are a few pros and cons that will answer your question.
Pros of Leaving RV Hot Water Heater On
The supply of hot water is available all the time
There is nothing to worry about when you have hot water in your RV
There is much less risk of damaging the heating element
The total cost is not much higher when the heater is ON all the time
Cons of Leaving RV Hot Water Heater On
Additional fuel costs
You are harming the environment by using more fuel than you need
RV hot water heater must be turned on when you are entering the gas station
For those who own an RV and want to learn more, be sure to read How To Get A Title For A Camper Without Title?
FAQ: People Also Ask
Do RV Water Heaters Run on Electricity?
No! RVs have 3 types of water heaters on the market; propane, electric, and electric/gas (combination). Electricity water heaters are the ones that are most commonly used in RVs. A combination of electric/gas water heaters allows the user any combination at the same time.
How To Know If Your RV Water Heater Runs on Electric or Gas?
The simplest way to know if your RV water heater runs on gas or electricity is by using the manual for your RV model and brand and reading it. Another way how you can tell if you have electric, gas, or a combination of them is by checking the RV model number. With that number, you can search on Google and see the model of the heater that your RV has.
Final Thoughts
Every modern RV comes with an electric RV water heater installed. Having hot water available is invaluable, especially if you are camping. In this article, we have described how you can most easily turn on your electric water heater and where it is located on your RV. I hope we have answered all your questions, and if you have anything else, feel free to contact us.