What Food Should I Bring for 3 Days Camping?
Camping is a great adventurous bonding activity that can be done with friends and family. When planning a camping trip, food must be a priority. Also, travelers cannot stop and have lunch at a restaurant or hotel. That's why food should be planned out for camping trips in advance.
Going for a 3-day camping trip is optimal when it comes to bringing food. That's because you can bring food, and it will last during that period. The food can easily be prepared in advance and packed into cold using travel fridges. The general food types that are good for these trips are: raw meats, eggs, raw meats, and vegetables for the grill.
On-the-go meals: take bread to make sandwiches, rice, and pasta for quick dinners. Snacks can include many healthy options like cliff bars, protein bars or oatmeal and fruit bars, fresh and dried fruits, and nuts. If you prefer cooked meals, you can make food at home and pack it up to take with you. That probably won't work for all of the 3 days, but it will for the first one.
When you are on a camping trip you'll need a fire, so be sure to read How Hot is a Campfire?
Therefore, if you are going on a camping trip for 3 days, be sure to stay with us. Here we'll explain what you can bring on that trip and how to make healthy meals while you're camping. So, let's start!
Camping Food List For 3 Days
Day 1
Breakfast: Scrambled Eggs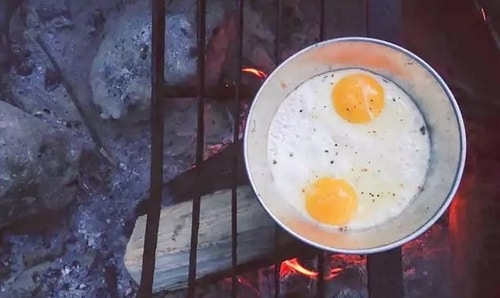 Scrambled eggs are a great breakfast food. They are protein-dense, have healthy fats, and are a good source of vitamin D. Besides being a great kick-starter for the day, they are also very simple to make in a place.
You can just put some butter in a pan that is placed over the campfire, wait for it to melt, and then add the eggs. We recommend taking salt on the trip with you since salt comes in handy with most foods. You can even boil them if you prefer but scrambled is quicker. With the eggs, add some bread and dried meats.
If you aren't an egg fanatic, you can always cut up some fruits and eat them with Greek yogurt or even some oats. Oats can be easily made by showing the oat grain with boiling water and waiting a few minutes.
If you have the option, take a water cooker with you. That will work if you have an electricity source. That kitchen appliance would help you drastically with cooking breakfast and making coffee and tea.
Lunch: Sandwiches
Sandwiches for lunch are a great option because you can make them easily without cooking. They are also very versatile and can be made to fit everyone's taste. For lunch making, it's great to pack some chicken/turkey breast, sandwich meat, cheese, salad, tomatoes, and other ingredients you like in a travel fridge bag that keeps the air inside cool. Of course, you will need bread.
You can buy fresh bread for the first day or two and pack a pack of toast bread for the last day. Most people prefer sandwiches with some sort of topping sauce. You can take ketchup, mayonnaise, mustard, or anything else that you prefer.
If you are going on a camping trip, you should bring a cooler with you. Here is one article that might interest you: How Long Does Ice Last In a Cooler? (Tips To Last Longer).
When making a sandwich, try to use any leftovers you might have left from breakfast to avoid wasting and throwing away food. For example, if you have some leftover scrambled eggs, you can add them.
Dinner: Pasta Packets
Since pasta is a carbohydrate, it gives us energy and fills our stomachs well. Additionally, it's extremely simple to make because it doesn't require many steps or kitchen preparation. Here is how to make it in the woods:
Use a pan to boil the pasta by holding it above the campfire.
Create packets out of foil and fill them with pasta. In each put one serving.
Add pasta, cheese, basil, diced tomatoes, or anything else you'd like to into the foil with the pasta.
Hold the pasta packets over the campfire for a few minutes and remove them once the cheese melts.
Day 2
Breakfast: Pancakes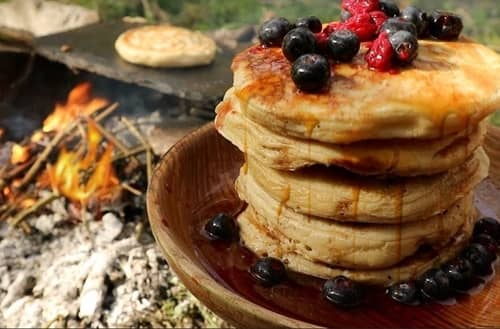 For the second morning of your camping trip, we suggest making pancakes. You can pre-make the batter at home, put it into a container, and then into a travel fridge bag. That way you can just place amounts that you would like onto the pan and flip when it's halfway done. You can even take some toppings such as fruits, peanut butter, or Nutella. Serve the pancakes with hot coffee or orange juice.
Lunch: Grilled Fish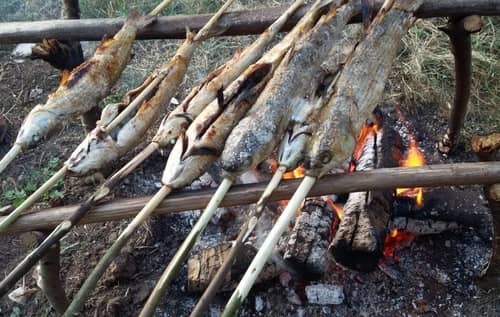 If your campsite is close to some sort of lake, we suggest catching yourself some fresh fish. The fish is an awesome lunch option that can be cooked in foil with veggies, spice, and butter. This foil packet method is simple and enjoyable because it takes only 15 minutes to prepare while still preserving the fishes' natural characteristics. The fish can alternatively be grilled and served with a squeeze of lemon.
Related article: How to Keep Food Cold While Camping? (10 Tips That Work)
Dinner: Hotdogs and BBQ Steak
The second-day dinner could be rounded with some meaty delicacies. A good idea would be grilling some burger meat, hotdogs, or even stakes. These can be made over hot coal from the campfire. If you choose to make hotdogs, you can make them in foil packets as well. With those, you can add vegetables like onions or potatoes and some cheese into the packet to make a more rounded meal. All the meat can be eaten with bread.
If you encounter a bear while camping, be sure to read this article: How Fast Can A Bear Run? (NEVER Run From a Bear)
Day 3
Breakfast: Egg and Potato Scramble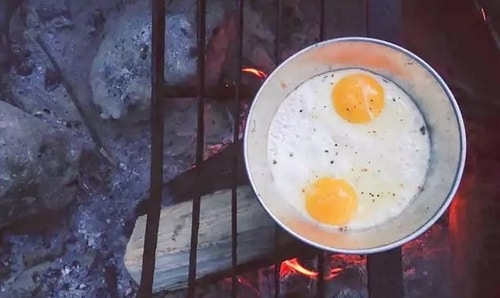 Since breakfast options on a camping trip are a bit limited, we suggest going for an omelet again but spicing it up a bit with some dried meats and tomato and potato bites. If you would like to go for a sweet option, you can always try a protein shake. You can make it with mashed bananas, milk, and protein powder.
Lunch: Tortilla Meals
For the last lunch of the camping trip, try making tortilla wraps. Tortillas can be sweet or salty. You can make them with peanut butter, honey, jam, or fruits for a sweet or with leftover vegetables and meat for a salty option.  If you want them warm, hold them above the campfire for a while.
Dinner: Chili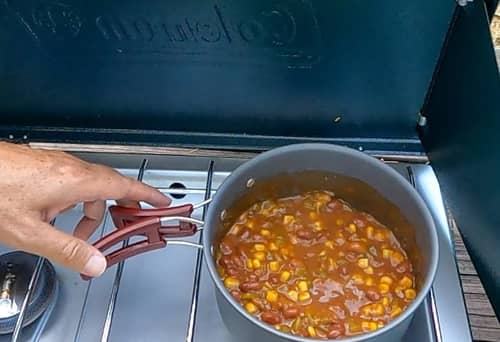 To end a perfect camping trip, we suggest making Chili. It's a comforting meal to round up the good memories made during the trip. Most people enjoy the oxymoron of having a usually meal made in nature. It also usually awakens the homesickness in us and makes us look forward to going to the comforts of our own homes. We recommend adding ground beef, bacon, and beans to make it more filling and stimulating for the taste buds in the chili.
Also, be sure to watch this video if you want to learn more.
Recommended Snacks for Camping
You can bring croissants, nuts, chocolates, homemade granola and trail mix, bagels, chips, and popcorn for snacks. It's also great to make your own snacks because you can put anything you want in them based on your preference.
Related article: 6 Common Mr. Heater Pilot Light Problems.
If you're going to bring sliced fruit, its best to freeze it the day before and place it in a portable ice bag. Fruits can serve as a snack or even a dessert after dinner. Also, remember to bring instant coffee, tea bags of herbal or fruit teas with you so you may prepare your drink when you feel like it. This is convenient for such a setting because all you have to do is add boiling water to these handy packets.
Related Article: 6 Best Screen Tents For Camping In 2023
Best Way To Keep Food Cold During Camping
We suggest a well-insulated cooler bag to bring on your camping trip. That way, you're food will be cold and fresh. This works because the bag serves as a portable fridge. It's best to pre-chill the cooler the day before the trip to ensure that food stays cold for as long as possible. The cooler should be filled with plastic ice packs and food on top. It's even great to keep the bag in the freezer the night before. Down below are the recommendations how to keep food chilled:
Try to place the cooler in the shade as much as you can.
Fill water bottles with ice or buy plastic containers meant for the freezer and put them in your cooler.
Freeze your meals ahead of time and store it in the cooler till you're ready to eat it.
Take two coolers with you, one for food and one for beverages, to avoid the cooler losing chilled air when you are opening them.
To prevent rummaging among frozen food for certain products, organize your freezer bag appropriately with meals to be used first at the top.
Note! Keeping food cool is important not just because some of it might taste nicer when it's cold but also avoid the food rotting and poisoning!
How to Layer Food in the Cooler: 
On the Bottom Layer
– Ice Packs
– Drinks, water, and milk 
– Butter sticks
– Chocolate bars for treats
​In the Middle Layer
– Lunch and dry meat
– Lunch supplies
– Cheeses
– Sauces like salsa and pesto, and dips of all kinds
– Raw meats like chicken and salmon
On the Top Layer
– Eggs  
– Any produce items- fruits and vegetables
– Carbohydrate products like bread and tortillas
Be sure to prepare for camping, here is one more thing that is good to know: How to Purify River Water For Drinking.
FAQ: People Also Ask
How much food do I need for a 3-day backpacking trip?
For a three-day backpacking trip, plan on taking around 2 pounds of food per person for each day.  Some might require more or less food depending on their body weight and amount of effort, but this is a very accurate estimate to start with.
How much do you need to pack a backpack to weigh for a 3-day hike?
A fully equipped hiking pack should not exceed 20% of your whole body mass. For example, If you weigh 150 pounds, your backpack should not weigh more than 30 pounds. That's because it would be too much for you to carry with you and you probably do not need more food than that anyways.   
How can I eat healthy while camping?
It's normal to eat a lot of carbs when on a camping trip. It's because your body will need a lot of energy and carbs are simple to make as well. You shouldn't beat yourself up about it, but you can try to add as much protein and fats as you can through meat, protein bars, eggs, and nuts.
How to keep food cold for 8 hours?
As we have already mentioned, you can keep food cold in portable freezer bags and coolers. Just make sure to eat foods that go bad the fastest first.
Final Thoughts
We certainly hope you've gotten some ideas from the meal plan examples above. It's completely possible to prepare wonderful breakfast, lunch, and supper meals while backpacking or camping. Your camping experience will turn out better than you could have anticipated with some imagination. We think this 3-day camping guide is a great starting point for additional exquisite food ideas of your own to incorporate in your next outdoor adventure.