7 Best Class A Motorhomes With 2 Bedrooms
Motorhomes are a great choice if you love to go on vacation but at the same time have the comfort of a home. This is especially the case if the vacation includes traveling with several family members. However, owning a motorhome is not an easy task. In this article, we'll talk about the best class A motorhomes with 2 bedrooms, where we will cover all their pros and cons. So let's start!
Is Motorhome The Right Choice For You?
Thousands of Americans own a motorhome, and they love it. A motorhome can be considered a home on wheels where your vacation starts when you leave your driveway and can accommodate everything you want to take with you. From your favorite bedding and dishes to children's toys or a dog basket.
However, this does not automatically mean buying a motorhome is ideal for everyone. Things to consider are, for example, how often you travel. Motorhomes are not cheap and represent a large investment, so you must be sure that it is right for you.
Most motorhome owners point out the freedom of movement, lots of space for luggage, and the indescribable feeling that can offer only the fact that you can wake up in a different location, in the same house, every day.
Class A motorhomes, especially larger models with 2 bedrooms, are homes on wheels. Each model has a fully equipped kitchen and bathroom, a lot of storage space, and the convenience of household appliances.
If you think that motorhome is too big for you, then be sure to read 10 Best Small Camping Trailers With Bathrooms.
Although all this sounds great, we recommend renting a motorhome and going on vacation before you buy one. Maybe this type of RV isn't the right choice for you. Just because something looks cool and interesting doesn't mean it's the right choice for everybody.
As we mentioned earlier, purchasing a motorhome is a very expensive task, so you should think carefully. That's why we bring you an overview of the 7 best class A motorhomes with two bedrooms in the next chapter. This way, you will get to know the best models, and maybe it will help you in your final decision.
Best Motorhomes With 2 Bedrooms
Now that we have clarified for whom motorhomes are the best choice, we will now go through the 7 best Class A motorhomes with 2 bedrooms.
1. Thor Motor Coach Miramar
This motorhome model with 2 bedrooms is very spacious since it contains several slide-outs that really open up the interior well. It is also a great convenience that, as a customer, you can choose between several basic layouts, each of which can be further adjusted to your wishes and needs. Great, isn't it?
Whichever layout you choose, with the Thor Motor Coach Miramar, you will be able to enjoy vinyl floors, luxurious Swivel captain's chairs with matching coffee tables, exterior 40″ LED TV, and interior Always-In-View 40″ TV. If you want to see how this motorhome looks in real, watch this video:
2. Fleetwood RV Excursion 35E
Manufacturer Fleetwood also offers great models of motorhomes on the market. Among them, we single out the RV Excursion 35E as a fantastic A-class motorhome whose layout includes 2 bedrooms. It is suitable for long trips because it has a diesel engine with a Freightliner chassis and air suspension.
When making this motorhome, attention was paid to every detail. In addition to the space for two bedrooms, there is also a lot of storage for all passengers, which is a very important factor when several people travel together in one RV for weeks.

In addition, each bedroom is different. One has a bunk bed, while the other has a loft drop-down bed. This RV also boasts a built-in dryer/washer and very durable floor tiles that can handle heavy loads and a lot of traffic.
If you plan to go on a camping trip with your RV, be sure to check RV Parks Under $500 a Month In Florida.
3. Tiffin Allegro RED 38 QBA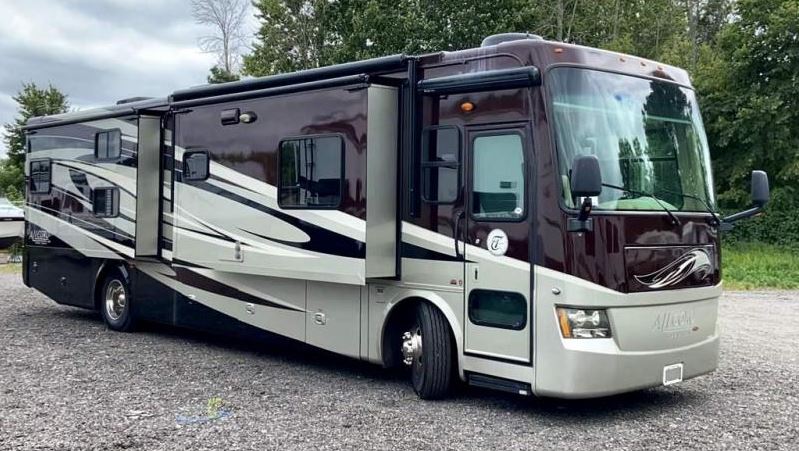 One of the best models in this category is certainly the Tiffin Allegro RED. It has four slide-outs, two bedrooms, and such a well-designed and practical layout that 8 people can comfortably sleep in it without difficulty. Also, the kitchen is simply fantastic.
All the appliances you can imagine are built into the cabinets, including a two-door refrigerator, which gives an extra feeling of spaciousness. In addition, you can choose which of the devices you want to have in the RV. The sitting furniture is made of leather, and you have at your disposal two sofas.

Tiffin Allegro RED can also boast great technical characteristics behind the nice scenes, among which we single out a diesel engine, an Onan backup power generator, and lighting with an economical mode of operation. Here is a video of this motorhome to get a better insight:
4. Entegra Coach Vision XL 36A
This motorhome model with 2 bedrooms has a great interior and can provide total sleeping space for 7 people. The master bedroom is breathtaking. It contains a king-size bed, lockers for personal belongings on the upper structure, and bedside tables. The best feature is certainly the feeling of spaciousness since you can walk around your motorhome bed without difficulty.
It should also be noted that the layout of the master bedroom includes a washer/dryer preparation. The second bedroom has bunk beds, each of which has an LED TV, while the additional three beds include a pull-out sofa and a bed over the cabin.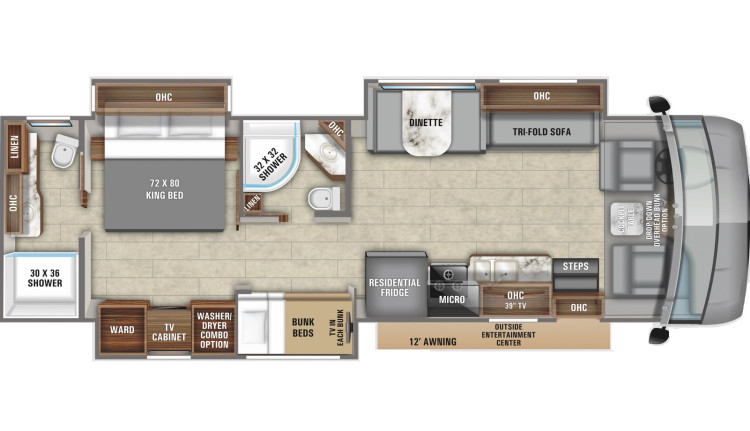 Entegra Coach Vision XL 36A can also brag about a beautiful design. The ceiling is covered with decorative vinyl and is 84″ high, the walls in the kitchen have functional decor, the lighting is full LED, and there is also an electric fireplace!
In addition, there are powerful vents in the bathroom and kitchen, ensuring that the air throughout the RV will always be optimal. Special attention was paid to the front seats for the driver and passenger, which have 6-way power and swivel.
5. Thor Motor Coach Challenger 37DS
This is another luxurious Thor model that delights. In addition to the two bedrooms, this motorhome has an over-cabin bunk, a 68″ pull-out sofa, and a 72″ dinette that can easily be transformed into an extra bed! This level of comfort is not surprising given that this RV has 3 slide-outs and is 39 feet long.
When it comes to the bedrooms themselves, passengers in this motorhome have at their disposal one with a bunk bed that can be transformed into a wardrobe and one with a king-sized Tilt-A-View inclining bed. In addition, this RV has a lot of storage space and five LED TVs of 32″!

The technical features are also great. Motor Coach Challenger 37DS features lambrequin window treatments, automatic transmission Torqshift 6-speed and 320HP and 460lb-ft, 8,000 lb. trailer hitch, preparation for dryer/washer, and smart countertop extensions. Here is a video of this model:
6. Jayco Precept 36
The Jayco Precept 36 is one of the newer models that many have already fallen in love with because of its comfort range and excellent space layout. It has 2 bedrooms and 2 bathrooms, which, you'll agree, is great when a large family travels in the motorhome.
A special convenience is that one of the bathrooms is connected to the master bedroom, just like at home! Transforming the dinette and tri-fold sofa into beds provides extra space for sleeping.

This Jayco model is also strong from the technical side. Front and back covers are made of fiberglass, each seat has a belt with two safety buckles, and the solid construction of all surfaces is made of stronghold VBL. There are also pressure-driven leveling jacks, auto-gen start Gold Genset 5,500W gas generator, fully enclosed windshield of 120", and tankless LP warmer.
7. Holiday Rambler Admiral RV 34J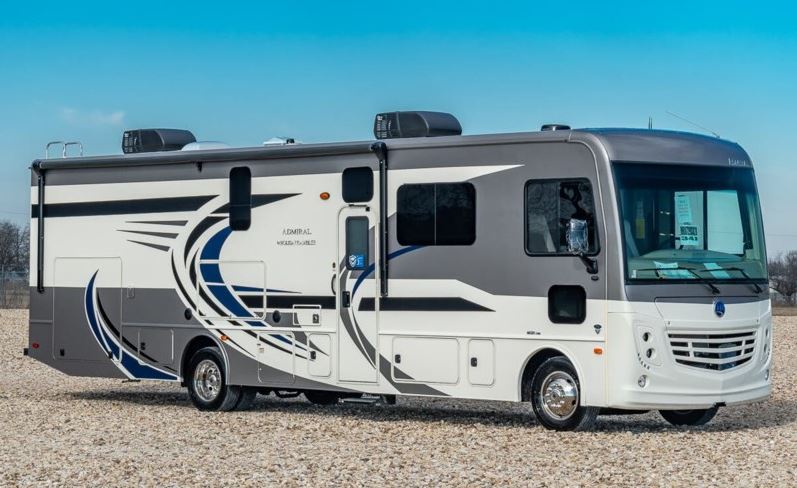 The layout of Holiday Rambler Admiral RV 34J allows comfortable sleeping for 8 people, of which two couples can have their own separate bedrooms. The entire RV is luxuriously equipped, but the master bedroom stands out. It has an LED TV and a king-size bed.
The second bedroom has a bunk bed 33″x37″, and an LED TV. This is a true paradise for 2 children, even if they are teenagers. An additional sleeping bed, queen size, can be dropped down from the ceiling.
In addition to the luxurious sleeping space, the Holiday Rambler Admiral RV 34J can boast of a backup camera screen, reading lights under cabinets, an LED TV of 39″ in the living room, an awning that is also LED lit, and a mount ceiling of flush 3″ LED.
If you still haven't found a Class A motorhome that suits you, then be sure to watch this video to find out more.
If you already own a motorhome, then be sure to read 3 Common Holiday Rambler Motorhome Problems Explained.
FAQ: People Also Ask
Are there any 2-bedroom motorhomes?
You would be surprised how many quality motorhomes with two bedrooms are on the market! These are models that were created in response to market demand. More and more families want to spend their vacations in nature, and RVs with separate bedrooms allow them to do so while preserving each member's privacy.
Do any Class A RVs have 2 rooms?
Yes, there are plenty of Class A RVs that have two rooms. Depending on the manufacturer, their layout differs, but usually, in class A RVs, there is one master bedroom and one with bunk beds. Because of this layout, RVs with two bedrooms are especially popular among couples with children but also with young people who like to travel in groups.
Final Thoughts
If you usually go on trips with your large family or friends, the Class A motorhome with two bedrooms is the right choice for you. It will provide you with privacy, numerous comforts, and spaciousness that are generally not expected inside a motorhome. When choosing which motorhome with two bedrooms is the best for you, we suggest you review each model that interests you and be sure to try the one you choose as the winner before buying.