Can You Extend A Log Cabin? Expert Explain
If you have been living in a log cabin for some time, and you come to an idea to add an extra room to it, this should not be a problem. That way, you'll get a completely new environment and space. But there are a few questions that you need to ask yourself; do you need some sort of permission for this, and when is it possible to do this? In this article, we'll talk about that. So, let's start!
Can You Extend A Log Cabin?
So Can You Extend A Log Cabin? Typically, all types of log houses can be extended, no matter if it is a log cabin, private home, holiday house, or sauna. As long as the main structures of a log cabin are salvageable, it is possible to extend the cabin. It is recommended to contact a professional to guide you through the process.
Log cabins are mostly built to last. If you made a log cabin a long time ago, and you realized that you do not have enough space and you would like to add additional space, why not! A lot of people find themselves in this situation and decide to expand their log cabin.
But several factors need to be considered when you opt for this, such as your building site, your budget, the design of the home, and lastly, the proposed addition.  Therefore, be sure to discuss this with an architect, or structural engineer because both of these options usually affect the existing structure.
Here is an excellent short YouTube video that shows how the process of extending a log cabin looks like:
How To Extend A Log Cabin
1. Adding Up Extra Floor
Most log cabin foundations can easily handle the weight of an extra level on your existing cabin without any modifications. A simple solution would be to turn the attic space of your log cabin into usable square footage, and that way you will be able to keep the cost reasonable.
It will cost you a lot more if you decide that the roof must be removed and add a full second floor to your cabin. That way, you pay the costs of removing a good-quality roof and then replacing it. Keep in mind that adding a second level to your cabin means adding a staircase. This will usually require an area of 12 to 16 ft. long and 3 ft. wide.
2. Building Out
Expanding and adding the main level on your log cabin is very similar to building it from scratch. Doing this will require a whole new foundation, walls, and a complete entrance to the existing home. The professionals you hire will need to plan how the roof and the walls will be attached to the house. If you have a room in your log cabin, building out the cabin can be significantly less than building up.
Keep in mind that building up your extended part of the log cabin will mean that you have to let the workers through your house, and they will make noise inside your home. This method is used a little more often because it can add more space than adding an extra floor.
3. Logs Must Match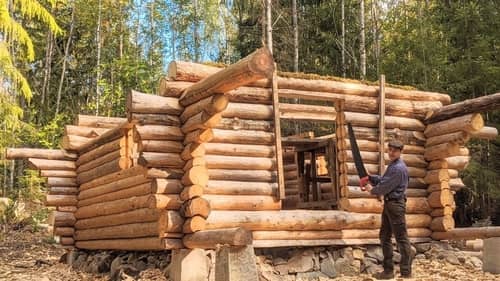 No matter which method you choose, be sure to match the logs of your cabin. This can be challenging in most cases. The existing log walls that you have in your cabin must match the new ones. Joints that are placed between the new logs can initially match with those existing walls on your cabin when everything is finished, but they can also be out of place if they aren't placed properly after a few years of shrinkage.
Related Article: How To Sell Log Cabin? Expert Explains
4. Connecting the Log Cabin
When you add a solid-log addition to your log cabin, it's preferred that posts are set on the spot where they meet so the logs are attached to identical posts. That way, the addition will respond independently both to settlement and shrinkage at the same time. Keep in mind that points of attachment that are used between the old and new cabins in most cases pose risks for air leaking and for energy efficiency.
Extending a log cabin will require a skilled carpenter with log-building experience. The way how your log cabin is constructed, shrinkage is considered an important factor. If your log cabin has solid and new logs, some settlements on the cabin may still be occurring. This could lead to strained connections and contribute to water leakage and air. For log cabins that are more than 3 or 4 years old, settlement is most likely already present.
When solid addition is added to your log cabin, you'll get the possibility of a settlement that way. Keep in mind that new walls on your cabin may lose from 1 inch to a few inches in height during the first few years. To solve this, try isolating the log walls of your cabin, to keep their settlement separate.
Carpenters that work with logs can create slip joints. That way, they keep the wall joints tight on your cabin as they settle. Having the driest logs can also benefit from minimizing shrinkage and settlement. One of the solutions that are also used for addition is log siding over conventional framing.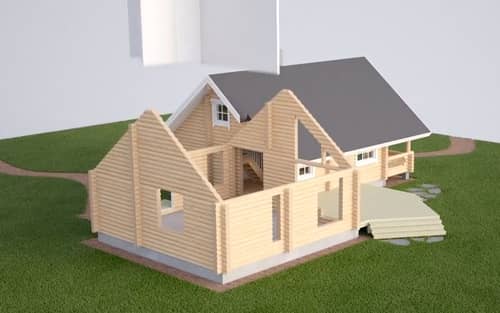 Using the log siding method, you'll have less moisture than solid logs, and the dimensions will not drastically change, which will improve and make a tight seal much easier. Other alternatives that can be used are a timber frame, half-log-covered SIP addition, and a conventional frame.
You will have very little impact on your existing log cabin as these systems don't settle. It's much easier to do a long-lasting union between the existing cabin and the addition. You'll have no problem adding anything by planning, and it all comes down to your budget.
Hiring an engineer and architect can save you a lot of money because they can easily recognize potential pitfalls and problems. Therefore, be sure that building requirements are checked by contacting the local building officials. Many states require you to have building permits, including electrical, footings, plumbing, and other foundation types for your project.
Be sure to read 7 Essential Log Cabin Tools Required to Build a Log Cabin.
FAQ: People Also Ask
Can You Legally Live In a Log Cabin Permanently?
Yes, you can permanently live in a log cabin, but you must first check your state regulations and see whether it is allowed. Log cabins are built to last, and they can last more than 70 years if they are correctly constructed.
Can you install a toilet in a log cabin?
Yes, you can install a toilet in a log cabin. For this, you will need a toilet that will have to be built next to the cabin in order for everything to be according to the regulations. It is best to contact professionals to do this.
Final Thoughts
As we can see in this article, extending a log cabin is a job that needs to be done by professionals. There are several ways you can do this. Try to choose the most suitable method for your cabin and be sure to consult an engineer. It is very important to match your logs so they can fit perfectly. I hope that this article has helped you and if you have any other questions feel free to ask us.