Log Cabin Maintenance Costs: The Complete Guide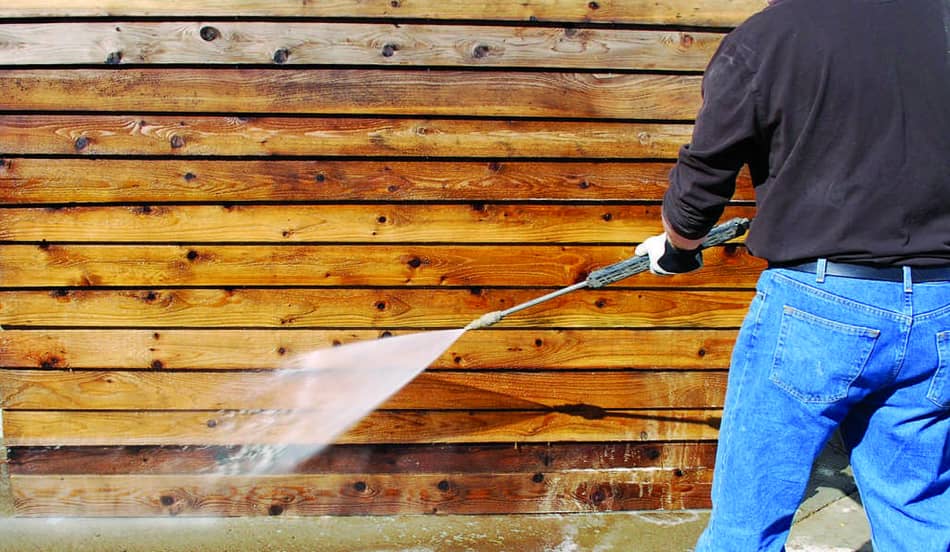 People who live in log cabin often feel relaxed and privileged because a beautiful environment surrounds them.  It is such a nice feeling to live in a peaceful natural area. After seeing a lot of log cabins and having the chance to live in one, I get one of the most common questions concerning log cabin maintenance, particularly about exterior lumber.
Periodical log cabin care is an often-overlooked aspect in maintaining your home's lifespan. Although its maintenance varies depending on where the log cabin is located, design caution and other environmental elements maintaining your log cabin are crucial.
When we talk with owners about maintaining their log cabins, we frequently find out that they have been provided with the wrong information. As a result, we bring you the most complete log cabin maintenance guide available. We'll start with a method to examine the expenses of repair and maintenance:
Inspections.
Washing.
Staining.
Caulking
Pest Control
General Maintenance
Finally, we go over some maintenance pros and cons as well as some helpful maintenance suggestions. Continue reading as we will explain the most effective log house maintenance guide available.
You may also be interested in Essential Log Cabin Tools Required to Build a Log Cabin.
How Much Does It Cost To Maintain the Log Cabin?
Log cabin maintenance should be done twice a year, in the spring and the fall. By doing regular maintenance, you can reduce the damage to any log cabin from water, insects, air, and UV penetration.
It would help prevent any type of water damage to external wood caused by snow and freezing water in the spring. Throughout the summer, prepare your cabin for warmer temperatures. After summer, throughout fall, you'll be looking for insect infestation, fading staining, and getting your log cabin ready for a hard winter.
Doing routine maintenance can also save you money, and it is less expensive than periodic repairs.
1. Inspections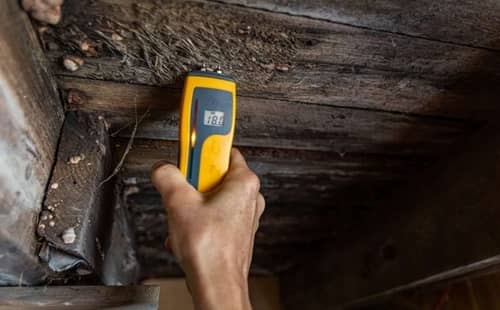 The first step is to determine does your log cabin needs maintenance. Try to be as proactive as possible throughout the year and go around your log cabin, and see if any repair is required.
Make sure to begin by inspecting the south side of the log cabin and work your way north. Look for potential problems (for example mold, infestation) as you walk, particularly around openings like doors, and windows but also around logs that are exposed at ends and roof connections.
Warped flashing, broken or loose tiles, shingles, exposed rafters, and leaking or full gutters on the roof should all be inspected. Look for loose flashing, broken flue pipes, and gaps between the chimney.
Look for loose or cracked caulk in the wood, splashback, popped knots, fading stain, evidence of moisture, and mold or mildew while inspecting the walls. Check if plants and containers are around 24 inches away from the log cabin walls. This will allow the railings and decking to be free of loss areas, that there is no standing water, and that drainage is in place.
2. Regular Washing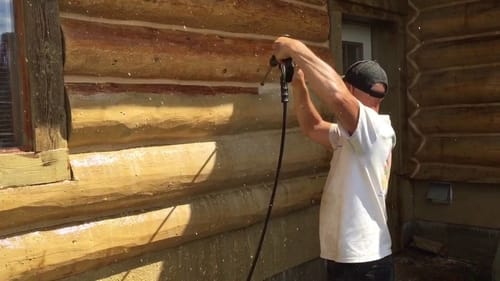 A great way to get rid of any surface filth like mildew, dust, bird feces, insect deposits, and pollen is by washing the cabin. Using a soft-bristle brush and light detergent is the most effective way to clean your log cabin, in our opinion. Weathered Wood Restorer by X-180 is a great detergent. 5 gallons of X-180 will cost you roughly $150. Make sure you use a 50:50 ratio when mixing the hot water with the detergent, which shouldn't be boiling.
We propose doing two cleans (one for the bottom and one for the top); start at the bottom and work your way up. Make sure that logs are wet first, then use a brush that is soft bristle to apply the detergent solution, carefully scrubbing in a circular motion to avoid streaks.
Note! Make sure to remove dark patches that are in the wood.
After the cabin is cleaned from the bottom to the top, focusing on areas where mildew and mold are, finish by cleaning from top to bottom. This will prevent dirt from washing into areas that have already been cleared. Before doing any more maintenance, do one last wash and make sure that the cabin dries for 3-4 days. Once the cabin is dry, this is a great time to see if your log cabin needs fresh staining.
3. Regular Staining
When you do staining, it usually lasts for two years. Depending on the quality of the paint you choose and how many times you apply the paint, the staining can hold even up to three years after the first time you use it. The parts of your log cabin that will require more regular re-staining are the ones that are facing south (because they are exposed directly to the sunlight). 
The best approach to determine the state of your log cabin's stain is to:
If a latex-based stain is applied, then a new coat must reapply a new coat if the finish has grown dull and faded.
When inspecting logs, be sure to check knots if you're using a stain that is based on oil; if they've become blonde, it's time to re-stain.
Another quick way to check your logs is to spray water on the timber if the log cabin hasn't been washed in a while. The water should stream down the cabin swiftly. TWP is the most significant oil-based stain we've ever used. We needed 35 gallons of paint for two coats on my 2,000-square-foot log cabin, which cost around $2,300. Because the cabin is stained every two to three years, the annual cost of log cabin stain comes to $850.
Note! When you are covering small areas and painting wet on wet is the best approach to stain your cabin.
To begin, ensure that your log cabin has been thoroughly cleaned and readied. Good and quality preparation is crucial to ensure that the stain lasts three years or more. After your cabin has dried completely, you may add stain with a garden sprayer first and then brush it. A garden sprayer is just as good as a professional sprayer, in our opinion.
To avoid lap marks, make sure to work in areas that have small full-width sections. Wait 20 minutes after applying the first layer before applying the second coat while the stain is still fresh. A wet-on-wet method is what this is called. For the second coat, make sure that the same spraying is applied and the back-brushing method. Let it dry for another 2-3 days before sealing it. 
Related Article: How To Clean Log Cabin Exterior Walls? Complete Guide
4. Annual Sealing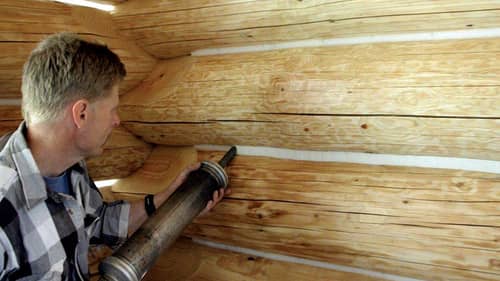 To seal the sealant between the two logs during the maintenance of the log cabin, calking is one of the best options you can use because of its flexibility.
Note! The sealant for logs is similar to the mortar to bricks.
Caulk should endure well over 20 years if properly applied with a supporting rod; usually, only extreme temperatures, such as cold and wet seasons or extreme heat, speed up the degradation of caulk. Elastic elastomeric materials demand significantly less maintenance than older cement-based materials.
The most typical purpose of caulking in cabin maintenance is to fill cracks or holes in the wood. Cracking and splitting are natural and typical features of timers. The most straightforward and general rule is to seal all cracks to avoid bugs hatching or water pooling.
For this type of maintenance, we recommend either PermaChink or Log Jam Chinking. You'll only need 5 gallons of this substance every year for a regular 2,000-square-foot log home, which will cost about $230.
5. Annual Pest Control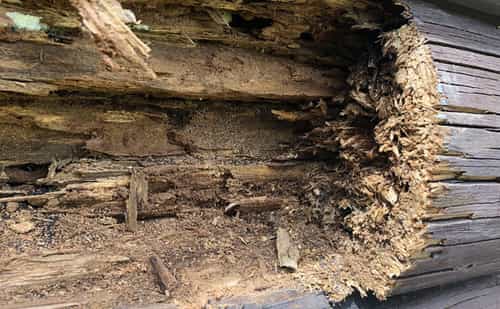 Bugs and insects have long been a problem for timber, especially the softer sapwood. When it comes to basic care, filling cracks, cleaning, dusting, and fumigation are usually adequate to keep pests away from your cabin. When a cabin has a bug or insect problem, it's worth reading Wikipedia more about this problem.
6. General Maintenance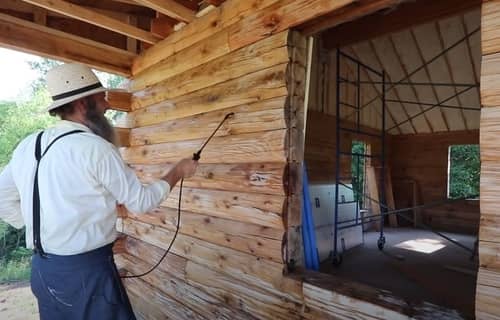 Clearing gutters, and managing and monitoring the regular water flow are all critical for your cabin – maybe even more so than for a standard home. Water can easily discolor your cabin's logs, resulting in infestation, deterioration, and a slew of other costly issues. If certain parts of your cabin are darker compared to other parts, you'll notice it first when cleaning it.
It's critical to make sure that gutters are free of obstructions like grass and leaves since this will keep them away from overflowing. It would be best to double-check that each downspout directs the water run-off away from your log cabin.
If you detect the gaps that are between the doors and windows during your bi-annual check, the best solution is to add expanding polystyrene. If the holes are significant, you will detect cold air that comes into the cabin. However, look for smaller gaps since they are usually harder to feel and notice. A foam gun can be used for this. They can be quickly loaded with pressurized expanding foam cans, and cost roughly $75.
The annual upkeep cost for a log cabin that is around covers 2,000 sqft is around $1,550 annually:
Average cleaning detergent- $180
every three years for around 30 gallons of stain – $550
caulking-$250
foam gun, guttering for routine upkeep -$80
What is Recommended And What is Not?
What You Should Do!
Regular Maintenance
When you are regularly maintaining your log cabin is an excellent decision for investment, as it will pay itself many times over with the proper care and regularly planned maintenance! If you follow the suggestions in this article, they can help you avoid unexpected repairs or restorations due to carelessness.
What You Shouldn't Do!
Pressure/Power Washers
It's essential to be proactive and follow a proper maintenance plan, but don't go overboard. Using power/pressure washers, you push water through the logs, causing the logs to swell. Regular pressure washer usage will cause harm to the logs of a log cabin, and accelerated log decay might be the outcome. Remember that mildew and mold on the surface of your cabin may age it and give it a vintage look.
If you must use a power washer because you have no time or it is easier for you, don't use anything that is higher than 500 psi, and stay away for two feet from your log cabin. If you need to remember just one thing from this article, regular maintenance is the best way to avoid what could otherwise be a very costly repair job!
For those who want to know more, feel free to read How Much Does It Cost To Build A Log Cabin?
FAQ: People Also Ask
Do Log home maintenance takes a lot of time?
Log home maintenance doesn't require a lot of time and effort if you design and plan everything before. Maintenance problems may be avoided with porches, adequate landscaping, towering foundations, and large overhangs. A log cabin is not a typical home, and it will require unique upkeep. However, if you know this before building your log cabin, you shouldn't have any problems.
Is Log home maintenance complicated?
Certainly not! Cleaning is the most crucial factor: Before and after staining, clean and dry the wood's surface, and keep pollen, mold, and dust off your logs each season. Pay extra care to your log home's south and west walls, as they are more vulnerable to the weather. If this appears to be time-demanding, you may wish to engage a company to manage your cabin's maintenance.
Do Log homes have mold problems?
Mold will develop faster with much moisture; therefore, it may grow on almost any surface. Drippy rooflines, backsplash, and trees in the shade are all factors. Primarily focus on the north side of your cabin since it receives the least amount of sunlight and, as a result, will remain moist for longer after rain. Your logs may last a lifetime if you keep them dry and off the ground.
Final Thoughts
As you can see, log cabin maintenance is a really important thing. If you have decided to build or buy a log cabin, know that after some time you will have to take care of it as well. If you ignore it, you could have an unexpected problem that you definitely want to avoid. Try to stick to the things we have listed in this article, and you will not have any issues. I hope the information in this article has helped you and if you have any questions feel free to contact us.