How To Find RV Car Wash Near Me? Locations To Wash RV
When it comes to washing your RV (Recreational vehicle), the only thing that is important is to decide if you want to clean your RV yourself or hire someone to do it for you. After you've had your RV for a little longer and gained more experience, you'll discover that washing them is a breeze, even when you're not in a big city.
You may be wondering, where RV can be washed? There are several ways to locate an RV wash in your area. You may look on the yellow pages, on national companies' apps, or use the help of Google. Planning ahead may save you time and money. Besides, you'll save some fuel also.
If you want to learn more about where and how to wash your RV, be sure to continue to read this article. Some of your washing-related questions have already been answered and are written down below. So, let's start!
Where Can I Wash an RV? (DIY)
If you have enough space, the first suggestion is to do it at home. You'll just need to connect your garden hose and mix it with some soap and water in a bucket. Remember to avoid using dishwashing soap or other harsh substances while doing this. Nearby truck stops are another good place to wash your RV. Places like these are often equipped with big enough facilities to wash larger rigs and can easily handle your RV.
One more option is to go to a car self-washing station. However, you can consider this option only if your RV can fit within the small bays. One piece of advice for self-washing; if you choose to clean your RV by yourself, simply wipe down your RV with a damp cloth throughout the year. Continue to rinse the washcloth if it is required. By doing this you will reduce the amount of dirt on your RV and you will need less time to wash it afterward.
How To Find RV Wash Locations?
When you come to a standard car wash with your RV, you could get a lot of weird looks from other people. Employees may also turn you down if they don't allow RVs in their car washes.
Luckily, there are other options, and there is even a car wash for RVs. Places like these are managed by a number of companies around the country and are ready and prepared to assist you in getting your RV washed. For starters, simply click here for a quick list of RV washes throughout the country. This list includes almost all of the states, as well as one in Canada.
You might also look in your local yellow pages or search for RV washing locations nearby on the internet. It's pointless to cause yourself difficulties by attempting to wash your RV at a car wash that is built for regular cars when you could just go to a place that is made for washing RVs.
Does Camping World Wash RVs?
In case Camping World provides RV washes, it must be done only true a dealership basis. On their website, they don't mention anything about providing such services. The service is not provided by their Good Sam club, and it is not mentioned anywhere in their repairs section.
In addition to that, Camping World appears to be shifting its focus to RV sales more than other services. Dealerships are starting to ban overnight RV parking, except if the RV owner meets some requirements, such as purchasing their RV from a Camping World shop.
Camping World has a nice RV wash product, but it's a do-it-yourself solution and they won't do it for you. Plus, Camping World isn't listed on the list of RV wash sites that we have mentioned above. 
Related article: Where Can I Weigh My Trailer Near Me? (Cost and How To).
Ways to Find an RV Car Wash Near Me?
The best way to find a washing service for RV in your area, you can use one of these two easy methods. The first method is a little outdated but it works; Simply open the yellow pages and see where they have an RV washing location. Companies that appear in the Yellow Pages are typically trustworthy, and it's simple to find their location.
The second most used method is to go to your computer and search it up on the internet by using Google. To locate an RV wash service in your city, simply type in Google the term 'RV wash services' along with your city or zip code. You may also look up to nearby truck stops that provide washing services for bigger trucks that come through their doors.
One more option is to ask the employees at the gas station. Gas stations are familiar with where particular companies were and had maps to assist you in navigating your way around. If you're planning a trip to Alaska, here's one that can manage all of your washing needs, even for your dog. Doing your research before you decide to go on a trip will save you time and gas when you're on the road looking for an RV washing service.
How Long Does an RV Wash Take?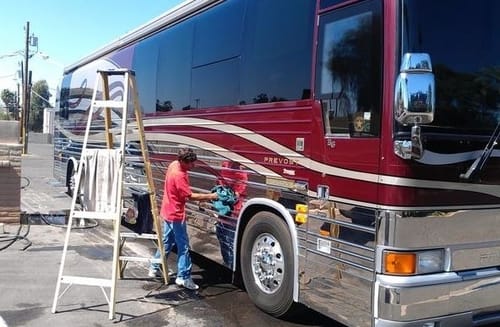 Depending on the amount of road dirt and the size of the RV, exterior cleaning and drying might take a couple of hours. The period can be extended up to eight hours if you want more advanced services. For example, removing oxidation and polishing a big motorcoach's paint job might take 7-8 hours.
How Much Does an RV Wash Cost?
The majority of general RV washes cost around $5 per foot, which ranges from $100 to $450 in total. Such treatment only includes an exterior cleaning of your RVs surface. If you add to that interior detailing and waxing, the price per foot might reach $45 or more. You may need to request an estimate because some mobile RV cleaning companies charge based on the quantity of work that is needed.
How Often Do You Need To Wash Your RV?
Unless you meet other nuisances that bring extra dirt to your trailer, an RV can use a good wash approximately once a month. For example, if you park your RV near trees where birds gather or take it for a ride through muddy paths, it may need to be washed more frequently.
Benefits of Regular RV Washing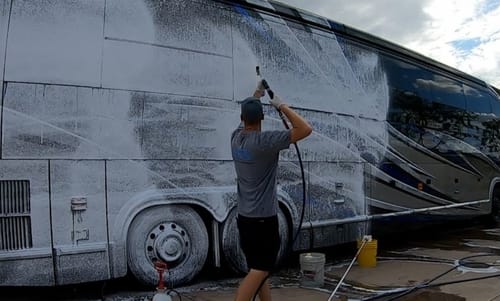 There are a number of reasons to use a mobile RV wash service on a regular basis. Here are a few examples.
1. Make Paint and Decals Last Longer
RV owners may increase the lifespan of their vehicles by cleaning them on a regular basis. RV paint can oxidize and decals can peel as a result of sun exposure over time and travel. Numerous mobile RV wash businesses provide a specialized restoration treatment that removes the oxidation and restores the shine.
2. Discover Potential Leak Spots Or Cracks
Any experienced mobile RV washer will find caulk gaps, separations, and holes that would otherwise go unnoticed in everyday usage. This will allow the owner to fix and preserve potential problem areas before they turn into bigger issues. That is why it is important to do regular washing on your RV.
3. RV Looking Good
An owner that is proud of their RV will do regular cleaning of their RV. Also, it's always great to have your RV looking good while you're on the road.
Is an RV Wash Worth the Cost? 
The expense of an RV service may appear excessive to people who merely want to clean the outside of their RV. However, saving RV owners time and effort may be a significant benefit. After a complete wash, those who hire interior detail services will notice that their RV feels brand new.  You will consider a mobile RV wash service beyond price if you value convenience and time. 
Can You Take an RV Through a Truck Wash?
Big rigs are washed in truck washes. This implies they'll be able to easily manage even the heaviest and tallest RVs. Many RV owners use truck washes because they are convenient. On an RV, you may not always carry the equipment needed to reach some areas. Regular cars may be washed at numerous truck washes; however, this is not always guaranteed. Before you go be sure to call in advance the facility and check the cost.
For those who want to learn more, be sure to read How To Sell A Camper Fast (Step-By-Step).
FAQ: People Also Ask
Can You wash the camper at a car wash?
We don't advise taking your RV to a car wash location; cleaning the outside of your RV manually, although time-intensive, is the best method to clean it. If you want to clean the exterior of your RV, park it somewhere where it won't be in direct sunlight. To clear the dust, sprinkle it with water first.
Can You wash the RV with Dawn dish soap?
We don't recommend washing the RV with Dawn dish soap since the coating on your RV may be removed. Use any vehicle wash product instead. Cleaning your RV with a soft brush or a sponge is always a good idea.
How much does it cost to have an RV waxed?
The usual length of an RV is between 21 and 27 feet. It will cost between $150 and $200 to have it washed and waxed. The expense of having the interior cleaned ranges from $50 to $150. The cost of having an RV thoroughly detailed is between $200 and $350 in total.
What do you wash your RV with?
Accordingly, almost all RVs can be cleaned with nothing more than soap and water. For starters, all you'll need is a bucket filled with water and a light detergent like dish soap. Apply the mixture to one part at a time with a brush with a telescopic handle.
Final Thoughts
Maintaining the outside of your RV will provide the lifespan of your vehicle. Smog and other pollutants, as well as dirt and filth, can have a negative impact on your RV. Additionally, once you've cleaned up your vehicle, it'll look fantastic. Therefore, be sure to look for some locations that are in your city by methods that we have mentioned in this article.
Keep in mind that some businesses are franchises that can also have a greater service. Maybe you'll discover the opposite to be true. It is entirely up to you where you will wash your RV. Just keep in mind that RV washes are easy to locate and are as near as your yellow page or computer. I hope that this article has helped you and if you have any questions feel free to contact us.