Buying A Log Home: Things To Consider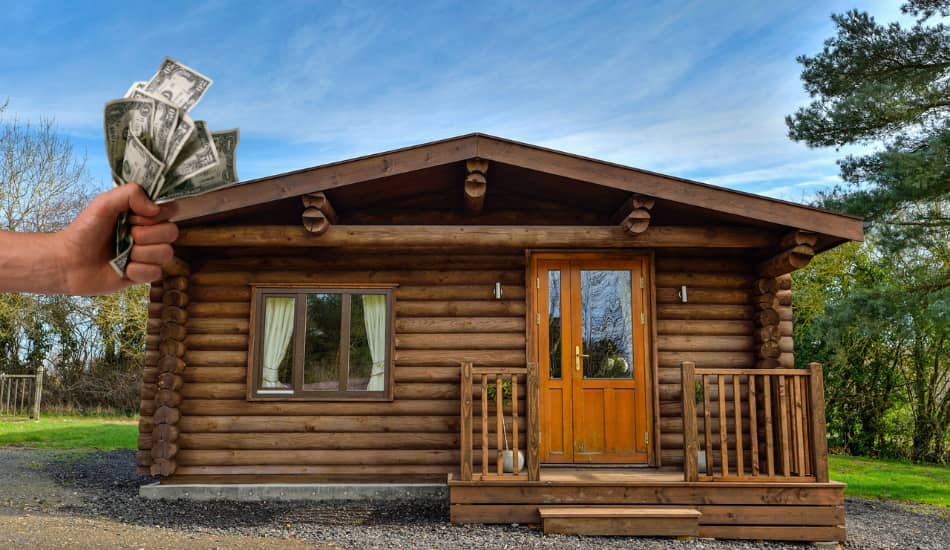 One of the biggest problems when it comes to buying a log home, be it a log cabin for your own pleasure or a new source of income from renting, is that people do not know what to look for. Furthermore, even if they do, most of the time they aren't sure how to determine the condition of a log cabin, even though this isn't the only factor you should think about when it comes to buying your own log cabin.
The most logical thing to do would be to look for a home inspector, but as you might find out, their knowledge on log homes is lacking, and even if you manage to hire one whose main focus is log cabins, the expenses of having him inspect every log on your cabin will prove to be too high.
What To Consider When Buying A Log Home?
So What To Consider When Buying A Log Home? Usually, when buying a log home the most important thing to do is exterior and interior inspection of a cabin. During exterior inspection check for staining, rot, gutters, and caulking while for interior inspection look for air infiltration, insect infestation, and porches and decks.
Of course, a home inspection is a must, and the same goes for log cabins, but only when you have considered all options and only one or two remain. In order to narrow your choice, you must inspect all the key areas of a log cabin.
The checklist below will be of great help when it comes to inspecting your log cabin, so be sure to study it thoroughly before reading the rest of the article. Almost all log cabins can be repaired, but the only question is how much it would cost.
| Category | Inspection Area |
| --- | --- |
| Exterior Inspection | Staining inspection |
| Exterior Inspection | Logs That Are In Contact With Ground |
| Exterior Inspection | Rot Inspection |
| Exterior Inspection | Exposed/Overhangs Logs |
| Exterior Inspection | Gutters Inspections |
| Exterior Inspection | Insect Infestation |
| Exterior Inspection | Caulking Inspection |
| Exterior Inspection | Checking Inspection |
| Exterior Inspection | Porches & Decks Inspection |
| Interior Inspection | Air Infiltration & Light Inspection |
| Interior Inspection | Insect Infestation |
| Interior Inspection | Caulking Inspection |
| Interior Inspection | Key Questions |
For those who want to know more, be sure to read How Much Does It Cost To Build A Log Cabin?
Exterior Inspection
Due to the constant exposure to natural elements, the log cabin might seem dirty, and flaking might be visible on the external walls. To determine when this would cause concern, we will go through nine of the most important exterior elements you should keep in mind when buying a log home. So, let's start!
1. Log Cabin Staining Conditions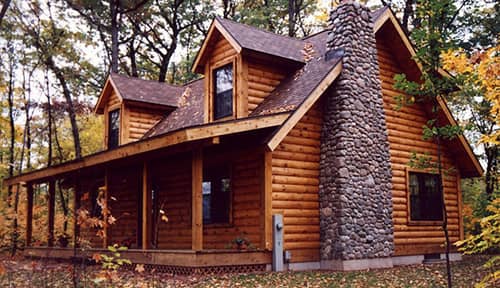 One of the biggest issues with log homes is water. Although, it normally isn't a problem since logs do dry. The real issue arises when they don't dry, and the rotting process begins. There are ways to prevent this, primarily by staining or waterproofing in some way, but it is also important to be able to decide how good the quality of the staining is. This can easily be done with just a quick glance.
Is there any wood visible which hasn't been stained? Is the staining consistent? What does it look like?
Are the southern and western walls faded? Does the color of the logs on the top match the color of the ones on the bottom?
An important question to ask when you are buying a log home is how long it has been since the last time the home had been stained. If the answer is over 15 years, then the price of corn blasting and re-staining the entire home would be too expensive. A cheaper fix would be if the staining still seems even, but worn-down. And if you want to learn how to stain on your own and also check out the prices of staining, you should visit our maintenance guide.
Note! Splashing water on the logs is the easiest way of checking the quality of the stain. If the water beads and rolls down the logs, that means that the staining is still very much effective. But if the water gets absorbed, that might lead to the logs starting to rot, which means that the log home should be re-stained. You might still opt to buy the home, but you should definitely account for the cost of the re-staining process.
2. Logs Touching the Ground
The importance of a foundation is also noteworthy. If you see logs that are laying on the ground and are in contact with the dirt and mud, that means that the logs might have already absorbed some water. As we've already mentioned, this leads to rotting. And if that wasn't an issue for itself, logs that are in close proximity to the ground might come to serve as homes for bugs and insects, making it easy for them to enter your cabin.
Note! Keep in mind that there is at least six inches between the logs and the ground.
When it comes to buying a log home, a make-or-break situation is whether the logs closest to the ground have been pressure-treated. Pressure-treated logs are much less susceptible to elements that want to feed on them, such as bacteria, fungi, insects, etc.
3. Rotten Logs
Even if there aren't any visible signs of rotting on the outside of the log, such as black marks, you should always check if the log might have become rotten on the inside. Logs usually rot from the inside out, so you should consider another log cabin if you notice signs of rotting on the outside.
But how do you check if the log had rotten on the inside?
Note!
The sound that a rotting log makes when you tap on it, is different than the sound a log that isn't rotting makes. So be sure to always bring a hammer with you and ask if you could test the logs.
The sound you hear when tapping on a rotting log sounds hollow in comparison to a healthy log. Also, a hammer will rebound if you hit a rotting log, but it will stop if you hit a solid one.
The only way to fix a rotting log is to replace it, which is pricey.
Related Article: What Is The Largest Log Cabin In The World?
4. Overhangs/Exposed Logs
An overhanging roof serves as protection for the logs and the foundation from natural elements such as rain. This is why it is extremely important to have an overhanging roof on your log home.
How Much?
Shallow overhangs might cause more harm than good since the water might splash on the ground and hit the lower logs of the cabin. To prevent this from happening, a 24-inch overhang is ideal for a one-story cabin, whereas a two-story cabin house requires at least 36 inches.
5. Rain Gutters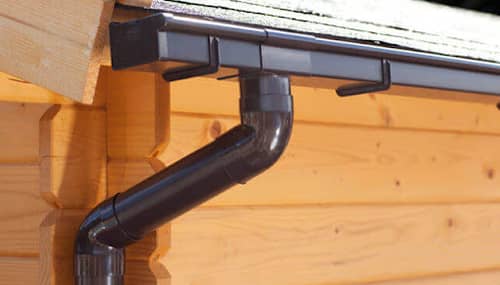 Rain Gutter does much more for the health of your log cabin than they do for its aesthetic charm. They serve as a way of keeping water away from your logs, so it is important to check if they have been clogged up by debris. The easiest way to do this is to pour water into the gutter and see if it flows down properly.
6. Insect Infestation
If you spot bore holes, which differ in shape and size depending on the insect, and debris similar to powder, that might mean that the log house has an insect problem. Although seeing one, the single bore hole is expected, many of them together are definitely a tell-tale sign of insect infestation. Insects such as carpenter bees, termites, or carpenter ants are known to be attracted by log homes.
Another indication of insect infestation is wings since carpenter ants and bees are known to shed their wings in front of the holes they make. The reason why insects are attracted to log homes is moisture, and as we've already mentioned, moisture is present in rotting logs, thus the easiest way to drive insects out of your log cabin is to replace any logs which might be rotten.
Related Article: How To Sell Log Cabin? Expert Explains
7. Caulking and Checking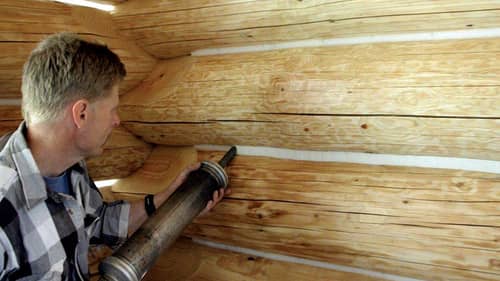 Caulk is the material used to fill in the gaps between logs. It is important to inspect the condition of this sealant by checking for any gaps between the logs, missing chunks of caulk, and its overall quality. If you are able to spot any of these, fret not because fixing this issue is easy and cheap, since you can replace it with little effort. This only indicates that the level of care for the log cabin was poor.
Note! Nowadays, most materials used to seal the gaps between logs are supple elastomeric materials, as opposed to cement-based ones which were used in the past. The reason for this is that modern materials are less demanding maintenance-wise, and they tend to move with the cabin.
Checking
Checking is a completely natural occurrence, and it is the result of logs drying out, thus creating cracks or splits called checks. Checks don't pose a problem as long as they are less than ¼" in size or if they appear on the upper side of logs, which increases the chances of water damage. An easy fix for checks is to fill them with caulk, but before you do that you should inspect the logs, just to be sure that they haven't already been damaged by water.
8. Settling & Shrinking
Over time log cabins tend to settle and shrink in order to adjust to climatic factors, but also as the level of moisture in the wood changes. Usually, builders of log cabins have this possibility in mind when building the log cabin. But if shrinking and settling weren't accounted for, issues such as windows and doors which stick and you can't open them will appear.
Another issue that might arise is the shrinking of exterior walls which will in turn place a lot of pressure on internal walls. This could cause the collapse of the interior walls, making your log cabin unusable for the time being. This is why it is important to check the partition walls, which usually aren't logs. They are the best indicator of how much settling allowance was made.
Other indicators which you could look at are the roof and the foundation. If the roof has dips or humps, that means that the cabin didn't set properly. Problems with the foundation are much more serious since subsidence issues are very time-consuming and expensive to repair. You should definitely listen to an expert when it comes to foundation issues.
9. Decks & Porches
Not only are decks and porches aesthetically pleasing, but they also have a great purpose. They reduce the impact of natural elements such as the sun or rain on the logs, and they also shorten the wetting and drying cycle. On the other hand, decks and porches come with a disadvantage.
A shallow overhang and the lack of a roof over the deck means that the water will splash down onto the deck, which might also damage the lower logs in the cabin. This is why it is important to use the methods we mention above and inspect the deck, porches, and cabin walls for moisture and rot.
Interior Inspection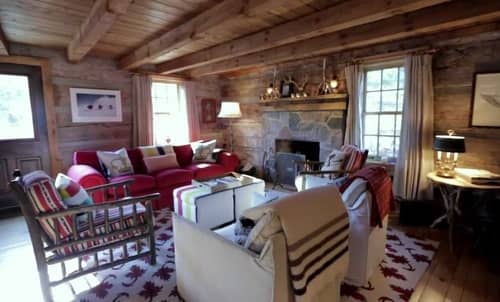 Checking the inside of the log cabin is no different from checking the outside with the addition of light and air infiltration which you might spot between the logs. Also, be sure to check the ridge beam, purlins, and roof rafters. Just like on the exterior, you should check the quality of caulking and if there are any bore holes, which might be signs of insect infestation. Look for any signs of water or mold since these are signs of inadequate staining.
Documentation
A possible indicator of a well-maintained log cabin is a small number of previous owners. If the log cabin has had many owners over the years, it might mean that it has expensive or time-consuming issues with that many people don't want to deal with. A list of previous owners should be fairly easy to come by at the local town clerk's office.
Questions To Ask Before Buying A Log Cabin
Some of the most important questions to ask when you are viewing a log cabin are:
How long has it been since the last time the cabin was stained?
Is there an insurance policy on the cabin? If there is, with which company?
In which year was the cabin built?
Who was the constructor of the cabin?
How many times has the cabin changed ownership?
Are there any known issues with the cabin, such as insect infestation, rotting logs or drainage problems?
Here is also one interesting article, The Pros And Cons Of Log Cabin Homes.
Final Thoughts
To quickly sum up what you should look into when buying your own log cabin, you should check the staining quality of the exterior logs, look if there are any splits or cracks, check if the gaps between the logs have been sealed properly with caulk and if there is any water damage. Waterproofing is extremely important, so be sure that your log cabin is adequately waterproofed to ensure that the logs of your log cabin don't rot.
Also, check if there are any insects inhabiting your log cabin and if it has settled properly. If the log cabin you are inspecting matches the ideal ones mentioned in this article and doesn't have any of the problems named, then you should contact a log home specialist to review it professionally. Hopefully, this guide will help you find the perfect log cabin. We wish you good luck and if you have any questions, be sure to check the comment section below.